THE MODERN MINT BLOG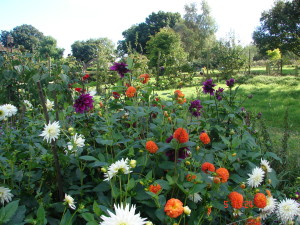 If you don't want to grow veg, grow flowers. A cut flower garden is a brilliant way to use your bit of the world.
This is not a post about how to set it up – to do that, read these books…
The Cutting Garden: Growing and Arranging Garden Flowers
The Cut Flower Patch: Grow your own cut flowers all year round
Nor is this a rant about the cut flower industry (no need to rant, just read this book by Amy Stewart Gilding the Lily: Inside the Cut Flower Industry
it is a well-researched, readable and informative book that asks questions and then leaves you to answer them…)
This is a blog about using the land you have in a way that might just thrill you.
(For those of you just starting out and in need of tools and plants, the advert below takes you to the best source for beginners – the Sarah Raven website. They also normally have a sale on, so make use of it!)
Like this client cut flower garden,  growing your own blooms is a beautiful job.
What makes it beautiful is that it is not easy. You are required to think logically (if I plant this now, here, I can harvest then, and replace it with this…) and creatively (I don't have the space for that much stock, unless… unless I grow them in gutters pinned to the wall…) and, as with anything rewarding, you must be able to balance the two extremes.
Going gung-ho is fine, but nuance, subtlety and thinking smart will lead you to inspiration.
It's not just mental but physical too. A great benefit of growing your own flowers is that you get exercise. This is not exercise for competition (who can be faster, stronger, bendier, tougher.) This is not shoddy, 'I'm running on a treadmill with the aircon on' exercise, but legitimate and worthwhile movement that stretches and strengthens your muscles.
It is exercising for health.
The final great reason for having a cut flower garden is that you become a creator. You are weaving together a number of different materials and turning them into somethng even more valuable. That is a fantastic way to spend your time.
Think more widely (nationally, at least) and imagine if every household in the country had a cut flower garden. That a view of the UK from the sky would be a picture of highly productive, intensely flower packed gardens. A bee haven and a butterfly paradise? Of course.
It is a job that makes you an artist, a maker of gifts.
You may not get rich from working your own cut flower garden (well, you might if you try these 9 ideas), but you will be the richer for it.
(Don't forget, check out the books above for more advice on the actual doing, or visit the Sarah Raven website by clicking the logo below for step by step guides…!)
July 22 nd 2014
Feb22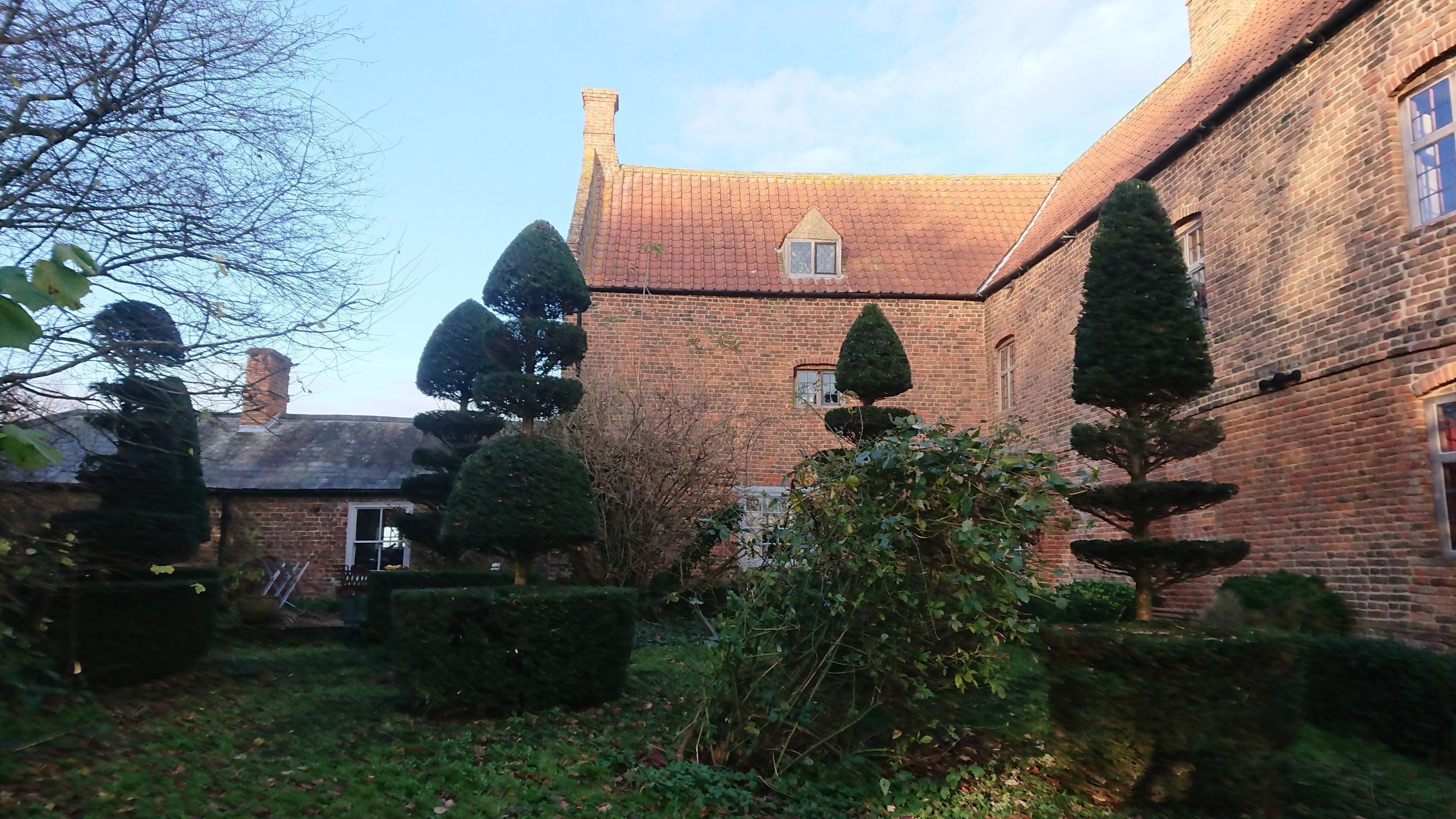 Guanock House needs a trainee topiary artist! Some of you may know it as the first home and garden of designer Arne Maynard, but is now owned and maintained by Michael Coleman and his wife Michelle. They offer meditation workshops and retreats there and it is as beautiful a house and garden as you could wish to visit. They called me in last Autumn to help shape up some of the topiary as it was all getting out of hand, but what it really needs is someone with a steady hand and lots of patience to take over the clipping …
Feb09
Here are some photos of work I have been doing at the garden of Charlotte Molesworth in Kent. Snow and ice brings out the depth of the different planes and angles carved into the boxwood. A garden has to look beautiful in winter – and topiary (green architecture)  helps do that! For more topiary pictures, click here.
Feb01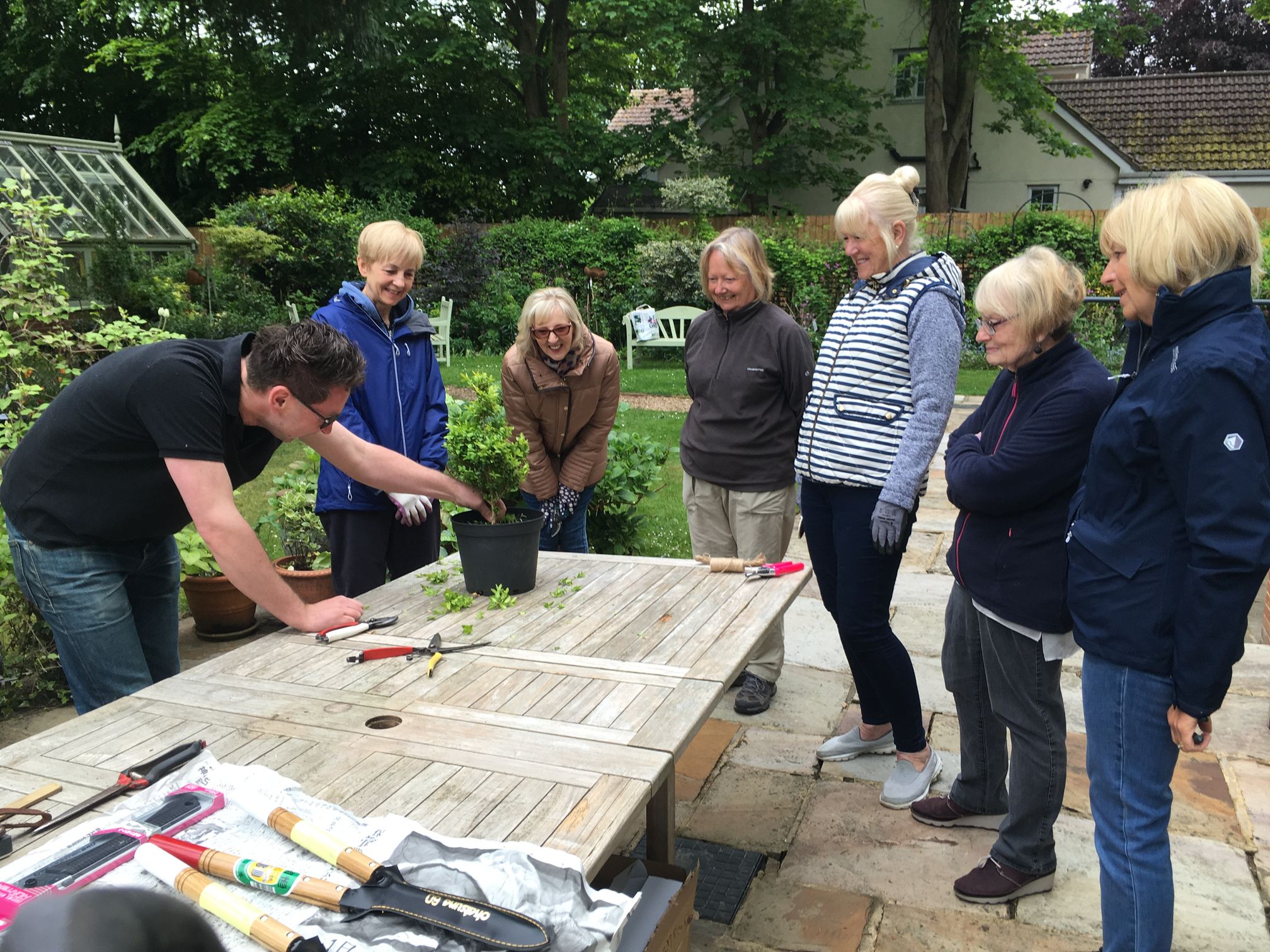 I am an experienced teacher of topiary and pruning, running workshops in the topiary garden of Charlotte Molesworth in Kent, as well as for The English Gardening School and The European Boxwood And Topiary Society. So if you are a keen gardener, a garden club, a group of friends who want to know more or even an absolute beginner who has been bitten by the gardening bug, then do contact me about what you might like to learn. What a laugh we are having in this workshop session I ran for a group of friends in Essex… Many people employ …