THE MODERN MINT BLOG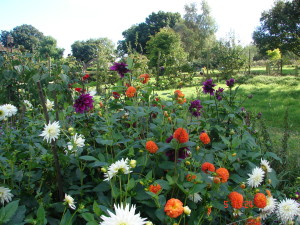 If you don't want to grow veg, grow flowers. A cut flower garden is a brilliant way to use your bit of the world.
This is not a post about how to set it up – to do that, read these books…
The Cutting Garden: Growing and Arranging Garden Flowers
The Cut Flower Patch: Grow your own cut flowers all year round
Nor is this a rant about the cut flower industry (no need to rant, just read this book by Amy Stewart Gilding the Lily: Inside the Cut Flower Industry
it is a well-researched, readable and informative book that asks questions and then leaves you to answer them…)
This is a blog about using the land you have in a way that might just thrill you.
(For those of you just starting out and in need of tools and plants, the advert below takes you to the best source for beginners – the Sarah Raven website. They also normally have a sale on, so make use of it!)
Like this client cut flower garden,  growing your own blooms is a beautiful job.
What makes it beautiful is that it is not easy. You are required to think logically (if I plant this now, here, I can harvest then, and replace it with this…) and creatively (I don't have the space for that much stock, unless… unless I grow them in gutters pinned to the wall…) and, as with anything rewarding, you must be able to balance the two extremes.
Going gung-ho is fine, but nuance, subtlety and thinking smart will lead you to inspiration.
It's not just mental but physical too. A great benefit of growing your own flowers is that you get exercise. This is not exercise for competition (who can be faster, stronger, bendier, tougher.) This is not shoddy, 'I'm running on a treadmill with the aircon on' exercise, but legitimate and worthwhile movement that stretches and strengthens your muscles.
It is exercising for health.
The final great reason for having a cut flower garden is that you become a creator. You are weaving together a number of different materials and turning them into somethng even more valuable. That is a fantastic way to spend your time.
Think more widely (nationally, at least) and imagine if every household in the country had a cut flower garden. That a view of the UK from the sky would be a picture of highly productive, intensely flower packed gardens. A bee haven and a butterfly paradise? Of course.
It is a job that makes you an artist, a maker of gifts.
You may not get rich from working your own cut flower garden (well, you might if you try these 9 ideas), but you will be the richer for it.
(Don't forget, check out the books above for more advice on the actual doing, or visit the Sarah Raven website by clicking the logo below for step by step guides…!)
July 22 nd 2014
Sep29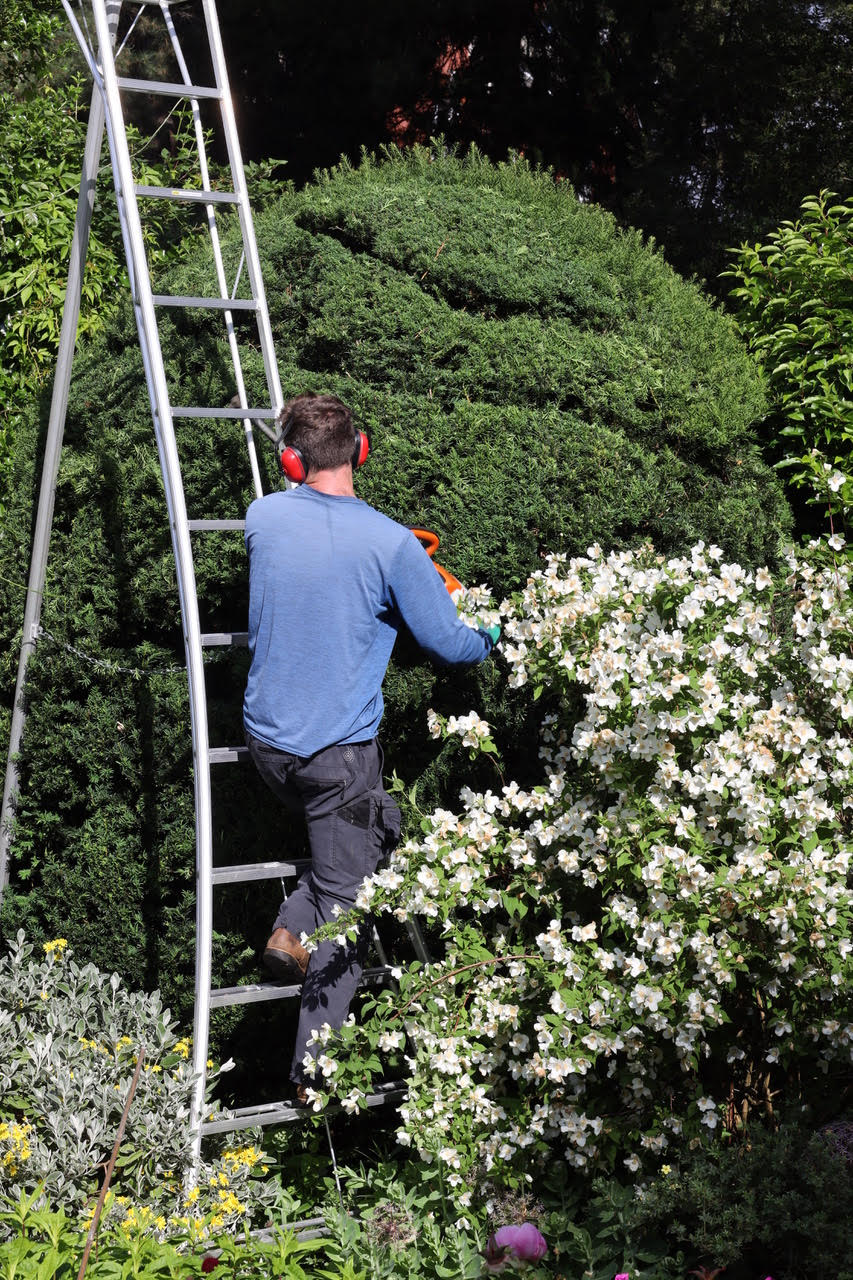 Making a new topiary out of the large, dull facade of a Taxus blob… My work was to change it up from a 'jelly drop' shape and give it texture, open it out and let the light through, and make it a sculptural feature in the background of the garden in summer… yet a major part of the garden in winter. A few more years before it becomes something special, but there was far more leaf and growth inside the plant than I thought and so it will not take too long for it to gain in character and become …
Sep27
Two weeks ago I was invited to teach topiary at the garden of Griselda Kerr, the author of The Apprehensive Gardener. I love teaching and sharing skills, but I was placed on the spot in the afternoon and asked to show how I would make a new topiary from an existing shrub. So below is a speeded-up video of me creating a cloud-pruned topiary from an old boxwood tree. I particularly love the ending when the class get involved….! See the video here. One hour was all it took, and though it needed a little tidying-up, it was made by …
Sep27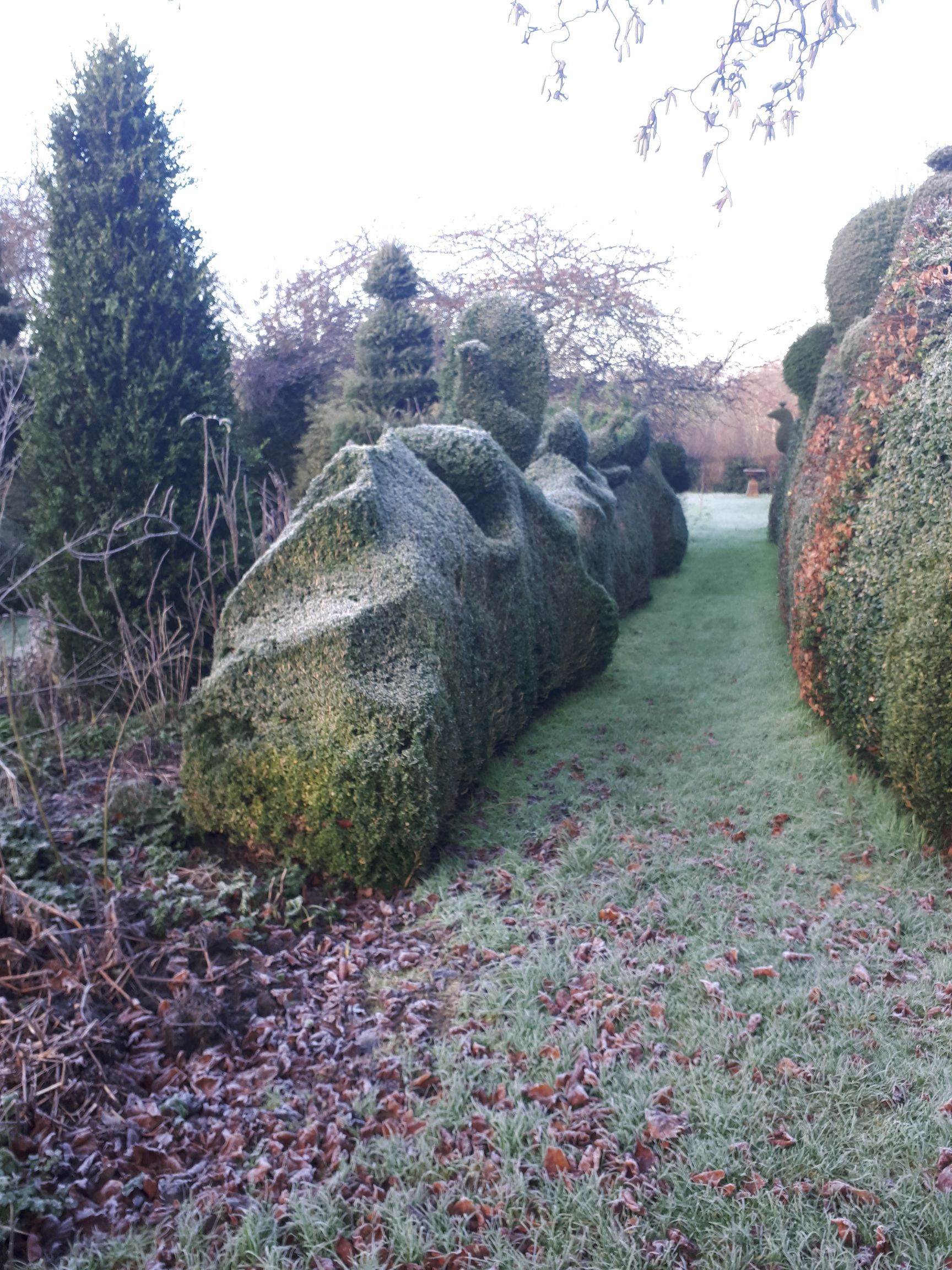 Charlotte Molesworth, my topiary mentor, and I are running our popular topiary workshop again in 2022. You can email me for details – or go here for information, your ticket and to find out about dates. Book A Spot On A Topiary Workshop, September 2022