THE MODERN MINT BLOG
Our Chelsea Fringe project 'You Should Have Seen It Last Week…' is now finished and up on the website, where you can see all the pictures taken by our brilliant collaborators… collaborators who hailed from all corners of the globe.
Their efforts were brilliant and the body of work fascinating – when flicking through the photos you get this record of nature in fast forward – it not only provokes comment ('hey look, the colour of the sea today!') but makes you question how worthy a plant may be ('that peony took nearly three weeks to flower, then finished in two days…')
We also loved this about the Chelsea Fringe – people came together, talked, shared, opened their arms up to each other – all because of the gardens they care for.
The reasons to garden are so varied – to save the planet, to save the pollinators, to grow food, to prune, to show off your skills or just to show-off – yet everyone is bound by the same rules… that sunlight, water and earth will mean something grows, and where something grows something is shared.
Here is what we share with you then, our Chelsea Fringe project for 2014, from 3 different continents and 6 different countries… you should have seen it last week? Well, now you can…
June 17 th 2014
Sep21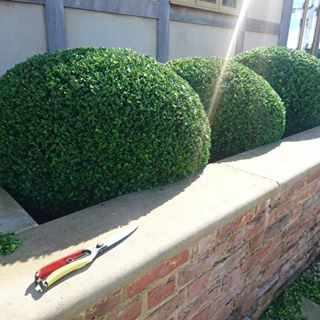 I was asked by the European Boxwood & Topiary Society to help out with answering a common question – How to sharpen your shears? So we spent a fun day making a video, that hopefully will help you make sure you have sharp, shiny blades to do your topiary pruning with. And you can find here more examples of the topiary I make with my sharp blades.
Aug16
You can get a ticket for this new talk I'm giving at the European Boxwood And Topiary Society here – TALK TICKETS It is on the 25th August at 6pm. It should be great fun and I'm very excited to be sharing some recent thoughts about topiary with people – and how it might work in a modern garden.
Jun14
If you have a subscription, you can check out an article about bespoke ideas for your garden in the Telegraph. There are some great crafts people there, so check it out. Click Here To See The Article About my Topiary Work In The Telegraph