THE MODERN MINT BLOG
We had never heard of nor come across Azara until this week, when we were asked to prune one that had turned into a small tree.
Not an elegant shrub, even when pruned hard it still looked as if it wasn't sure what size it was really supposed to be – large shrub or a small tree…?  Unsure why it had been planted until told, with no doubts whatsoever, it happens to have flowers that the bees ABSOLUTELY ADORE!
Aah, so then…. Azara is a plant worth planting.
Because of its slight lack of grace, perhaps substitute it in place of a Forsythia in the garden – tucked away somewhere down the bottom, in a corner. It will be better value for the honeybee, have a better leaf too, and instead of being looked down upon by garden snobs the way Forsythia is, you can say to them – "oh, don't you know this shrub? Really? You don't know this one? Oh dear…."
Azara at the bottom of your garden will give you the gardening bragging rights amongst your neighbours or fellow garden club members, because they may well not know it either. (Sadly though, being that patronising to someone will make you look like a pleb too….)
Planting Azara will also get you in with your local beekeepers, who will appreciate what you are doing for the honeybee. Getting in with a beekeeper is recommended, as pots of honey may end up coming your way for being such a lovely, bee friendly gardener.
That is not to be sniffed at!
Ursula Buchan tells us how to grow Azara here. It is dead easy.
We have a few other shrubs you might like to try in your garden, that will definitely help the bees – escallonia is one, phillyrea another.
Cotoneaster is one more shrub that is very good at looking after itself, and adored by the bees….
Finally, have some ground elder that is flowering at the moment? We have spotted honeybees on this pernicious weed. So maybe it is not all bad?
June 11 th 2017
Oct11
Need a talk for your garden club? Via Zoom because of Covid-restrictions this winter? Then I can help! It is great you are trying to keep your club going, and though Zoom is not the same as getting a group together and talking about gardening live, of the moment, right now it is the best alternative we have got. How I Do A Zoom Talk For Your Garden Club I'm very happy to do Zoom talks and have moved about 20% online so far (from end of March 2020 to the start of October 2020) – although that number is …
Oct09
Just a quick message from a garden club last night after I gave a talk for them via Zoom… Hi Darren, We would just like to thank you for a very enjoyable and fun talk this evening for our first Zoom meeting! Think we can say that everyone enjoyed it, we have already had positive feedback from some of the members, obviously the way forward at the moment! We were certainly very pleased with the turn out for the first virtual meeting! If you are a garden club speaker and want to give it a try, then please do …
Sep21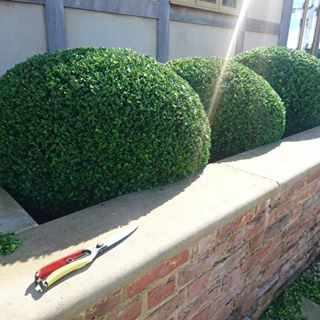 I was asked by the European Boxwood & Topiary Society to help out with answering a common question – How to sharpen your shears? So we spent a fun day making a video, that hopefully will help you make sure you have sharp, shiny blades to do your topiary pruning with. And you can find here more examples of the topiary I make with my sharp blades.