THE MODERN MINT BLOG
I recently wrote a piece for Topiarius magazine, the flagship publication of the European Boxwood & Topiary Society – of which Modern Mint is both a member and big supporter.
Check out the EBTS here. They frequently run courses and talks too, so worth keeping an eye on.
Below is the piece I wrote about the tools I use when making topiary and pruning trees….
Darren's Piece In Topiarius Magazine
I use Okatsune Secateurs, which I started pruning with when working on a large orchard in Hampshire.
My Felco's were too difficult to open with cold hands, but the chunky clasp at the bottom of the Okatsune, with their iconic red and white handles, made them a practical replacement. The steel is strong and the action channelled towards the cutting blades. They are my everyday secateurs.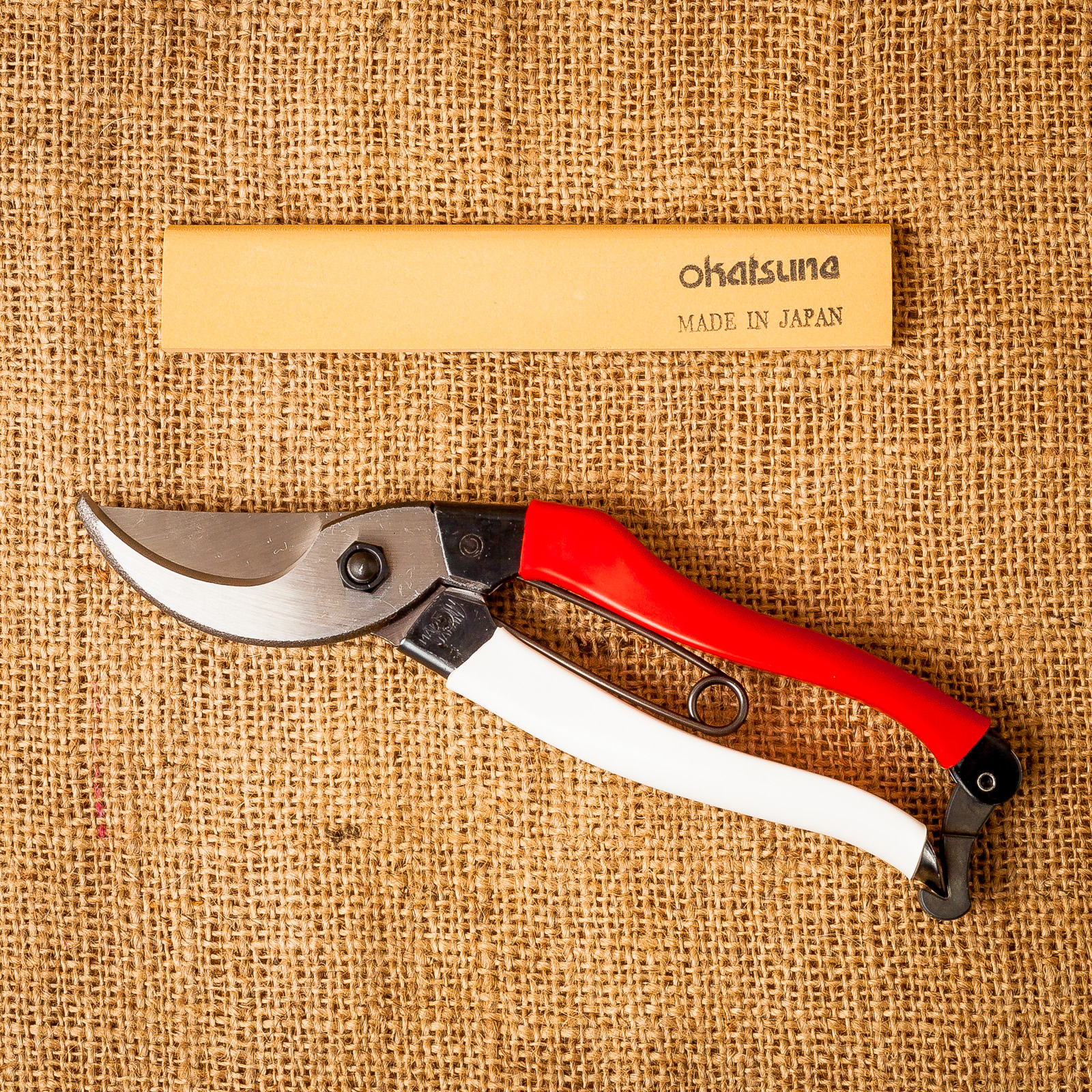 Newly hooked on Japanese tools, I bought the Okatsune shears and the soft whetstone to keep it sharp. I love the balance of the 21″s, the blade length allowing for a smooth and rapid flow as you clip, the handles light and strong.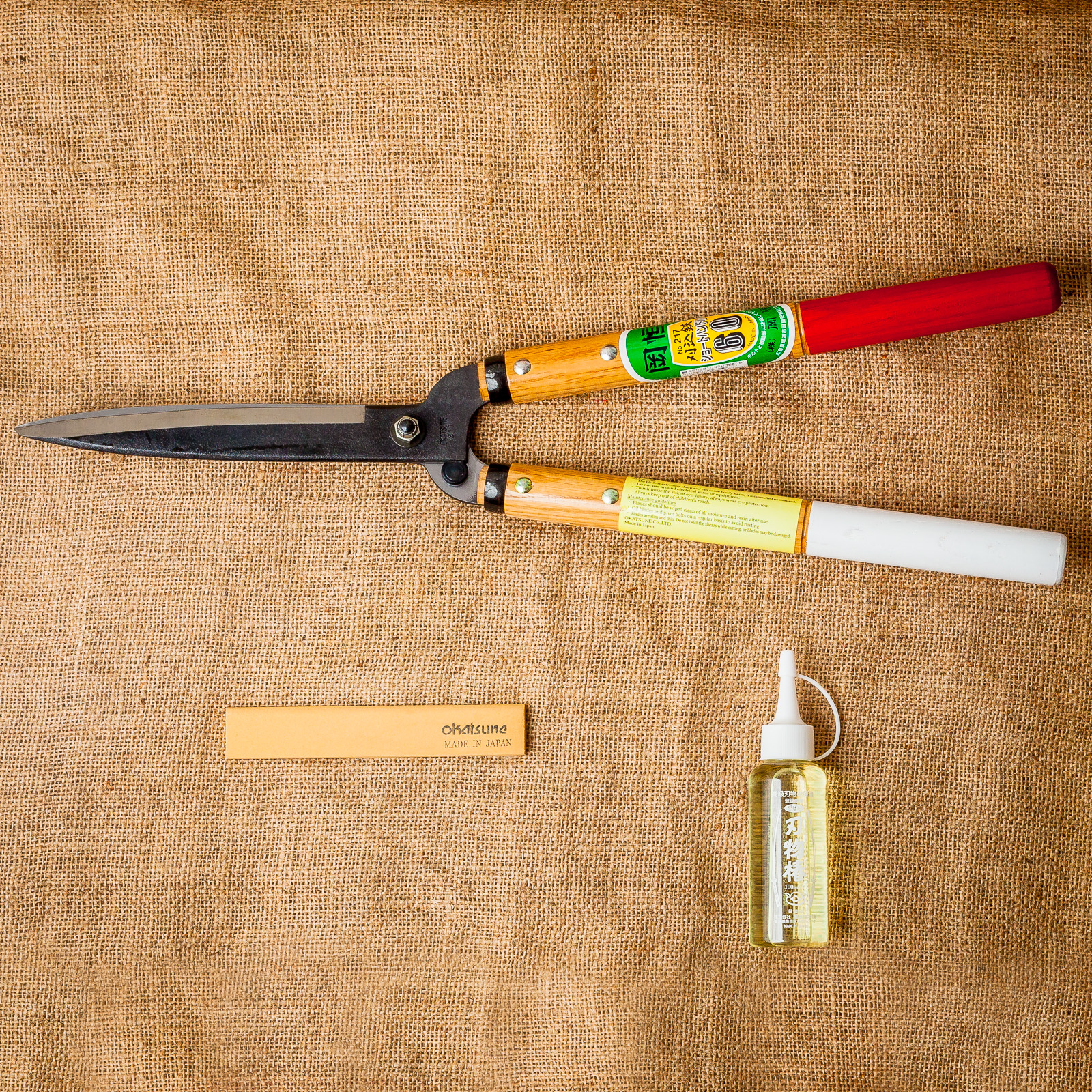 Tobisho make the 'Barracuda' topiary clippers I use.
I hated most hand clippers; too clunky, too stiff, too blunt, too painful to use for longer than five minutes. Handmade, these clippers are worth the outlay, so sharp and tough they make the work fun and allow you to focus on adding detail to the topiary piece you are making.
My indefensible purchase are the Tobisho shears with curved blades. Imagine two samurai swords, just bolted together. A weapon for making organic shapes! You don't need them and you can only really use them on boxwood.
But I bought them because they are thrilling to use, so light and sharp and shiny. They seem able to slice the air. A foolish purchase. Yet as I write this, I catch myself smiling thinking about them. Roll on the boxwood season….
If You Have A Plant You Need Pruning…
Get in touch and see if I can help you.
I happily clip hedges into interesting shapes, sculpt shrubs, make topiaries, prune roses, wisteria and fruit trees.
Don't let a plant in your garden go to waste. Make it architectural and interesting by pruning it with an eye for the detail.
And of course, make sure you use some decent tools whilst you make it. They will help save you time and make pruning a joy.
Check out more pruning tools here.
June 30 th 2019
Aug05
I will be bringing a show about gardening to the Faversham Fringe on Wednesday, August 28th at 8.30pm. More details and tickets here – Faversham Fringe, The Grinning Gardener.
May20
Just inc are you are free in the following dates in June, you can visit my mentor Charlotte Molesworth's topiary garden… Check out the dates the garden is open here. And you can of course join both Charlotte and I for a topiary workshop in the garden in July, as well as September. Hope to see you there!
Apr30
The Nunki weeder has been talked about by Jane Perrone in the newspaper (the Guardian, if you are interested. At the weekend.) She said this about our lovely weeding tool… "Getting on top of annual weeds such as hairy bittercress and speedwell can be tedious. The Nunki weeder has a curved blade that allows for precision work around plants…." There you go – a weeder for precision work, not an avocado destoner as someone once said to me. Take a closer look at the Nunki weeder now.