THE MODERN MINT BLOG
Advertising Opportunities with Modern Mint at the Chelsea Fringe
'Contemporary Green: How Do We Cultivate Our Garden?'
We are curating a free to download, free to share, free to print e-book of 100 word manifestos co-authored by garden writers and enthusiasts, answering the question – how do we cultivate our garden?
The e-book will be available to download from the first day of the Chelsea Fringe 2015. It will remain on the Modern Mint website following the end of the Festival.
See us on the Chelsea Fringe website.
Advertising Opportunities
We are offering you the chance to get involved with this project by advertising your product and company in the book. There will be 20 spaces available, meaning one advert per each page of the document, in the footer area. The size of each advert is as follows:
Aspct ratio 360 X 75h @ 300dpi.
Cost to you:
£120 per advert.
We can also design the advert for you in-house. Cost for this service is £250 plus VAT.
(We do reserve the right to refuse you if we think what you advertise doesn't fit within the book. Speak to us first if you're unsure, but this would be a fantastic opportunity for companies with garden or home related products, anything handmade or artisanal, or items with a focus on sustainability…)
What charities does your money support?
50% of the money raised through advertising will go to other organisations, split as below:
10% will go to the Chelsea Fringe Festival organisers.
40% will go to The Rare Breeds Survival Trust as a donation.
The remaining 50% goes towards costs for putting the book together, photos and web hosting. Any money left over after costs of producing the book will also go to the Rare Breeds Survival Trust.
Who will see your advert?
Our e-book has already gained media coverage in the Daily Express, and will also be seen in Gardens Illustrated and the Garden Design Journal soon. We are receiving more requests for information from other media outlets and are of course backed by the Chelsea Fringe, which has many links with national newpapers and printed media.
IMPORTANTLY – The book itself is designed to spread – people are encouraged to share it, talk about it, like it, tweet it and argue over it – all helping your idea to funnel out into the world.
About Us
Modern Mint –an online shop, blog and garden design firm based in Essex.
Modern Mint started in 2014 and took part in the second Chelsea Fringe – "You Should Have Seen It Last Week"
We are designing a number of gardens around Essex and London, have an online shop featuring artisan products and an active blog and twitter following. The website traffic is growing month on month and reports show over 360 users to the site just last week. We advertise locally in print as well as contributing articles to the Chelmsford City Times, have an advert on 'Thinking Gardens' and will be seen talking and selling our products at a number of markets and garden shows this spring and summer, including the National Garden Show in Essex.
Rest assured we will do all we can to support your business if you can help us to raise money for a great cause – the Rare Breeds Survival Trust!
How To Contact Us About Advertising:
Simply email info@modernmint.co.uk and let us know of your interest by midnight on Friday May 1st, and we will get back to you. Concessional rates are available for registered charities and CIC's.
Thank you, hope to hear from you soon,
Darren Lerigo Director, Modern Mint Ltd
April 8 th 2015
Sep29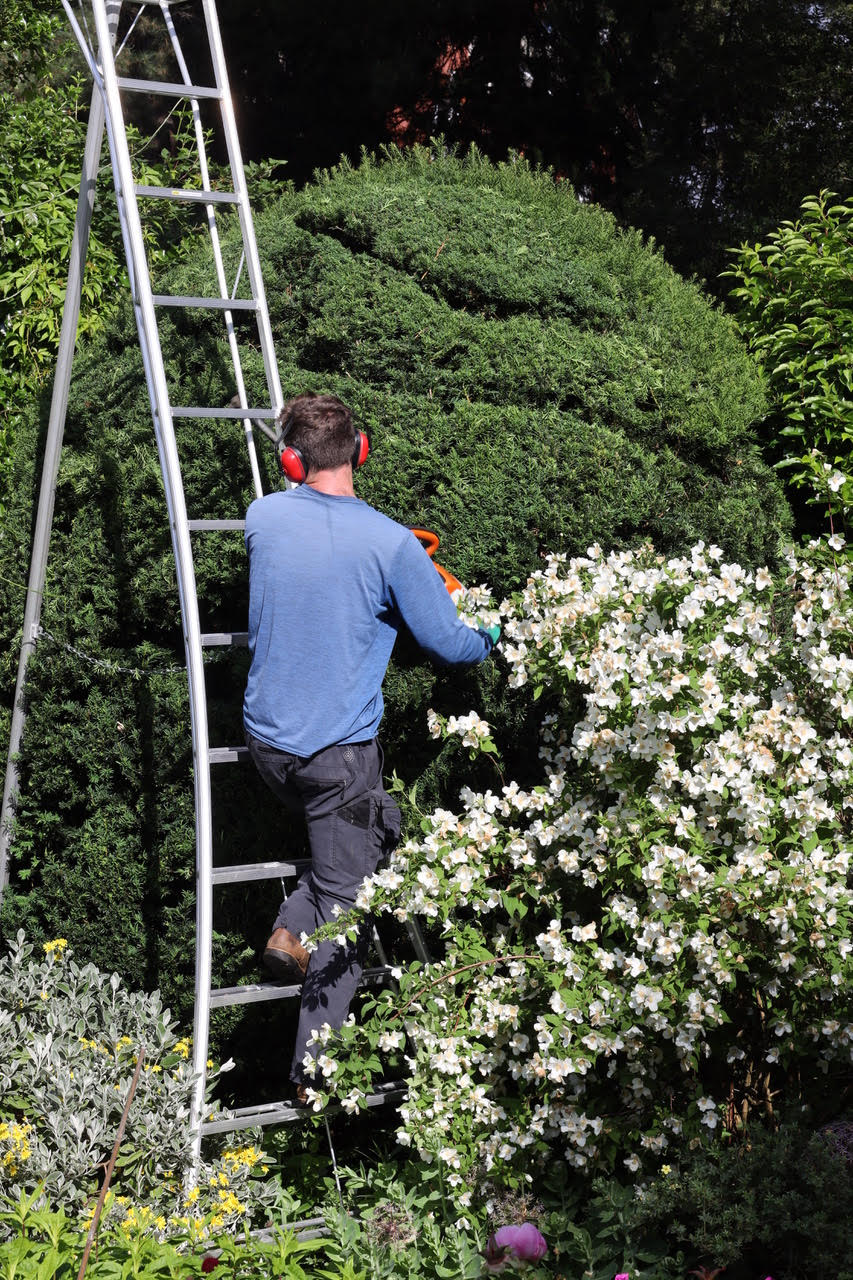 Making a new topiary out of the large, dull facade of a Taxus blob… My work was to change it up from a 'jelly drop' shape and give it texture, open it out and let the light through, and make it a sculptural feature in the background of the garden in summer… yet a major part of the garden in winter. A few more years before it becomes something special, but there was far more leaf and growth inside the plant than I thought and so it will not take too long for it to gain in character and become …
Sep27
Two weeks ago I was invited to teach topiary at the garden of Griselda Kerr, the author of The Apprehensive Gardener. I love teaching and sharing skills, but I was placed on the spot in the afternoon and asked to show how I would make a new topiary from an existing shrub. So below is a speeded-up video of me creating a cloud-pruned topiary from an old boxwood tree. I particularly love the ending when the class get involved….! See the video here. One hour was all it took, and though it needed a little tidying-up, it was made by …
Sep27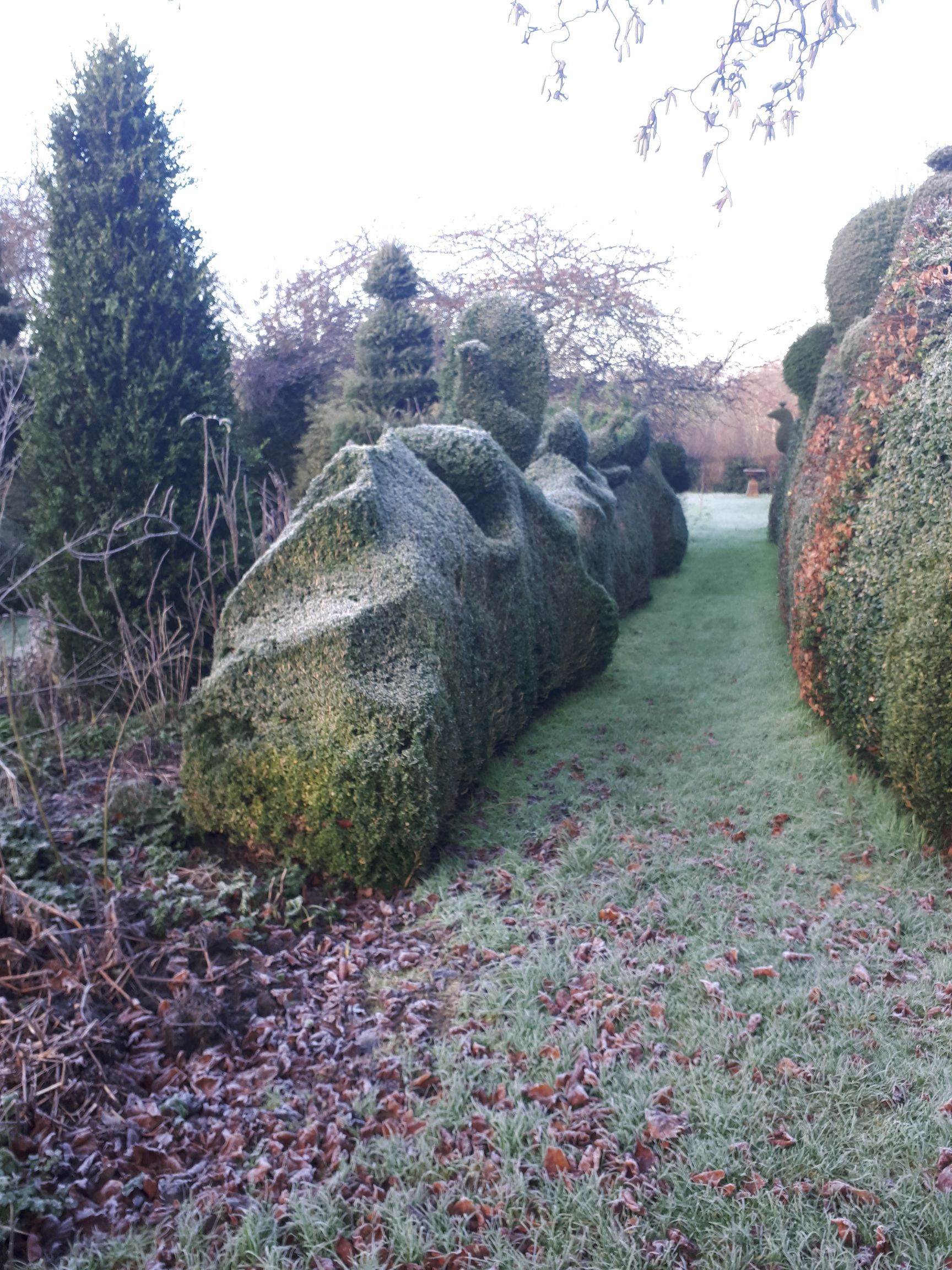 Charlotte Molesworth, my topiary mentor, and I are running our popular topiary workshop again in 2022. You can email me for details – or go here for information, your ticket and to find out about dates. Book A Spot On A Topiary Workshop, September 2022