THE MODERN MINT BLOG
For those people who have followed this blog closely enough to have seen our 2017 updates about the best gin and tonic, we have found this rather odd complimentary product on the BBC….
GIN AND YOGHURT. TOGETHER.
Really. We know. Gin and YOGHURT!
Ridiculous. But then these food consultants (development chefs?) are suggesting there is more to come. We get Heston Blumenthal doing some wonderful things, but do you really trust Sainsbury's with your food?
When Heston Blumenthal makes a weird mixture of a dish, it is so expensive – which is appropriate – because then it becomes an event. You pay  a lot of money to eat something weird.
The price validates the dinner.
When Sainsbury's make something weird, they try to make it cheap. So everyone can have a bit, everyone can like it, they can make money.
It is not an event, with Sainsbury's, it is an assault on the senses!
Please don't bother buying it, or trying it. It won't be worth it.
Though we doubt that poor sales will be proof to Sainsbury's that they should stop messing about with our grub. It will probably just make them work harder, longer hours, whipping and roasting their development chefs until they are steaming from the ears with new ideas for ugly recipes.
Pan-fried llama with a concrete topping?
Fish and Chupa Chups?
Leek and Annyong Soup?
Stick to what works well, especially when it comes to Gin.
Which means checking out our tried and tested recommendations for the best gin in the UK this year. Go now! Enjoy!
September 10 th 2017
Sep21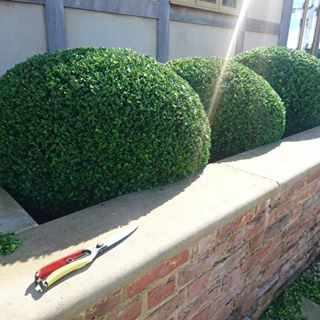 I was asked by the European Boxwood & Topiary Society to help out with answering a common question – How to sharpen your shears? So we spent a fun day making a video, that hopefully will help you make sure you have sharp, shiny blades to do your topiary pruning with. And you can find here more examples of the topiary I make with my sharp blades.
Aug16
You can get a ticket for this new talk I'm giving at the European Boxwood And Topiary Society here – TALK TICKETS It is on the 25th August at 6pm. It should be great fun and I'm very excited to be sharing some recent thoughts about topiary with people – and how it might work in a modern garden.
Jun14
If you have a subscription, you can check out an article about bespoke ideas for your garden in the Telegraph. There are some great crafts people there, so check it out. Click Here To See The Article About my Topiary Work In The Telegraph