THE MODERN MINT BLOG
I saw this a few months back.
Not exactly sure I know what to feel about it:
Cutting during the growing season when birds and other wildlife are nesting.
Having to do this each year, with the high carbon footprint attached to it, when it may be less environmentally damaging to cut down the trees close to the cables and replant more in a better, more open space?
And then of course, there is the use of a freaking helicopter with a freaking rotating blade on a freaking swinging cable being arced around next to live POWER LINES!!!!!!!
I guess you either glory in man's (and I would put money on it being a man that thought to do this) ability to conquer nature with machines.
Or you marvel at the quality of the flying and care taken by the pilot, whilst wondering if it is no more than finding a solution to a problem that could be designed away before the helicopter and the saw are even needed?
My instinct is to look closer at the latter.
For more on my topiary and pruning work, made far more gently with shears and secateurs, visit The Artisans series in the Guardian.
March 19 th 2020
Sep21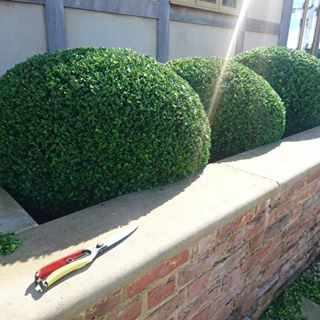 I was asked by the European Boxwood & Topiary Society to help out with answering a common question – How to sharpen your shears? So we spent a fun day making a video, that hopefully will help you make sure you have sharp, shiny blades to do your topiary pruning with. And you can find here more examples of the topiary I make with my sharp blades.
Aug16
You can get a ticket for this new talk I'm giving at the European Boxwood And Topiary Society here – TALK TICKETS It is on the 25th August at 6pm. It should be great fun and I'm very excited to be sharing some recent thoughts about topiary with people – and how it might work in a modern garden.
Jun14
If you have a subscription, you can check out an article about bespoke ideas for your garden in the Telegraph. There are some great crafts people there, so check it out. Click Here To See The Article About my Topiary Work In The Telegraph