THE MODERN MINT BLOG
A fantastic programme on the BBC with Wendell Berry.
Listen now to this excellent programme: Wendell Berry, The Natural World
He discusses the importance of our soils, reads an incredibly depressing poem, asks that we create good work by taking responsibility for doing a 'specific something', and explains how, "we are living in an economy that doesn't value nature whatsoever…."
Which ties us in nicely with this report on the BBC today, about the worst offending products on the market for being non-recyclable.
The ridiculous notion suggested in the report that we can place a projector in our fridges, to project an image of a brand of food onto the plain, environmentally friendlier packaging, makes us so mad. We love the Modern Mint branding, 3 simple circles, but there is no way we would want it projected onto a packet.
It is either there, or it isn't. Who cares either way? The important part of your 'brand' is whether you turn up, have values that you uphold, be nice to people and keep promises.
The logo is nothing compared to what you do.
(Mini rant over.)
For more about how important our soils are, and how your garden can become a carbon sink, see this project for the Chelsea Fringe 2017.
May 18 th 2017
Sep21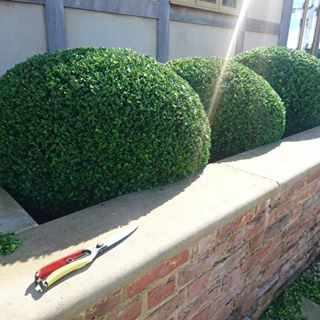 I was asked by the European Boxwood & Topiary Society to help out with answering a common question – How to sharpen your shears? So we spent a fun day making a video, that hopefully will help you make sure you have sharp, shiny blades to do your topiary pruning with. And you can find here more examples of the topiary I make with my sharp blades.
Aug16
You can get a ticket for this new talk I'm giving at the European Boxwood And Topiary Society here – TALK TICKETS It is on the 25th August at 6pm. It should be great fun and I'm very excited to be sharing some recent thoughts about topiary with people – and how it might work in a modern garden.
Jun14
If you have a subscription, you can check out an article about bespoke ideas for your garden in the Telegraph. There are some great crafts people there, so check it out. Click Here To See The Article About my Topiary Work In The Telegraph