THE MODERN MINT BLOG
A fantastic programme on the BBC with Wendell Berry.
Listen now to this excellent programme: Wendell Berry, The Natural World
He discusses the importance of our soils, reads an incredibly depressing poem, asks that we create good work by taking responsibility for doing a 'specific something', and explains how, "we are living in an economy that doesn't value nature whatsoever…."
Which ties us in nicely with this report on the BBC today, about the worst offending products on the market for being non-recyclable.
The ridiculous notion suggested in the report that we can place a projector in our fridges, to project an image of a brand of food onto the plain, environmentally friendlier packaging, makes us so mad. We love the Modern Mint branding, 3 simple circles, but there is no way we would want it projected onto a packet.
It is either there, or it isn't. Who cares either way? The important part of your 'brand' is whether you turn up, have values that you uphold, be nice to people and keep promises.
The logo is nothing compared to what you do.
(Mini rant over.)
For more about how important our soils are, and how your garden can become a carbon sink, see this project for the Chelsea Fringe 2017.
May 18 th 2017
Aug19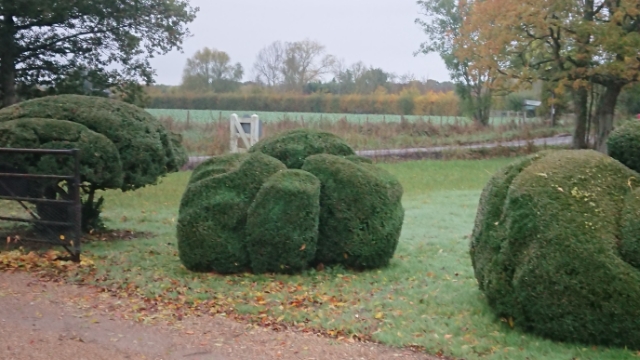 Topiary Composition and design is a major part of my work – which is why I have created an online seminar for keen gardeners and creatives to learn how to compose a piece of topiary. There are several dates available so please head here to buy a ticket. The seminar lasts two hours (including q and a) and will explore the process needed to look at a shrub or hedge and work out what you can design from it. These principles have been learnt the hard way – through mentoring, experimenting and years of practise. Hopefully, it will help you shortcut …
Jun10
Brought By Bike is an excellent website I found last month, where businesses offer their services by (of course) bicycle. Modern Mint and my topiary work is now live on the site offering my topiary services, via bike, to the following two postcodes – CM1 CM2 Now I can imagine I will need to borrow a ladder should anyone have a larger shrub, but most town gardens in the Chelmsford area have a need not just for privacy but to let light into the house… so a balance must be struck when shaping hedges and shrubs to cover both needs. …
May10
Transforming Topiary – a video made for the European Boxwood And Topiary Society by Charlotte Molesworth and I, in her garden. We take a dog topiary and work out how to update it, turning it into a bird. Worth a watch I think, and hopefully useful to you! You can see more of my clipping on the topiary page. Or read my Spring 2021 Topiary Provocation here.