THE MODERN MINT BLOG
We want to share with you this incredible edible orchestra!
Just take a look at 1 minute 38 seconds in, at the cucumber and red pepper trumpet!
Based in Vienna, they use both fresh and dried fruit and vegetables to create their instruments, peeling and honing each one 'fresh' for every concert.
At the end of the concert, vegetables are made into soup that is then shared with the audience.
Who would have thought a carrot marimba, a radish flute or a leek violin could sound so good?
Though we really aren't sure what they do with the cabbage….
… actually, we might go into the kitchen now and find out…
---
Okay, the cabbage was a disappointment. But the cauliflower sounded great!
What have you got in your kitchen that will make you a musical star?
February 20 th 2017
Sep21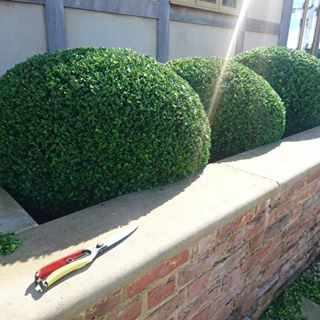 I was asked by the European Boxwood & Topiary Society to help out with answering a common question – How to sharpen your shears? So we spent a fun day making a video, that hopefully will help you make sure you have sharp, shiny blades to do your topiary pruning with. And you can find here more examples of the topiary I make with my sharp blades.
Aug16
You can get a ticket for this new talk I'm giving at the European Boxwood And Topiary Society here – TALK TICKETS It is on the 25th August at 6pm. It should be great fun and I'm very excited to be sharing some recent thoughts about topiary with people – and how it might work in a modern garden.
Jun14
If you have a subscription, you can check out an article about bespoke ideas for your garden in the Telegraph. There are some great crafts people there, so check it out. Click Here To See The Article About my Topiary Work In The Telegraph