THE MODERN MINT BLOG
I am an experienced teacher of topiary and pruning, running workshops in the topiary garden of Charlotte Molesworth in Kent, as well as for The English Gardening School and The European Boxwood And Topiary Society.
So if you are a keen gardener, a garden club, a group of friends who want to know more or even an absolute beginner who has been bitten by the gardening bug, then do contact me about what you might like to learn.
What a laugh we are having in this workshop session I ran for a group of friends in Essex…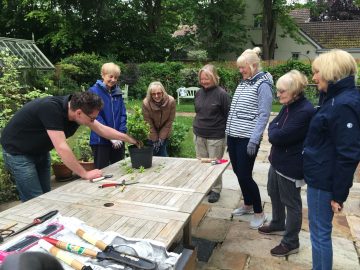 Many people employ me to come in and do the topiary and pruning work for them, but sometimes people don't need me – what they need is a little inspiration, a little help with technique and design. They love their garden, and I for one love to encourage people to take ownership of what they have.
Teaching topiary is about allowing people to develop the instinct and eye for gardening and pruning they need to make the garden into something special, something that feels like it belongs in their home.
So one-to-one, or group teaching, in your own garden, is a perfect solution – you enjoy the time getting to know and understand what you need to do (and can do) whilst learning the foundations of being a good pruner.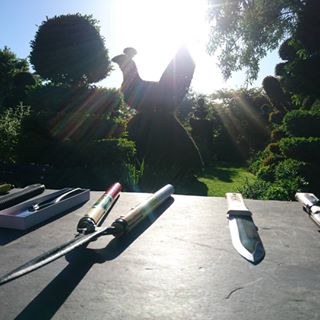 If you think a workshop or some teaching might benefit you and your garden, then please do get in touch with me. Add the following details:
Name
Number
Where you are based
How many people might join – you alone, or in a small group
A general idea of the plants we could prune and practise on
Then I can get back to you and we can work out a plan of action for helping you learn to prune.
February 1 st 2021
Jan12
Below are a few pointers on when you need to think about your topiary and hedges this year, so you can make sure you clip at the best time and not waste any effort doing work you don't need to do… January & February Roses, fruit trees and wisteria is where the focus lies. Yes, it is cold and the work can be unpleasant because you are often stood on a ladder with your secateurs, barely moving enough to warm the body, but get these jobs done well, with care, and you can enjoy the fruits and flowers of your …
Jan11
Last September when I and topiary artist (and mentor) Charlotte Molesworth ran a weekend of topiary masterclasses we had a visit from the garden writer Non Morris. You can read more about Non and her garden design work and writings here. She has written a lovely article for the February 2022 edition of The English Garden Magazine about her afternoon working with us and learning about topiary – I'm really thrilled by the piece, because she mentions not just a little of the wonderful history of Balmoral Cottage and how the garden grew, but also shares a little of how …
Nov17
This Autumn I have presented another 'Topiary Provocation' to keen gardeners and designers. If you want to know more about topiary, the report on what we discussed and where modern topiary is going can be read by clicking the link below: Topiary Provocation Report Autumn 2021 This report is free to post on your own website or blog, just credit Modern Mint, and don't change anything within it. Alternatively you can just share it with keen friends… or enemies?