THE MODERN MINT BLOG
I am an experienced teacher of topiary and pruning, running workshops in the topiary garden of Charlotte Molesworth in Kent, as well as for The English Gardening School and The European Boxwood And Topiary Society.
So if you are a keen gardener, a garden club, a group of friends who want to know more or even an absolute beginner who has been bitten by the gardening bug, then do contact me about what you might like to learn.
What a laugh we are having in this workshop session I ran for a group of friends in Essex…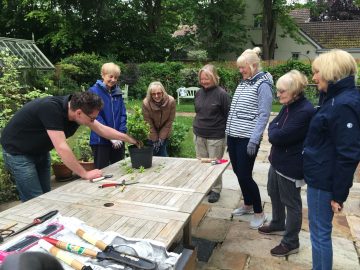 Many people employ me to come in and do the topiary and pruning work for them, but sometimes people don't need me – what they need is a little inspiration, a little help with technique and design. They love their garden, and I for one love to encourage people to take ownership of what they have.
Teaching topiary is about allowing people to develop the instinct and eye for gardening and pruning they need to make the garden into something special, something that feels like it belongs in their home.
So one-to-one, or group teaching, in your own garden, is a perfect solution – you enjoy the time getting to know and understand what you need to do (and can do) whilst learning the foundations of being a good pruner.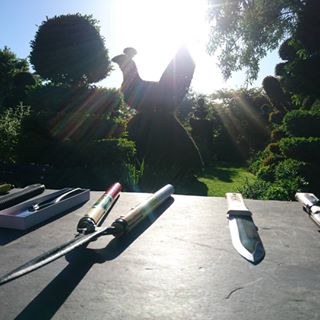 If you think a workshop or some teaching might benefit you and your garden, then please do get in touch with me. Add the following details:
Name
Number
Where you are based
How many people might join – you alone, or in a small group
A general idea of the plants we could prune and practise on
Then I can get back to you and we can work out a plan of action for helping you learn to prune.
February 1 st 2021
May03
Over the last two years I have been involved with a couple of projects that have ended up being recorded, then placed on Youtube or Instagram. I'm hoping they will be useful to you, so I have decided this morning to pop them together in one handy blog post so that you can bookmark the page and revisit when you need some inspiration for your topiary. See below then, a few videos about topiary I have recently been involved with… Garden Masterclass – Provocations of a Modern Topiarist Transforming Topiary Topiary Teacher Put On The Spot https://www.instagram.com/p/CTj-EfOKRL6/ In the above …
May03
Mark Zlotsky is an artist based in New York, and today I just wanted to share his project 'Topiary Tango'. In his introduction to the project he talks of topiary being a forgiving art, which I love and is soooooo true…..! For proof, just take a look at some projects I have made with a sharp pair of shears, a hedgetrimmer and a pruning saw. Do check out Mark Zlotsky's project, because although his interest began by looking at topiary through the prism of architecture and the relationship of one building to another, he touches directly onto a way of …
Apr27
Gardenista, the online magazine about gardens and design, have interviewed me about topiary. The article is called 'Rethinking Topiary: A Garden Tradition Loosened Up' and was published this morning. Written by the excellent garden writer Clare Coulson, I share some thoughts on using deciduous plants, how to clip (name-dropping Anne Lamott and her book on writing at one stage… oh, how I wander off subject sometimes!) and how to improve topiary by what you plant around it. Do take a look at the article in Gardenista. Or for more about my topiary work, check out the topiary page.