THE MODERN MINT BLOG
The tools I recommend? I get asked this a lot, so thought I would write here so people have an easy reference to check over, and then make their own choice.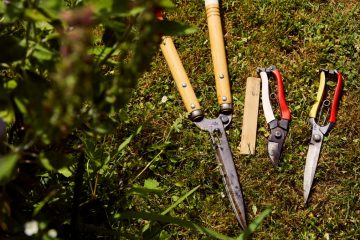 What To Look For In Tools?
I recommend tools that are robust, strong, but balanced. They must have great steel too, so that it can be sharpened.
This does not mean the most expensive, or the shiniest, but the tools that actually do a great job for you when you are out in the garden clipping. I use to buy cheap tools, my theory being I would just lose them somewhere in the garden, so what was the point of spending more money on something so easy to leave amongst the leaves or tip into the middle of the compost heap, to be gone forever?
But cheap tools are a fool's game – they won't cut as easily as tools of decent quality, making the work harder for you.
Pruning should be a pleasure, should be fun to do. You need to invest once in something that will last you a long time. When I finally did this, an odd thing happened – I found I cared more about my tools, and so no longer lost them in the garden. I took care, and so saved lots of money in the long-term!
So For Tools, I Recommend…
Okatsune, which you can get from Niwaki amongst other places. The red and white handled 21″ shears and the standard secateurs.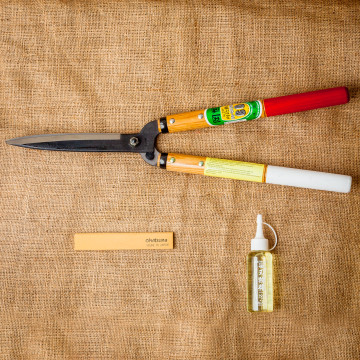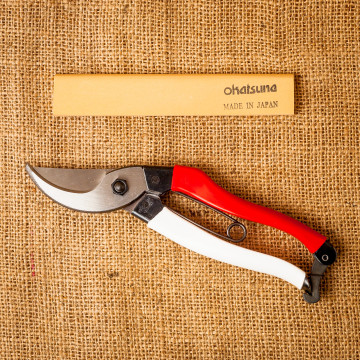 They are robust and do everything you need, from detailed clipping to something a little wilder and angular…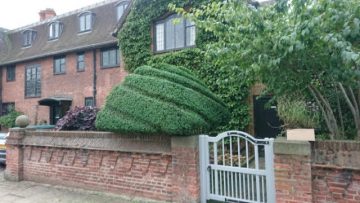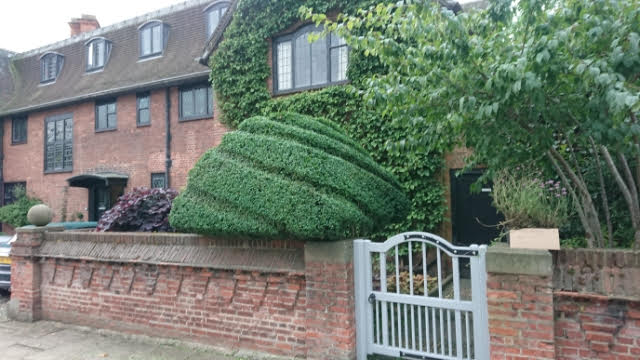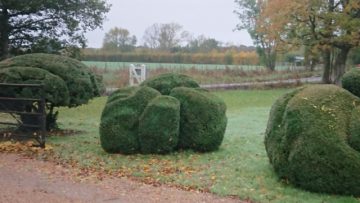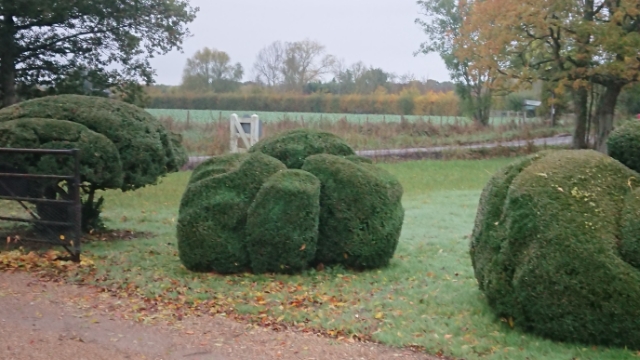 Niwaki also do a range of tools by a maker called Tobisho – these are exquisite! I have his Barracuda clippers.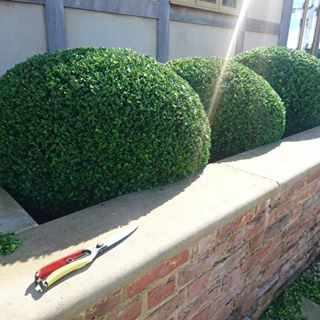 For years I used Tobisho's curved shears but sold them last spring because, although brilliant, I do a lot of teaching and they are sort of a cheat code – the crescent blades made it too easy to make 'organic' topiary shapes and I wanted students to see that you could make any shape just with a 'normal' pair of shears. Your technique has to be strong but the tools don't really matter.
Then for yew I use a Stihl hedge trimmer, battery powered. I switched to this in the last two years. Not perfect but strong enough and the balance is good. I use the short-handled HSA 86, as well as a long-handled one.
Finally the Silky hand saw is my pruning saw of choice.
Keep everything sharp and clean and that is pretty much all you need.
The key to good topiary and pruning, once you have the tools, is imagination and time – the time to allow it to grow, and provide you with enough material to prune it well.
Finally, Sharp Tools Are Also Recommended Because…
Another great thing about decent tools, sharp steel, is that if you do cut yourself, the cut will be nice and clean. So a finger becomes easy to reattach.
My one and only accident, with a Silky pruning saw from Japan (note the blood on the wellies and trousers after leaving hospital.)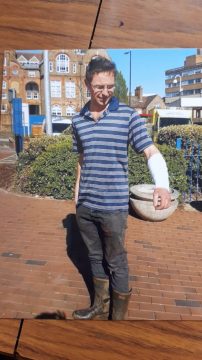 The teeth landed in my arm like an axe splitting a log. Healed up fast, back at work a week later.
And I'm much more careful and respectful now…
Hope this helps, and happy pruning to all! If you wish to get some help with your topiary or the pruning in your garden, then please do take a look at a small selection of what I can do, either in the Artisan series or on this very website…
February 1 st 2021
Aug19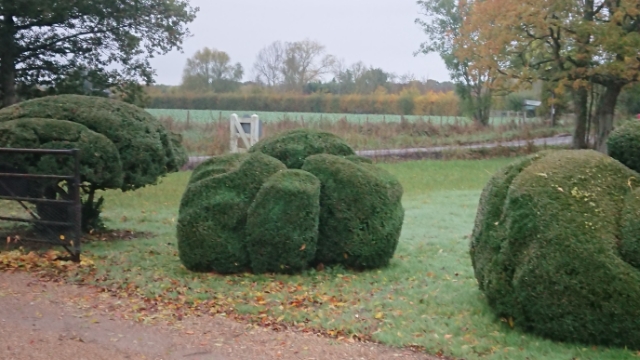 Topiary Composition and design is a major part of my work – which is why I have created an online seminar for keen gardeners and creatives to learn how to compose a piece of topiary. There are several dates available so please head here to buy a ticket. The seminar lasts two hours (including q and a) and will explore the process needed to look at a shrub or hedge and work out what you can design from it. These principles have been learnt the hard way – through mentoring, experimenting and years of practise. Hopefully, it will help you shortcut …
Jun10
Brought By Bike is an excellent website I found last month, where businesses offer their services by (of course) bicycle. Modern Mint and my topiary work is now live on the site offering my topiary services, via bike, to the following two postcodes – CM1 CM2 Now I can imagine I will need to borrow a ladder should anyone have a larger shrub, but most town gardens in the Chelmsford area have a need not just for privacy but to let light into the house… so a balance must be struck when shaping hedges and shrubs to cover both needs. …
May10
Transforming Topiary – a video made for the European Boxwood And Topiary Society by Charlotte Molesworth and I, in her garden. We take a dog topiary and work out how to update it, turning it into a bird. Worth a watch I think, and hopefully useful to you! You can see more of my clipping on the topiary page. Or read my Spring 2021 Topiary Provocation here.