THE MODERN MINT BLOG
We are sorry to say there has been a price increase in our copper tools.
These incredible tools/works of art are handmade in Europe and since we have left the EU the unfavourable exchange rate no longer allows us to absorb increased costs from production.
This comes at the same time that the tools are gaining huge popularity worldwide (hurray for sensible folk who want to garden with great tools that last a lifetime, rather than throwaway rubbish!) and the foundry are struggling to keep up with demand.
For example, only one person does the brazing on the large copper tools (he doesn't trust anyone else to do as good a job!) and parts for the Nunki weeder, our favourite hand held hoe, are running low meaning there is a shortage of these wonderful tools too.
The price increase post-Brexit is small but we hope you understand it is no longer possible to keep them at such a great low price. We hope you will still find this new cost excellent value, as we want you to buy and use these tools for a long long time – copper tools are the best!
August 6 th 2016
Sep21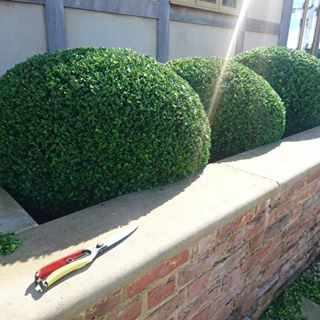 I was asked by the European Boxwood & Topiary Society to help out with answering a common question – How to sharpen your shears? So we spent a fun day making a video, that hopefully will help you make sure you have sharp, shiny blades to do your topiary pruning with. And you can find here more examples of the topiary I make with my sharp blades.
Aug16
You can get a ticket for this new talk I'm giving at the European Boxwood And Topiary Society here – TALK TICKETS It is on the 25th August at 6pm. It should be great fun and I'm very excited to be sharing some recent thoughts about topiary with people – and how it might work in a modern garden.
Jun14
If you have a subscription, you can check out an article about bespoke ideas for your garden in the Telegraph. There are some great crafts people there, so check it out. Click Here To See The Article About my Topiary Work In The Telegraph