THE MODERN MINT BLOG
During lockdown I went through a number of old notebooks.
I found a note about Gilles Clement and The Garden In Motion – Le Jardin En Mouvement.
Underneath my note I had written:
"To be researched more! Something to definitely think over!"
Now, five years later I have looked again… and am thrilled by this idea. The Garden In Motion is about taking a piece of unused land, and then as the gardener you make choices to do 'as much as possible for the land and as little as possible against' it.
You are talking about limited input – watering, tools, fertiliser – whilst increasing the quality of the air, the water and the land.
I have often been heard to bang on about 'observe', 'pay attention' and 'look closely' when talking about gardening. But these are quite meaningless really. I am sure people nod their heads and go yes, but it is a skill that needs learning, that needs practising.
And I can barely do it myself, for all those grand words!
But it is this ability, this state of mind, that allows you to garden well – by standing back, seeing what is happening and evolving in the garden, naturally, then allowing the garden to flourish as it wants. Allowing it to 'move' as it wants.
You become the caretaker – a Care-Taker – of the land.
I found The Garden In Motion an inspiring idea, perhaps more because it begins to put into words the way I feel about gardening, about how much you control and how much you allow things to be… which does sound weird coming from someone who makes topiary – the hard pruning of shrubs being very much about control!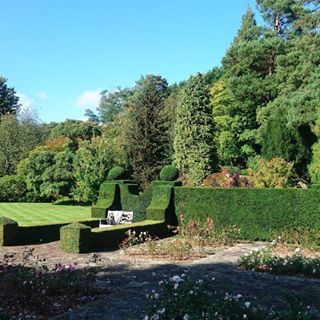 But not all topiary is like this.
Truly some is about pruning in a way that improves a shrub, but so you would never think it had been touched at all…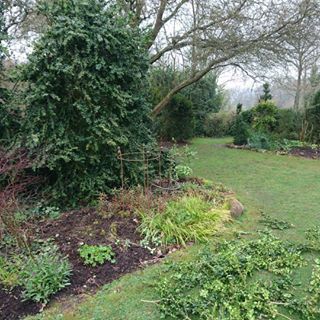 Look how much leaf has come off, to allow light through to the bed and to keep the boxwood in place… yet the plant looks relaxed, like it is shrugging its shoulders.
As ever, this blog explores ideas I am thinking about, but not always in the sharpest or best way. It is more a notebook of where I am at, and heading. Keep coming back and you might find I can express myself better and in a more useful way to you.
Or take a look at some other topiary work I've been doing for clients recently…
June 6 th 2020
$last_class = " list-blog"?>
May03
Over the last two years I have been involved with a couple of projects that have ended up being recorded, then placed on Youtube or Instagram. I'm hoping they will be useful to you, so I have decided this morning to pop them together in one handy blog post so that you can bookmark the page and revisit when you need some inspiration for your topiary. See below then, a few videos about topiary I have recently been involved with… Garden Masterclass – Provocations of a Modern Topiarist Transforming Topiary Topiary Teacher Put On The Spot https://www.instagram.com/p/CTj-EfOKRL6/ In the above …
$last_class = " list-blog"?>
May03
Mark Zlotsky is an artist based in New York, and today I just wanted to share his project 'Topiary Tango'. In his introduction to the project he talks of topiary being a forgiving art, which I love and is soooooo true…..! For proof, just take a look at some projects I have made with a sharp pair of shears, a hedgetrimmer and a pruning saw. Do check out Mark Zlotsky's project, because although his interest began by looking at topiary through the prism of architecture and the relationship of one building to another, he touches directly onto a way of …
$last_class = " list-blog"?>
Apr27
Gardenista, the online magazine about gardens and design, have interviewed me about topiary. The article is called 'Rethinking Topiary: A Garden Tradition Loosened Up' and was published this morning. Written by the excellent garden writer Clare Coulson, I share some thoughts on using deciduous plants, how to clip (name-dropping Anne Lamott and her book on writing at one stage… oh, how I wander off subject sometimes!) and how to improve topiary by what you plant around it. Do take a look at the article in Gardenista. Or for more about my topiary work, check out the topiary page.