THE MODERN MINT BLOG
'Someday We'll Linger In The Sun' is a beautiful song by the wonderful fiddle player Gaelynn Lea.It is this lack of sunshine we want to speak about today…
As the weather reaches a balmy (barmy?) 1 degrees celsius outside, here at Modern Mint we think it is better to stay in and read about gardening than be outside doing it. Uninspired? No, just don't want to freeze again today!
We love the cold weather at this time of year, love the garden and the way it looks as the frost begins to melt…
We adore the winter jobs, the pruning too…
But for all of that love, today really does just feel a little to cold to get stuck into the garden again.
Forgive us? Laugh and call us out as being no better than a fair weather gardener….?
Go for it! We can take it!
We are quite happy to be sat inside with a cup of coffee this morning. Listening to songs of warmer times. Which is why we suggest you take a moment to, and watch the incredible performance of Gaelynn Lea singing her composition 'Someday We'll Linger In The Sun'.
The melody is exceptional, the voice thrilling, and the words….? The words are deep and rich, evoking a little bit of that warmth we look forward to enjoying as this gardening year moves away from the cold and into spring, into summer….
Someday We'll Linger In The Sun
Our love's a complex vintage wine
All rotted leaves and lemon rind
I'd spit you out but now you're mine
We bit the fruit, it seemed a lie
I'll never know which way was right
Now side by side we face the night
And I love you
And I love you
We walked the pier and back again
It was the most scared I've ever been
You held my hand until the end
And I love you
And I love you
Don't tell me we've got time
The subtle thief of life
It slips away when we pay no mind
We pulled the weeds out til the dawn
Nearly too tired to carry on
Someday we'll linger in the sun
And I love you
And I love you
February 10 th 2017
Feb22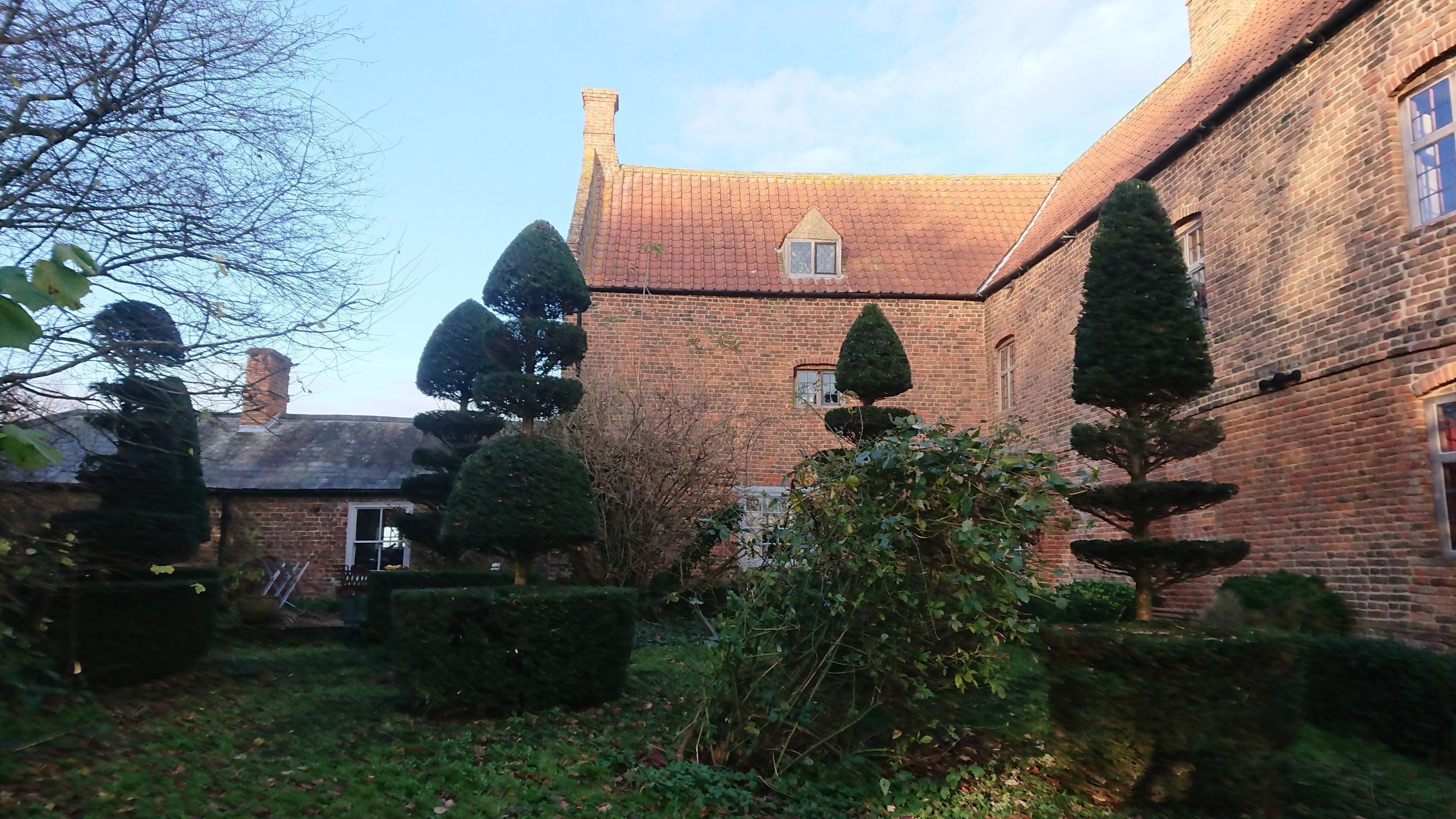 Guanock House needs a trainee topiary artist! Some of you may know it as the first home and garden of designer Arne Maynard, but is now owned and maintained by Michael Coleman and his wife Michelle. They offer meditation workshops and retreats there and it is as beautiful a house and garden as you could wish to visit. They called me in last Autumn to help shape up some of the topiary as it was all getting out of hand, but what it really needs is someone with a steady hand and lots of patience to take over the clipping …
Feb09
Here are some photos of work I have been doing at the garden of Charlotte Molesworth in Kent. Snow and ice brings out the depth of the different planes and angles carved into the boxwood. A garden has to look beautiful in winter – and topiary (green architecture)  helps do that! For more topiary pictures, click here.
Feb05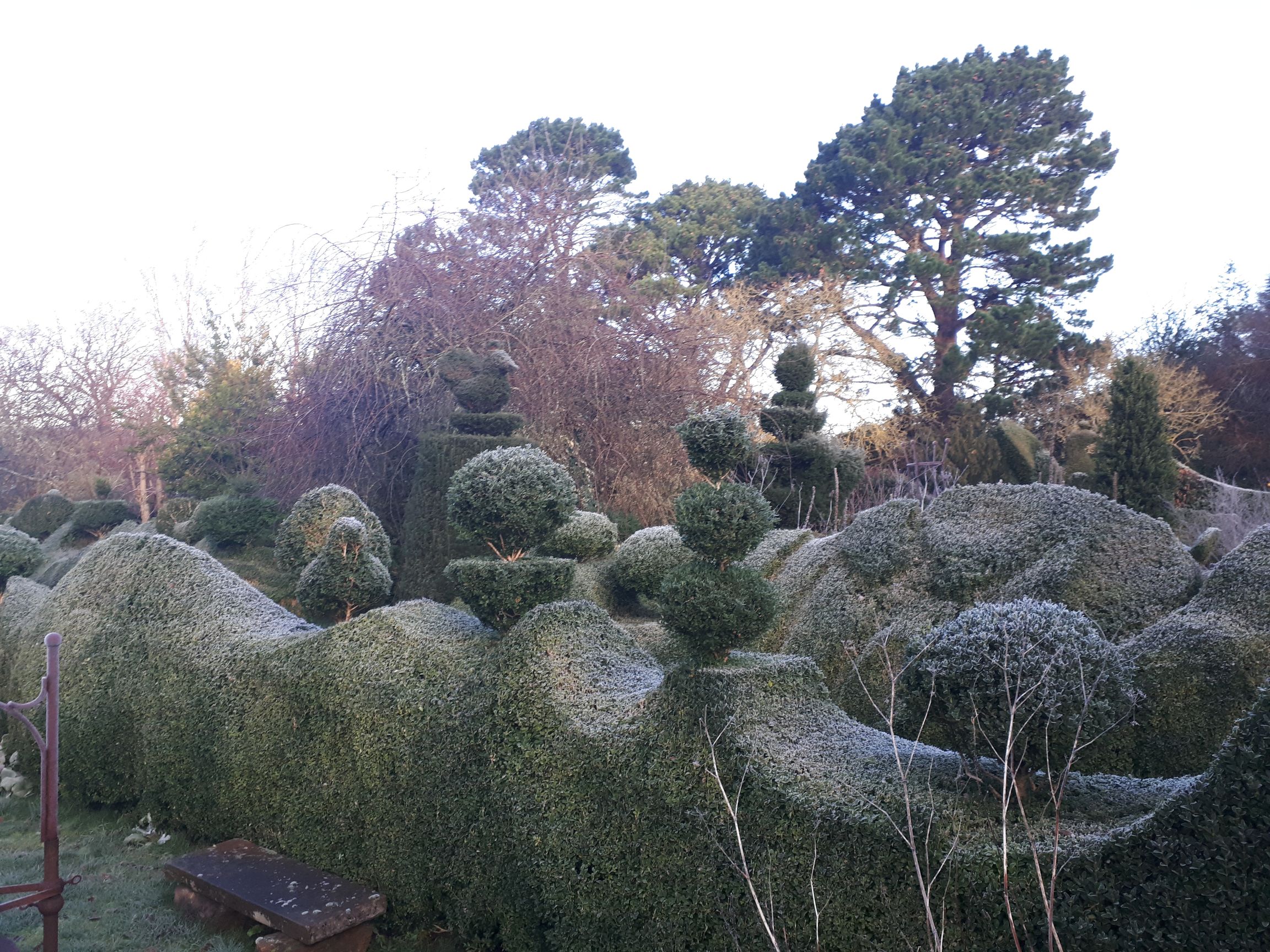 How To Use Topiary In The Garden is my new talk, which I first gave last year via Zoom for the European Boxwood And Topiary Society. Returning to Zoom again, there are two dates available to see and hear the talk: March 16th – Book your ticket here April 6th – Book your ticket here The talk is great fun, perfect for keen gardeners or people who want to know how to improve their garden with hedges and architectural plants. How To Use Topiary In The Garden looks at how to move away from the idea topiary is twee or old-fashioned, …