THE MODERN MINT BLOG
Want to give you a heads up on a magazine we read a lot – Positive News.
They provide some wonderful articles, that are great quality and full of interesting ideas you may not have come across before. It is similar to how we feel about the writing of the Earth Friendly Gardener, that of giving voice to notions the would otherwise remain hidden.
Unlike the US administrations 'alternative facts', at Positive News you are told what is, in context, meaning you can then use your own brain to decide what you feel is right or wrong.
Our favourite writer at the magazine is Lucy Purdy, who consistently comes up with article topics that, upon reading them, you realise is exactly the sort of thing you wanted to read. It takes some skill (and passion) to lead your audience somewhere they felt they needed to go….
Here is an excerpt from an interview Lucy made with George Monbiot, author of Feral.
They are talking about combating loneliness and how to achieve connection. George is not saying 'get on Twitter', but presents us with two alternatives – making music and harvesting and creating food:
"The human spirit and desire to come together overcome almost all attempts to prevent it from happening. In early factory life, silence was imposed on the workers and so the folk tradition in England almost died because people were prevented from singing while they worked. But they found subversive ways of getting back together and strong factory communities formed and remain today. When the dictatorship in North Korea eventually ends, people there will come back together again.
Music is a really great way of facilitating and accelerating that. I think the harvesting and processing of food is greatly underestimated too. My and other families are involved in a communal apple pressing each year. We pool the apples from our trees then turn them into juice and cider. I realised that we're reinventing thousands of years of hunting and gathering tradition. Finding and processing food together is a critical part of human existence and a great way of reconnecting people."
How fantastic is that? To use food as a way to build communities. We have read books about places like Campodimele where the tradition is for the village to spend a day, together, creating the cherry jam that will be such a heavenly food treat for the rest of the year. Or a friend of ours at South East Essex Organic Gardeners, who visits Italy each year to help harvest olives – he links up again with old friends who also go every year, works hard,, then gets his supply of olive oil as payment.
We suggest you connect with some other, like-minded folk, by reading some Positive News.
January 26 th 2017
Aug19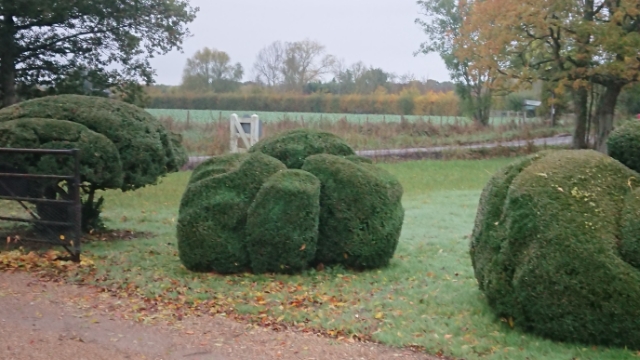 Topiary Composition and design is a major part of my work – which is why I have created an online seminar for keen gardeners and creatives to learn how to compose a piece of topiary. There are several dates available so please head here to buy a ticket. The seminar lasts two hours (including q and a) and will explore the process needed to look at a shrub or hedge and work out what you can design from it. These principles have been learnt the hard way – through mentoring, experimenting and years of practise. Hopefully, it will help you shortcut …
Jun10
Brought By Bike is an excellent website I found last month, where businesses offer their services by (of course) bicycle. Modern Mint and my topiary work is now live on the site offering my topiary services, via bike, to the following two postcodes – CM1 CM2 Now I can imagine I will need to borrow a ladder should anyone have a larger shrub, but most town gardens in the Chelmsford area have a need not just for privacy but to let light into the house… so a balance must be struck when shaping hedges and shrubs to cover both needs. …
May10
Transforming Topiary – a video made for the European Boxwood And Topiary Society by Charlotte Molesworth and I, in her garden. We take a dog topiary and work out how to update it, turning it into a bird. Worth a watch I think, and hopefully useful to you! You can see more of my clipping on the topiary page. Or read my Spring 2021 Topiary Provocation here.