THE MODERN MINT BLOG
Seaside gardens are fascinating and here at Modern Mint Garden Design we cannot wait for our first commission to work on a garden by the sea.
In preparation for that moment we are trying to learn all we can about the plants that can cope with living by the seaside. Below is a document Plantlife have put together that gives great information and pictures on seaside wildflowers – easy to print off and take with you while walking along the coast too!
We recently visited the West coast of Ireland to take a look at the landscape there – we saw sea holly growing wild on the most beautiful (and deserted) sandy beaches. We got soaked by rain that would lash down for ten minutes and then be gone, saw vivid rainbows that appeared so solid you could reach out and touch them, felt the wind barging past us like a handbag thief running away from a victim. It was a beautiful landscape – probably the highlight was getting up early one morning, in darkness, and going outside to meet the sunrise… and seeing a man run his two wolfhounds across a mist-veiled field. An image that will live a long time in the memory.
Another good resource for seaside gardening is this video – not so much for information but for inspiration – about the seaside garden of the Chilean garden designer Juan Grimm.
"There are certainly no showy displays of flowers, and no neatly defined borders, just an infinitely sophisticated use of local plants…"
Watch from 50 minutes onwards, and note how the plants suit the sunshine and the sea.
The quote we like best from this short part of the video is when Juan Grimm says…
"The landscape says to you what you have to do."
It is an antithesis to 'Capability' Brown, or those who deem weedkillers to be an essential part of the armoury for controlling nature – instead you are teasing out what the site tells you to do, what it wants to be. It is also a remarkably fashionable concept in contemporary garden design. How long this lasts before fashions change and we come back full circle again…
Last of all our favourite books about gardens near the ocean are these – the classic by Derek Jarman:
and this less well known by equally satifying book by Barbara Segall (satisfying because the pictures are beautiful, it discusses and shares gardens from all over the world, and it contains a useful plant appendix with growing notes for plants that can cope with salt and high winds…) – a fantastic read:
Enjoy your seaside gardening!
November 4 th 2014
Sep29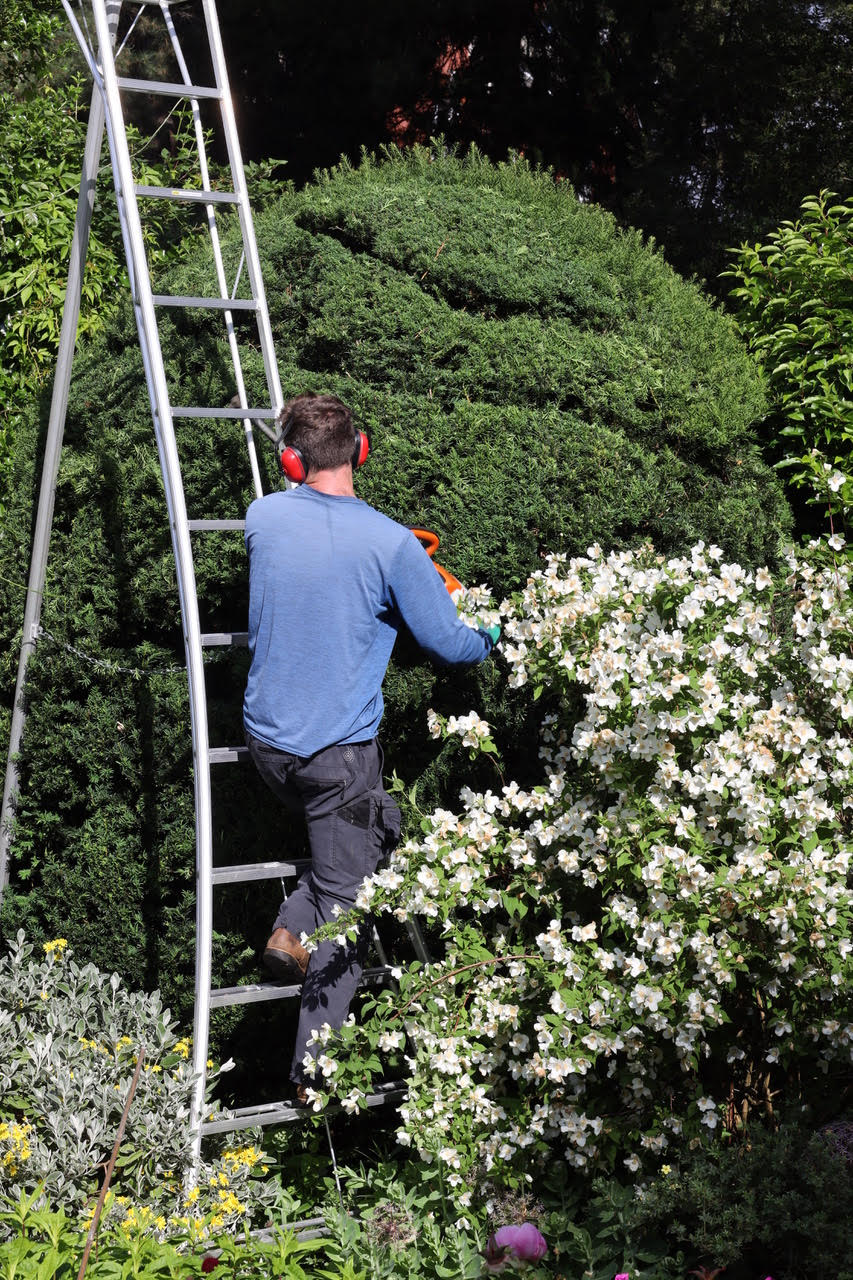 Making a new topiary out of the large, dull facade of a Taxus blob… My work was to change it up from a 'jelly drop' shape and give it texture, open it out and let the light through, and make it a sculptural feature in the background of the garden in summer… yet a major part of the garden in winter. A few more years before it becomes something special, but there was far more leaf and growth inside the plant than I thought and so it will not take too long for it to gain in character and become …
Sep27
Two weeks ago I was invited to teach topiary at the garden of Griselda Kerr, the author of The Apprehensive Gardener. I love teaching and sharing skills, but I was placed on the spot in the afternoon and asked to show how I would make a new topiary from an existing shrub. So below is a speeded-up video of me creating a cloud-pruned topiary from an old boxwood tree. I particularly love the ending when the class get involved….! See the video here. One hour was all it took, and though it needed a little tidying-up, it was made by …
Sep27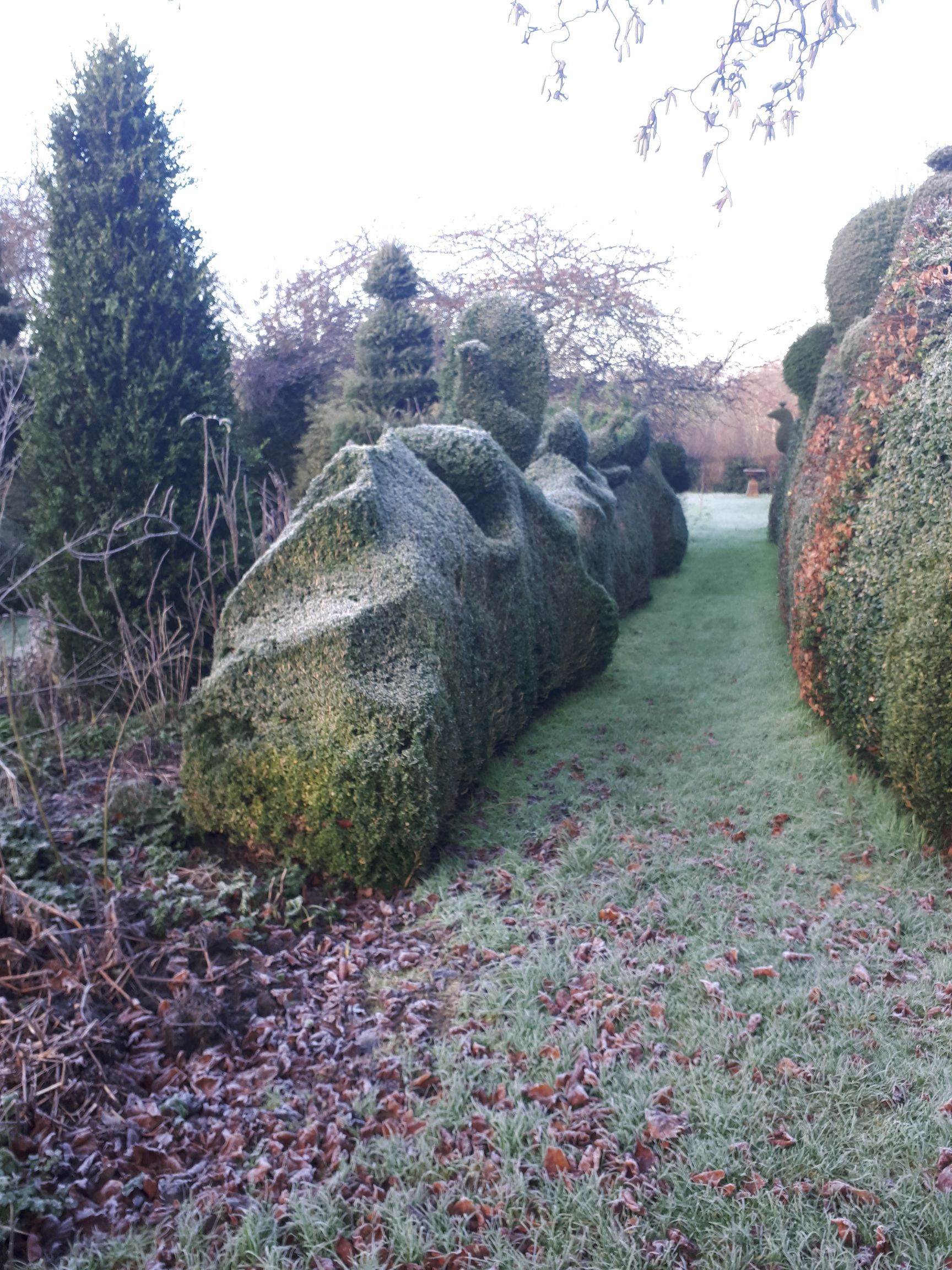 Charlotte Molesworth, my topiary mentor, and I are running our popular topiary workshop again in 2022. You can email me for details – or go here for information, your ticket and to find out about dates. Book A Spot On A Topiary Workshop, September 2022