THE MODERN MINT BLOG
Another winter favourite, Sarcococca is a lovely plant with a lovely name to say. Sar-co-co-cca. Sarcococca. Impress your non-gardening friends by pulling this one out…. and then confusing them by calling it Christmas or Sweet box, its common name.
It makes it to Plant of the Week by virtue of its strong perfume, which can make your  nose twitch with its bewitching charm. But there are many other qualities to this evergreen shrub.
It grows well in lime or acid soil.
It tolerates shade.
It is a slow grower, so doesn't need lots of pruning.
It doesn't suffer from pests and diseases (it can replace Buxus as an edging plant in gardens effected by blight. Sarcococca hookeriana var. humilis is the one to try for this.)
It can be used in a cottage garden or a more formal design.
It is good for cutting and taking into the house, where it will perfume a room.
It has berries for the birds.
Sounds too good to be true. So what, then, are its problems?
The flowers are…modest. Very modest. In fact, you probably won't even notice it flowering, and will only be aware that its moment in the garden has come when the fragrance of the flower hits you from several paces away, making you search for the source of this wonderful scent. Let us not just judge by the flower power of a plant though. We can be more sagacious than that. Which brings us on to the next point…
… you might think the leaf dull (you might, even though it shines like glossy paper, reflecting all possible light and warmth there is to be found in a shady, neglected spot. A far better leaf to have working for you in your garden than the light thieving mass of a rhododendron.)
We willingly fight to advertise this plants qualities, don't we?
What can you plant with it? Try a clump-forming fern, some strands of vinca, hydrangeas, dicentra perhaps, with a clematis growing up a wall behind it. It is a shrub that will provide valuable support to others, rather than being the star performer.
Or place around it some bulbs, like snowdrops, a variegated ivy and the flower and foliage of hellebores (as the stat attraction) and you have a simple yet restorative winter scene. Made all the more rewarding by the bounty of the Sarcococca's scent.
For more great winter-flowering shrubs, ge tthis book!
February 11 th 2014
Nov17
This Autumn I have presented another 'Topiary Provocation' to keen gardeners and designers. If you want to know more about topiary, the report on what we discussed and where modern topiary is going can be read by clicking the link below: Topiary Provocation Report Autumn 2021 This report is free to post on your own website or blog, just credit Modern Mint, and don't change anything within it. Alternatively you can just share it with keen friends… or enemies?
Sep29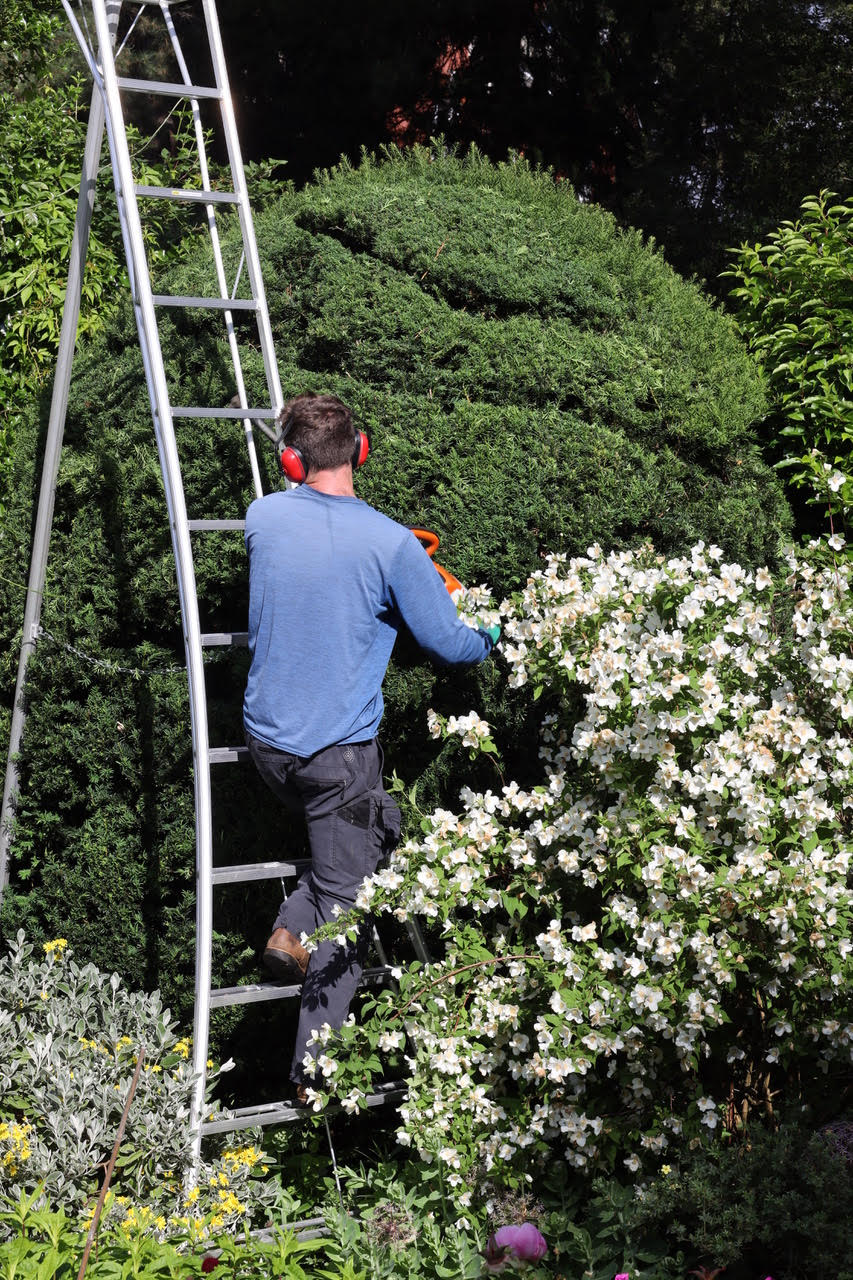 Making a new topiary out of the large, dull facade of a Taxus blob… My work was to change it up from a 'jelly drop' shape and give it texture, open it out and let the light through, and make it a sculptural feature in the background of the garden in summer… yet a major part of the garden in winter. A few more years before it becomes something special, but there was far more leaf and growth inside the plant than I thought and so it will not take too long for it to gain in character and become …
Sep27
Two weeks ago I was invited to teach topiary at the garden of Griselda Kerr, the author of The Apprehensive Gardener. I love teaching and sharing skills, but I was placed on the spot in the afternoon and asked to show how I would make a new topiary from an existing shrub. So below is a speeded-up video of me creating a cloud-pruned topiary from an old boxwood tree. I particularly love the ending when the class get involved….! See the video here. One hour was all it took, and though it needed a little tidying-up, it was made by …