THE MODERN MINT BLOG
Another winter favourite, Sarcococca is a lovely plant with a lovely name to say. Sar-co-co-cca. Sarcococca. Impress your non-gardening friends by pulling this one out…. and then confusing them by calling it Christmas or Sweet box, its common name.
It makes it to Plant of the Week by virtue of its strong perfume, which can make your  nose twitch with its bewitching charm. But there are many other qualities to this evergreen shrub.
It grows well in lime or acid soil.
It tolerates shade.
It is a slow grower, so doesn't need lots of pruning.
It doesn't suffer from pests and diseases (it can replace Buxus as an edging plant in gardens effected by blight. Sarcococca hookeriana var. humilis is the one to try for this.)
It can be used in a cottage garden or a more formal design.
It is good for cutting and taking into the house, where it will perfume a room.
It has berries for the birds.
Sounds too good to be true. So what, then, are its problems?
The flowers are…modest. Very modest. In fact, you probably won't even notice it flowering, and will only be aware that its moment in the garden has come when the fragrance of the flower hits you from several paces away, making you search for the source of this wonderful scent. Let us not just judge by the flower power of a plant though. We can be more sagacious than that. Which brings us on to the next point…
… you might think the leaf dull (you might, even though it shines like glossy paper, reflecting all possible light and warmth there is to be found in a shady, neglected spot. A far better leaf to have working for you in your garden than the light thieving mass of a rhododendron.)
We willingly fight to advertise this plants qualities, don't we?
What can you plant with it? Try a clump-forming fern, some strands of vinca, hydrangeas, dicentra perhaps, with a clematis growing up a wall behind it. It is a shrub that will provide valuable support to others, rather than being the star performer.
Or place around it some bulbs, like snowdrops, a variegated ivy and the flower and foliage of hellebores (as the stat attraction) and you have a simple yet restorative winter scene. Made all the more rewarding by the bounty of the Sarcococca's scent.
For more great winter-flowering shrubs, ge tthis book!
February 11 th 2014
Sep21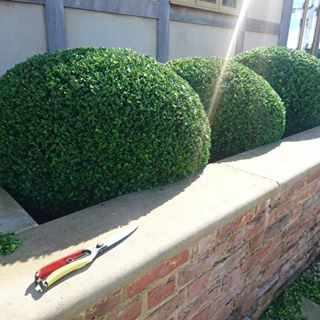 I was asked by the European Boxwood & Topiary Society to help out with answering a common question – How to sharpen your shears? So we spent a fun day making a video, that hopefully will help you make sure you have sharp, shiny blades to do your topiary pruning with. And you can find here more examples of the topiary I make with my sharp blades.
Aug16
You can get a ticket for this new talk I'm giving at the European Boxwood And Topiary Society here – TALK TICKETS It is on the 25th August at 6pm. It should be great fun and I'm very excited to be sharing some recent thoughts about topiary with people – and how it might work in a modern garden.
Jun14
If you have a subscription, you can check out an article about bespoke ideas for your garden in the Telegraph. There are some great crafts people there, so check it out. Click Here To See The Article About my Topiary Work In The Telegraph