THE MODERN MINT BLOG
Some recent work over the last year or so, clipping boxwood and holly hedges, yew topiary on top and fun, organic shapes.
Contact me if you need some topiary clipping and we can chat about the possibilities.
Alternatively you can see much better photos of my work here in the Guardian.
Darren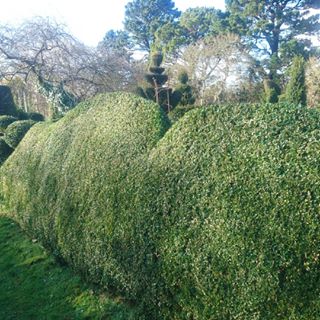 Contact Me For Help With Your Topiary Or Pruning
Or see a few more photos here.
September 27 th 2019
Jan12
I compiled a list of books using Bookshop, a new online shop to rival Amazon. I like it because it is supporting independent bookshops, helping them out by giving them an audience whilst their own physical premises are closed. The books I've listed are not all about gardening, but worth a look through and an order anyway as they are wonderful and have seen me through lockdown – and I hope they bring you some joy too!  Check out the books I recommend here.
Dec13
Hedge laying is something I've been meaning to try for a long time, a type of pruning that can bring huge benefits to wildlife as well as looking amazing. So last year I went down to Dorset/the edge of Devon, to spend a day learning to lay a hedge. Hedge laying is a way of building a stock proof fence. It does take time, and some practical and physical skill, but once you get the hang of it I would think developing your instinct about what to prune and where to lay the branches is where the true proficiency arises… …
Nov19
Fernando Caruncho is a garden designer from Madrid. I am always inspired by his work – his clean lines, 'green architecture', sense of proportion, balance and minimal plant palette. This seems to bring out the atmosphere of the garden, the space, intensifying its… spirit. I have written about him a lot – here, for example… and here. But recently I have discovered a few more interviews with him, so thought I would link to his words as he always has something interesting to say, the opposite of prosaic. This first interview from the Society of Garden Designers will give you …