THE MODERN MINT BLOG
We work with a number of other businesses that can help provide us with the items you want. We are a resource for gardening, after all…
For plants we we work with Jersey Plants Direct – they also offer free delivery on plants and we like that.
Cut flower queries allow us to send you to the Queen of the home grown flower growers art, Sarah Raven. Use this resource she provides!
For gardening books where better is there to go than Amazon
. For a more specific pointer, we have a bookshop.
For the computer we use we have partnered to work with Panda Security UK because you need anti-virus software to protect what you create.
For garden products we work with Garden Trading, Harrod Horticultural and Agriframes (who do frames for the garden, of course…)
Anything to do with ponds go to Pondkeeper.
Mowers and lawn care products can be found here at Rolawn, Lawn Mowers UK and Mow Direct.
For ecologically considered products we use Natural Collection. Please change how you shop and use them to.
You have to eat well – gardening burns a lot of calories – so do buy your food from Donald Russell and Pong Cheese. Yum!
Love Lula? We do, as they offer something unusual – vegan products. Our vegan friends need caring for to…
Home and office need a design spruce up? Try the fabulous Royal Design.
When you're tired from a long day in the garden, we offer you a cup of tea… and a piece of chocolate!
And finally we partner with LED Hut for lighting…
Do make the most of these companies and use what they are offering!
July 23 rd 2014
Sep21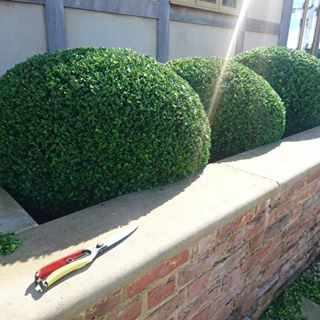 I was asked by the European Boxwood & Topiary Society to help out with answering a common question – How to sharpen your shears? So we spent a fun day making a video, that hopefully will help you make sure you have sharp, shiny blades to do your topiary pruning with. And you can find here more examples of the topiary I make with my sharp blades.
Aug16
You can get a ticket for this new talk I'm giving at the European Boxwood And Topiary Society here – TALK TICKETS It is on the 25th August at 6pm. It should be great fun and I'm very excited to be sharing some recent thoughts about topiary with people – and how it might work in a modern garden.
Jun14
If you have a subscription, you can check out an article about bespoke ideas for your garden in the Telegraph. There are some great crafts people there, so check it out. Click Here To See The Article About my Topiary Work In The Telegraph