THE MODERN MINT BLOG
A common theme between these groups is that they support long term initiatives and developments. We feel this is the best work, and relates to how we want to do things here at Modern Mint – partner up and be generous for the long run.
Have a good look yourself!
The Tree Council
Why not apply to be a tree warden?
Garden Organic
Adopt a vegetable (and annoy a meat loving friend!)
South East Essex Organic Gardeners
Our local (well, local enough) group here in Essex.
And lastly, our absolute favourite…
The 2013 watchlist contained 1 breed of sheep, 5 breeds of cattle, 3 breeds of pig and 4 breeds of horse as critical. A critical listing means less than 300 animals are left.
Google 'Vaynol cow' or 'Eriskay Pony'…
…did you do it?
Did you see those pictures?
Did your heart not melt and/or you break into a smile at how lovely they are?
Go on – support the Rare Breeds Survival Trust. Because these breeds are worth it!
To find out more, buy this book…
January 24 th 2014
Sep21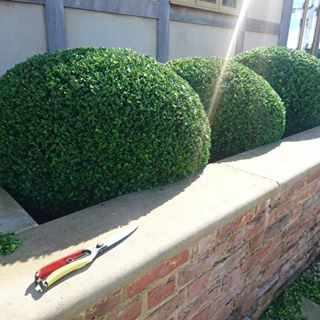 I was asked by the European Boxwood & Topiary Society to help out with answering a common question – How to sharpen your shears? So we spent a fun day making a video, that hopefully will help you make sure you have sharp, shiny blades to do your topiary pruning with. And you can find here more examples of the topiary I make with my sharp blades.
Aug16
You can get a ticket for this new talk I'm giving at the European Boxwood And Topiary Society here – TALK TICKETS It is on the 25th August at 6pm. It should be great fun and I'm very excited to be sharing some recent thoughts about topiary with people – and how it might work in a modern garden.
Jun14
If you have a subscription, you can check out an article about bespoke ideas for your garden in the Telegraph. There are some great crafts people there, so check it out. Click Here To See The Article About my Topiary Work In The Telegraph