THE MODERN MINT BLOG
What the hell is a nose tickler??!!??!!
Don't panic. Let Modern Mint explain….
A nose tickler is a brand new product we are now showcasing at Modern Mint. It is hand made in the UK and each and every single one is different – different woods are used, as well as different finishes (some are with bark, some are without.)
The only part that stays the same is that the tickling part of the nose tickler is made of pure bristle. All natural baby…
We found out about the nose tickler a little while ago, when we did a fair at a school. We had laid them out on the table, right at the front, presented beautifully like a real shop and all that… we put a big sign next to them saying LAPTOP BRUSH.
We thought – laptop brush? Could even be a pastry brush. And we were happy with that, it was all we thought…
Then, halfway through the fair at this school, a child walks up to the table we were presenting our wares from. She stopped right in front of the brush, tilted her head to the side, paused, then said…
"You have a nose tickler. I love them."
Oh my.
Oh my oh my oh my.
We thought – this girl is a genius – of course it is! Our laptop brush (or pastry brush) has so many more uses than we could ever imagine. And this one, this one idea, is the use we love the most – a nose tickler.
Do take a closer look at our genuinely beautiful and favourite product at Modern Mint. Each one is unique and when they are gone, they will be gone…
November 21 st 2016
Sep21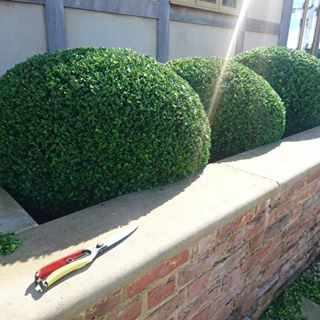 I was asked by the European Boxwood & Topiary Society to help out with answering a common question – How to sharpen your shears? So we spent a fun day making a video, that hopefully will help you make sure you have sharp, shiny blades to do your topiary pruning with. And you can find here more examples of the topiary I make with my sharp blades.
Aug16
You can get a ticket for this new talk I'm giving at the European Boxwood And Topiary Society here – TALK TICKETS It is on the 25th August at 6pm. It should be great fun and I'm very excited to be sharing some recent thoughts about topiary with people – and how it might work in a modern garden.
Jun14
If you have a subscription, you can check out an article about bespoke ideas for your garden in the Telegraph. There are some great crafts people there, so check it out. Click Here To See The Article About my Topiary Work In The Telegraph