THE MODERN MINT BLOG
Here are a few recommendations for great nature writing – some are free, some will take you elsewhere to buy the book…
All are well worth reading though, as they don't just write about nature – but politics, capitalism, the economy and romance too…
The Pain You Feel Is Capitalism Dying
Reason 2: Damage Built Up in the Natural World
There is no such thing as an economy that exists without the physical world. The delusional idea that markets are separate from nature has guided mainstream economic policy for a long time — and now we are seeing the consequences in mass extinctions, loss of topsoils, climate change, collapse of fish stocks in the world ocean, rising levels of pollution, and more.
Writer: Joe Brewer
… the upland habitats we have chosen to conserve seem to be almost as dead, impoverished and lacking in structure or complexity as a parking lot… without trees, large predators, wild herbivores, rotting wood or many other components of a thriving ecosystem, these places retain only a few worn strands of the complex web of life.
Writer: George Monbiot
How could intelligent beings seek to control a few unwanted species by a method that contaminated the entire environment and brought the threat of disease and death even to their own kind?
Writer Rachel Carson
What Has Nature Ever Done For Us?
"In an interview, he was quoted as saying… natural resources are limited, and I need to take them before they're gone."
Writer: Tony Juniper
And to end this blog on nature writing we offer you 'Death of the Naturalist' – why is nature writing now so tame?
Can you make your nature writing great?
April 29 th 2016
Aug19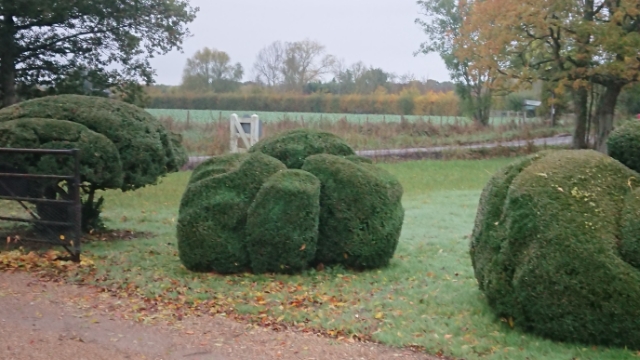 Topiary Composition and design is a major part of my work – which is why I have created an online seminar for keen gardeners and creatives to learn how to compose a piece of topiary. There are several dates available so please head here to buy a ticket. The seminar lasts two hours (including q and a) and will explore the process needed to look at a shrub or hedge and work out what you can design from it. These principles have been learnt the hard way – through mentoring, experimenting and years of practise. Hopefully, it will help you shortcut …
Jun10
Brought By Bike is an excellent website I found last month, where businesses offer their services by (of course) bicycle. Modern Mint and my topiary work is now live on the site offering my topiary services, via bike, to the following two postcodes – CM1 CM2 Now I can imagine I will need to borrow a ladder should anyone have a larger shrub, but most town gardens in the Chelmsford area have a need not just for privacy but to let light into the house… so a balance must be struck when shaping hedges and shrubs to cover both needs. …
May10
Transforming Topiary – a video made for the European Boxwood And Topiary Society by Charlotte Molesworth and I, in her garden. We take a dog topiary and work out how to update it, turning it into a bird. Worth a watch I think, and hopefully useful to you! You can see more of my clipping on the topiary page. Or read my Spring 2021 Topiary Provocation here.