THE MODERN MINT BLOG
An unusual blog post today as we wanted to write about Mother Teresa. Recently we have been reading the book No Greater Love
…
…and found ourselves making lots of notes from it. Though not strictly a gardening book we
share with you below some of the ideas Mother Teresa has written in the book, and (hopefully) find in her words a tenuous link to gardening by the end.
What made us pick up this book and start reading?
It is Autumn, a time for dreaming and reflection. We were searching for something calm and ordered to help influence our own mind, in order to work out what we will be trying to achieve at Modern Mint for next year. Perhaps a few more meadows… or a few more garden talks… did it work? Yes it did. Just take a look at the notes below and allow your mind to find its poise….
No Greater Love
by Mother Teresa
"Always be faithful in little things, for in them our strength lies. To God nothing is little."
"Do not pursue spectacular deeds. We must deliberately renounce all desires to see the fruit of our labour, doing all we can as best as we can, leaving the rest in the hands of God. What matters is the gift of your self, the degree of love that you put into each one of your actions."
"If you're discouraged, it is a sign of pride because it shows you trust in your own powers. Never bother about peoples opinions. Be humble and you will never be disturbed. The lord has willed me here where I am. He will offer a solution."
"If you are humble, nothing will touch you, neither praise nor disgrace, because you know what you are."
"In the work we have to do it does not matter how small and humble it may be, make it Christ's love in action."
"However beautiful the work is, be detached from it, even ready to give it up. The work is not yours; they have been given to you for your use, for the glory of God."
"Spend your time in prayer. If you pray you will have faith, and if you have faith you will naturally want to serve…. the fruit of love is service… the fruit of service is peace. All of us should work for peace."
"Riches, both material and spiritual, can choke you if you do not use them fairly. For not even God can put anything in a heart that is already full. One day there springs up the desire for money and for all that money can provide – the superfluous, luxury in eating, luxury in dressing, trifles. Needs increase because one thing calls for another. The result is uncontrollable dissatisfaction. Let us remain as empty as possible so that God can fill us up."
I think we were touched by these passages – they seem to all connect with the idea of being humble, and just doing your work with honesty and love. Just do your work. This is a great attitude to take to weeding, especially when there is much weeding to be done. Or planting a tree – just plant your tree, and do it knowing it will not be you who truly enjoys its stature and maturity – but you will, in this moment, of planting, do it with great love. Fabulous way of looking at the world, and one that finds its partner in tending a garden.
We are off planting today – and no matter how wet, we are going to enjoy every moment of it!
You can buy this book by Mother Teresa here at Amazon – No Greater Love
.
October 21 st 2014
Sep29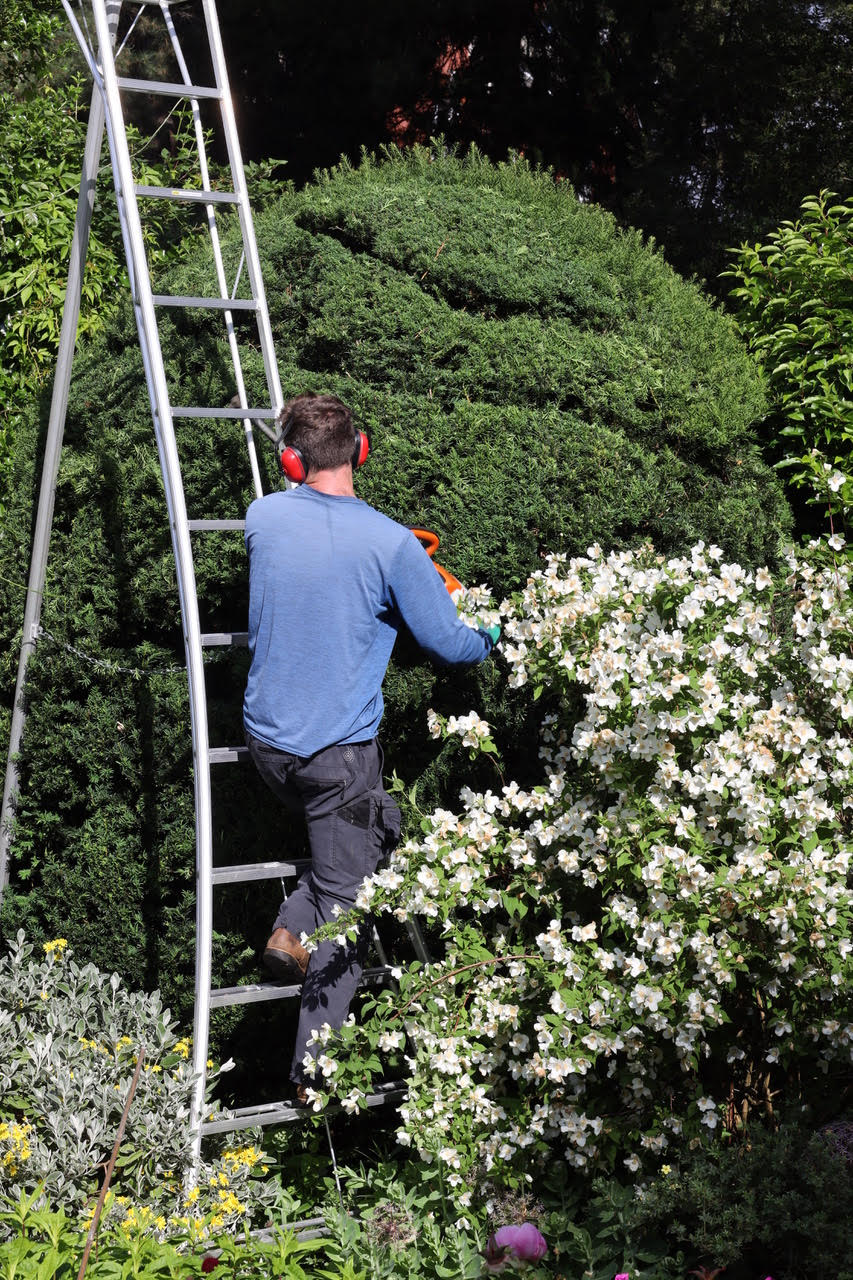 Making a new topiary out of the large, dull facade of a Taxus blob… My work was to change it up from a 'jelly drop' shape and give it texture, open it out and let the light through, and make it a sculptural feature in the background of the garden in summer… yet a major part of the garden in winter. A few more years before it becomes something special, but there was far more leaf and growth inside the plant than I thought and so it will not take too long for it to gain in character and become …
Sep27
Two weeks ago I was invited to teach topiary at the garden of Griselda Kerr, the author of The Apprehensive Gardener. I love teaching and sharing skills, but I was placed on the spot in the afternoon and asked to show how I would make a new topiary from an existing shrub. So below is a speeded-up video of me creating a cloud-pruned topiary from an old boxwood tree. I particularly love the ending when the class get involved….! See the video here. One hour was all it took, and though it needed a little tidying-up, it was made by …
Sep27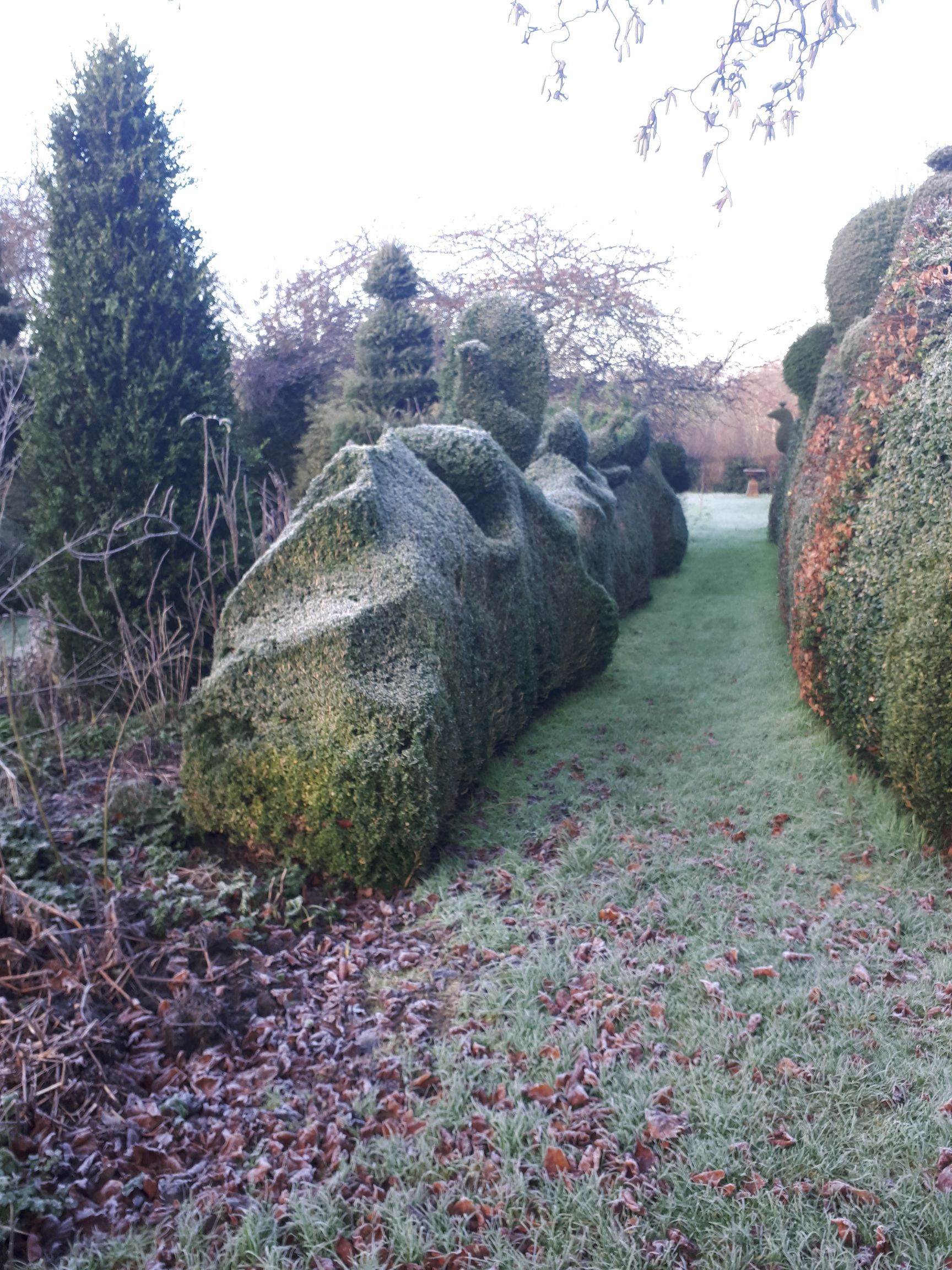 Charlotte Molesworth, my topiary mentor, and I are running our popular topiary workshop again in 2022. You can email me for details – or go here for information, your ticket and to find out about dates. Book A Spot On A Topiary Workshop, September 2022