THE MODERN MINT BLOG
Microbz is a brand we have been using in the garden for a couple of years now. It is a product made by a company who send a bottle of beneficial microbes, that you mix with water and this addition of 'life' helps your soil to improve.
(Note – at Microbz there is currently a sale on here. Worth a first try at this price, so you can see the difference for yourself!)
Have You Heard About Beneficial Microbes?
You may have heard of the health benefits of beneficial microbes for your guts (what a word that is) but these microbes are also necessary in the garden.
Microbes are tiny organisms that the naked eye can't see. The word itself can cover lots of life forms, like bacteria and fungi, but essentially our bodies contain these invisible organisms that help us to live. Our bodies have about ten times more microbes than actual cells.
Microbes help us to battle disease, break down organic waste and, when they are strong, healthy and prolific in our bodies, keep us energised and happy (well, happier…?)
You will also have them in your garden, even more so if you are a compost maker and generous in spreading it around, as compost is full of 'life'. The more 'life' you have in your soil the more you will help the microbes to proliferate.
Other than not using compost, one sure fire way to destroy the microbes that exist in your garden is to use chemicals. Chemical conditions set out to destroy this useful life!
By having a chemical free garden you can get the microbes in your space to flourish, but also adding some of the products made my Microbz will aid your soil – making it healthy, aiding sustainable growth of your plants and strengthening their immune system against pests and diseases.
We have used the following beneficial microbes in our garden:
My most used – the Microbz soil improver.
Foliage Feed – here.
Why Did I Start Using Microbz?
As many of you know, I work for the brilliant Charlotte Molesworth in her topiary garden. She is my mentor, a brilliant one, who has been clipping topiary plants for decades. She has vast amounts of boxwood in her garden and was worried about rust, as well as blight (of course.)
So she began researching beneficial microbes and the affect they had on plant health, as she wished to do all she could to make sure her mature garden was not swept away one year by disease. She went to nursery women and men in Belgium and the Netherlands to ask how they cope with having so much boxwood.
The story that kept coming back?
Good working practise – which means using sharp tools and cleaning them between between plants, so that disease has less chance of being spread.
The use of beneficial microbes, either sprayed onto the plant or added to the soil.
Accepted practise is to keep spraying with chemicals, so that disease is kept at bay. But the ideas Charlotte came across meant a slightly different way of looking at the garden – prevention, rather than hiding the problem, and using the medium the plants grew in to make sure they could combat any problems.
We are massive fans of improving our soils. It is the most important thing you can do – not just for your plant health, but for capturing carbon and reducing your carbon footprint too.
What Microbz To Try?
All of them. They add life to your garden, prevent disease and improve your soil. At Charlotte's we spray a few times a year with beneficial microbes. It has been time well spent as the hedges and garden look so healthy and problems with rust on the boxwood have diminished.
Try the feed for foliage here.
My absolute favourite, the Microbz soil improver.
And the one that should be at the heart of your garden, the Compost Activator.
As a little side note of interest, we also tried a slightly different spray – by mixing in cinnamon with the beneficial microbes. Cinnamon trees grow in the rainforest and have evolved ways of defending itself from explosions of bad pathogens in these ideal conditions (warm and wet). Using its strength with your microbes makes it ideal in helping to prevent disease and grow healthier plants (chamomile can do the same, which you will find in the solution brewed by Microbz.)
When spraying our cinnamon and microbe mix the garden smelled amazing too. Much better than undiluted comfrey!
So if we could suggest one thing you can do this year to improve your garden, it would be make and use compost.
Next?
Go ahead and try these Microbz now and make sure your garden and soil are brimming with life!
January 28 th 2019
Oct11
Need a talk for your garden club? Via Zoom because of Covid-restrictions this winter? Then I can help! It is great you are trying to keep your club going, and though Zoom is not the same as getting a group together and talking about gardening live, of the moment, right now it is the best alternative we have got. How I Do A Zoom Talk For Your Garden Club I'm very happy to do Zoom talks and have moved about 20% online so far (from end of March 2020 to the start of October 2020) – although that number is …
Oct09
Just a quick message from a garden club last night after I gave a talk for them via Zoom… Hi Darren, We would just like to thank you for a very enjoyable and fun talk this evening for our first Zoom meeting! Think we can say that everyone enjoyed it, we have already had positive feedback from some of the members, obviously the way forward at the moment! We were certainly very pleased with the turn out for the first virtual meeting! If you are a garden club speaker and want to give it a try, then please do …
Sep21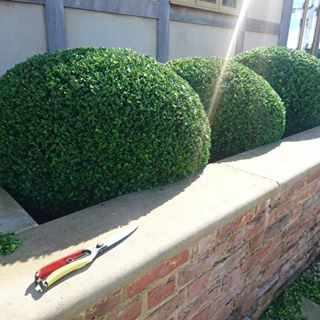 I was asked by the European Boxwood & Topiary Society to help out with answering a common question – How to sharpen your shears? So we spent a fun day making a video, that hopefully will help you make sure you have sharp, shiny blades to do your topiary pruning with. And you can find here more examples of the topiary I make with my sharp blades.