THE MODERN MINT BLOG
Topiary Service
Modern Mint now offers a topiary service.
So if you get stuck with an old tree or hedge that you aren't sure what to do with – but know you don't want to cut it down – then contact us and we will give you a helping hand.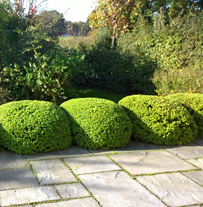 This bay tree use to be an overgrown mess, with no real presence. It felt unloved, unnecessary and out of place, taking up space right by the path as you enter the back garden.
We lifted the bottom branches to show off the trunks, reduced the height and width and gave it a softer, rounder shape.
It now provides great energy in the garden, while also being a home for the birds later in the year.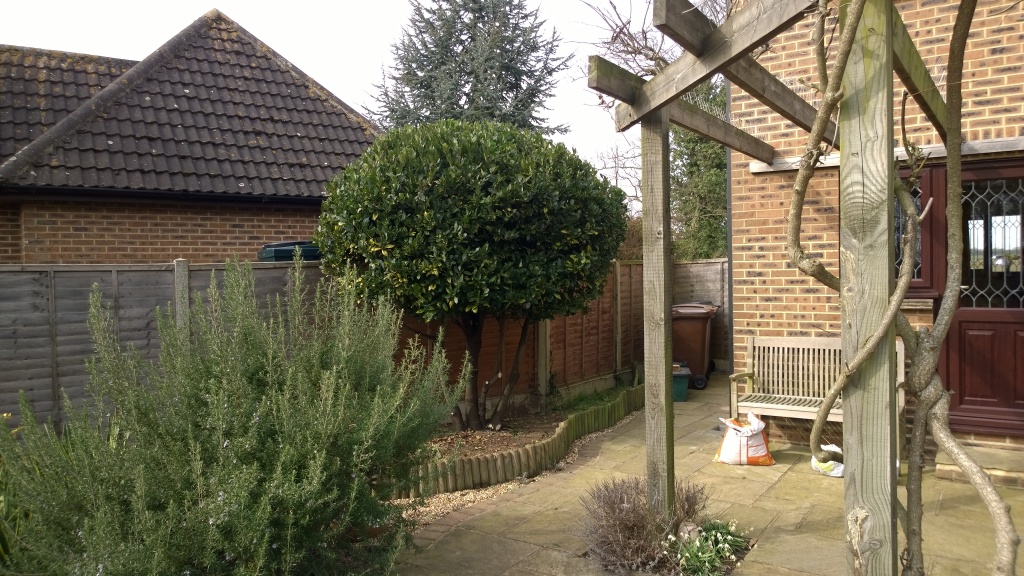 Formal Or Organic Topiary?
There are a few different styles of topiary, and each 'clipper' or 'pruner' will bring their own imagination to bear on any piece they make, but two of the most distinct schools are the formal and the organic.
Organic topiary is where you allow the plant to tell you how it needs to be pruned, following its strengths and outlines and dancing a fine line between what you want it to be and what the plant itself is telling you it could become.
It makes for interesting shapes, the piece below clipped by Jake Hobson, the leader of Organic Topiary in the UK and someone who has taught us a lot here at Modern Mint.
Formal topiary is more the crenellations, the chamfers, the tiers and plinths you see in the gardens of old houses. Everything is straight, the plant is trained with string if necessary and the pieces are normally large and maintained crisply.
Charlotte Molesworth is the lead practitioner of this in the UK, and here at Modern Mint we have also learnt a huge amount from her.
The photo above is from her garden. Our work with her this year has been introducing a little more organic topiary, a lighter feel, to the hedging these formal topiary pieces stand on.
For more up to date photos, we often post th latest of our pieces on Instagram.
Intrigued Enough To Have Some Topiary?
First of all you need to choose the right plant. We have a long (and slightly dull) list here of plants for topiary.
Alternatively, you can call or email us, and chat about the ideas you have and how they might work – we love helping people with their topiary and are happy to answer any questions you might have, so do get in touch now.
Happy clipping!
(As a quick aside, using the right tools is every bit as important as pruning the right plant – we love sharp and shiny Japanese made shears.
July 21 st 2017
Oct05
Well would you look at that! The mainstream media are picking up on the idea that organic bulbs are bee friendly bulbs, and we should all be planting them – hurrah! Read what Alys Fowler has to say in the Guardian. We have been banging on about this for a few years already, and selling these toxin free bulbs all that time. Alys Fowler does not mention us in her list of suppliers, but you can see what we have in stock here – Ecobulbs. Or find a (sadly) short list of other suppliers in the UK here – Where …
Oct02
We love this, and they are very funny live….
Sep22
As organic gardeners we thought you may be interested to know where you can buy organically grown, bee-friendly bulbs here in the UK. The list is short, sadly, but we hope that in the future EVERYONE is stocking them each Autumn. Modern Mint – Help The Honeybee Organic Catalogue have a good range – Autumn Bulbs Crocus stock a few – Organic Bulbs For further reading on why you should plant organic bulbs, see this piece in the Telegraph by Modern Mint favourite John Walker, The Earth Friendly Gardener.