THE MODERN MINT BLOG
I am running a topiary workshop in 2020 with the wonderful topiary artist Charlotte Molesworth at her spectacular topiary garden in Kent.
This is a topiary workshop where you will learn to clip, so be prepared to do some cutting.
We start with a tour of the garden, which Charlotte and her husband Donald have been cultivating for 34 years. It is organic, full of wildlife and has the most extraordinary pruned shapes made from yew and boxwood.
You can see more photos of the garden in an article in the Guardian here: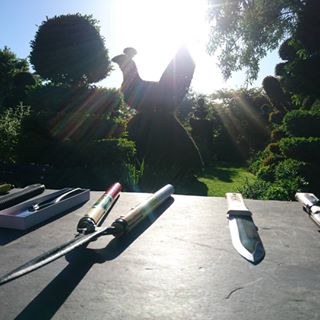 What Else Will The Topiary Clipping Workshop Offer?
After the tour of the garden Charlotte and I will run you through the ideas you need to know – pruning techniques, the correct tools for the job, how to sharpen your shears and what plants can be used to create the topiary in your garden.
We are also keen to teach you about plant health and how we keep the topiary looking healthy and well, especially in light of the boxwood caterpillar nibbling bushes across the UK. (I've discussed the caterpillar in a post here – Dealing with Boxwood Caterpillar.)
"I'm inspired to try some

topiary

now. You both make it fun as well as interesting and it's good to know it doesn't matter if you make mistakes.

I've started a Christmas list already for some shears!"

Previous Workshop Participant
When Is The Topiary Workshop? And Where?
We are running two workshops over a weekend in September – the 26th and 27th September 2020.
Start time is 10am and it will be at Charlotte's topiary garden in Benenden, Kent. More details about how to find it will be sent to those on the course as we get closer to the date. But you can visit earlier by staying at 'The Potting Shed', a barn in Charlotte's garden.
Go here to see the Potting Shed Holiday Cottage.
The workshop lasts 3 hours, so from 10am-1. Cake and refreshments are provided.
If it rains, we will get wet! So please bring suitable clothing and shoes. If you have a pair of shears or clippers, bring them with you as well.
Do I Need To Learn To Clip On A Topiary Workshop?
Nope, not at all! Go into your garden with secateurs and shears and make some shapes. Practise makes perfect, and we love to see people give pruning a go.
But this learn to clip workshop will be a lot of fun, taught by two experienced teachers and taking place in the most incredible setting. Because the group is smaller and you get two tutors, it also doesn't matter what level you are at – keenness is the only qualification, as we can adapt the day to help you get the most from the workshop.
"Thank you both for a truly inspiring day in the most wonderful setting, for your generous hospitality, and especially for trusting us with your precious plants! I hope very much to see you both again in the not too distant future!" Jo, Workshop Participant
Spaces are limited on our learn to clip topiary workshop, and it is the only weekend we will be teaching in Charlotte's garden in 2020, so please do book early to guarantee your spot.
It may also be something you would like to do with a friend, so do share the idea with them!
November 13 th 2019
May03
Over the last two years I have been involved with a couple of projects that have ended up being recorded, then placed on Youtube or Instagram. I'm hoping they will be useful to you, so I have decided this morning to pop them together in one handy blog post so that you can bookmark the page and revisit when you need some inspiration for your topiary. See below then, a few videos about topiary I have recently been involved with… Garden Masterclass – Provocations of a Modern Topiarist Transforming Topiary Topiary Teacher Put On The Spot https://www.instagram.com/p/CTj-EfOKRL6/ In the above …
May03
Mark Zlotsky is an artist based in New York, and today I just wanted to share his project 'Topiary Tango'. In his introduction to the project he talks of topiary being a forgiving art, which I love and is soooooo true…..! For proof, just take a look at some projects I have made with a sharp pair of shears, a hedgetrimmer and a pruning saw. Do check out Mark Zlotsky's project, because although his interest began by looking at topiary through the prism of architecture and the relationship of one building to another, he touches directly onto a way of …
Apr27
Gardenista, the online magazine about gardens and design, have interviewed me about topiary. The article is called 'Rethinking Topiary: A Garden Tradition Loosened Up' and was published this morning. Written by the excellent garden writer Clare Coulson, I share some thoughts on using deciduous plants, how to clip (name-dropping Anne Lamott and her book on writing at one stage… oh, how I wander off subject sometimes!) and how to improve topiary by what you plant around it. Do take a look at the article in Gardenista. Or for more about my topiary work, check out the topiary page.