THE MODERN MINT BLOG
As a gardener for many years, we feel well-placed to suggest what you might look for when employing one.
There are a few major facets to consider, but the first question to ask is – what help do I need in the garden?
"Skilled gardeners who can prune and stake and keep a border looking lively all year are the hardest people to find."
If all you want is the lawn to be cut – then you can find a gardener easily. Cost, if they are bringing their own mower and petrol, can be around £12-18 per hour.
If you need someone for heavy lifting of garden furniture, double digging of vegetable beds, the trimming of hedges and pruning of trees (because you are doing all of the borders and vegetables yourself) then help will probably be readily available.
If this type of gardener is also someone you trust and get on with, then you are onto a winner and you  should treat them well. This includes finding them work through the winter, when the days are dark and the hours of work needed in the garden drop to barely anything at all.
Don't help your help when they need a wage, and you may find they have to look for employment elsewhere, perhaps even in another industry – then when spring rolls in, you see the sap rising and the to-do list adding up and yet you will be without the backbone help your garden needs.
A gardener for the flower borders is a different proposition altogether. As in the quote above from Mary Keen, someone with the skill and experience to develop and manage vegetation through the seasons is hard to find.
There are often reports and studies made suggesting gardening is a profession many would like to retrain in, leaving the office environment for a healthier, more mobile lifestyle. But actually taking that step can be hard because of the finances. The work can be so poorly paid (we were once offered £6 per hour. The lady looked shocked when it was turned down) and, due to the seasonal aspect of the work, a gardener may find themselves only able to count on 200 days work to make their living every year.
It is not enough to make interested, ambitious gardeners who want to expand their skills every year and create bold, beautiful gardens, stay in the profession. Look to pay anywhere from £18-25 per hour for the best.
Oddly enough, paying more per hour may end up saving you in the long run. The best gardener will be able to work faster and with better technique – for example, mulching will alleviate work that a less skilful gardener will not know when to do, or have even spent time eighteen months previously preparing the compost with which to do it!
Great clients get great gardeners – if you want your garden to really shine, to have an amazing atmosphere, to be a wildlife haven and have the best vegetables, fruit, herbs and flowers for the house – then you must find someone who has the energy and aspiration to do it – then give them the freedom to make it happen.
These gardeners will be fit, follow ideas in garden design, be upskilling themselves all the time and help you learn as well – it is your garden after all, and nothing in gardening needs to be a secret.
3 Key Ideas for Choosing a Gardener
1) Know the jobs you want them to do, so you can respect the skill level of the person required.
2) Employ someone you trust.
3) Keep them employed through winter, so that they get a living wage.
We hope this helps you choose a gardener that suits your garden!
May 11 th 2016
Sep29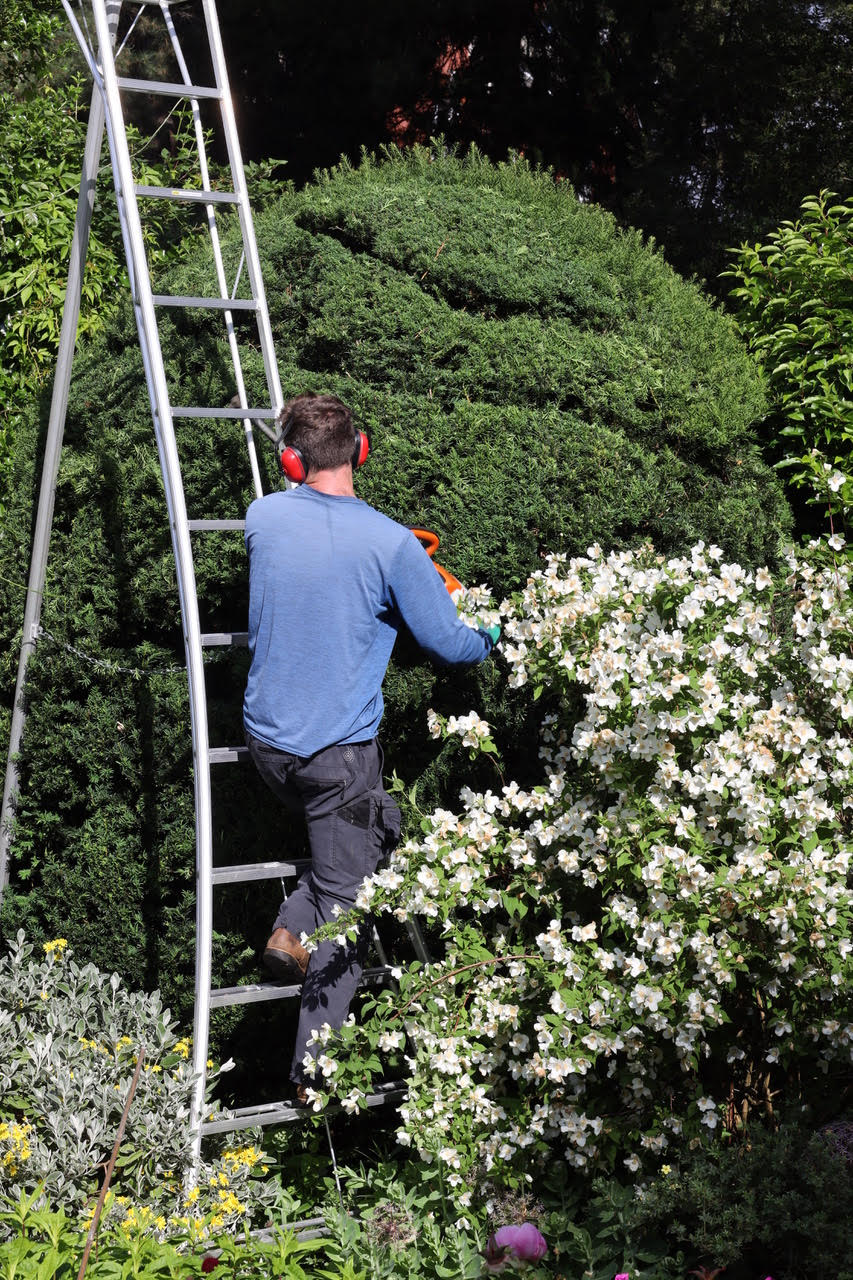 Making a new topiary out of the large, dull facade of a Taxus blob… My work was to change it up from a 'jelly drop' shape and give it texture, open it out and let the light through, and make it a sculptural feature in the background of the garden in summer… yet a major part of the garden in winter. A few more years before it becomes something special, but there was far more leaf and growth inside the plant than I thought and so it will not take too long for it to gain in character and become …
Sep27
Two weeks ago I was invited to teach topiary at the garden of Griselda Kerr, the author of The Apprehensive Gardener. I love teaching and sharing skills, but I was placed on the spot in the afternoon and asked to show how I would make a new topiary from an existing shrub. So below is a speeded-up video of me creating a cloud-pruned topiary from an old boxwood tree. I particularly love the ending when the class get involved….! See the video here. One hour was all it took, and though it needed a little tidying-up, it was made by …
Sep27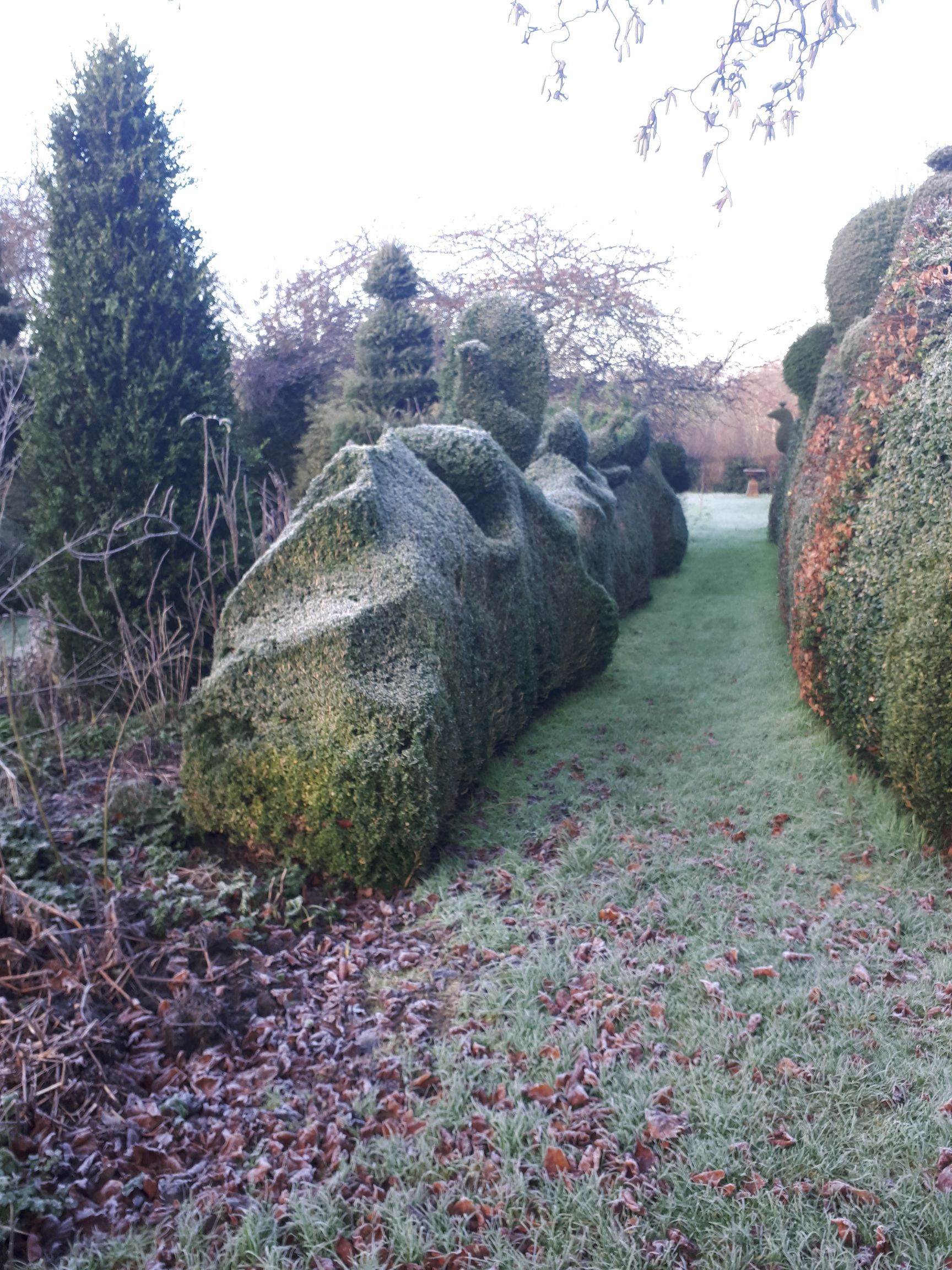 Charlotte Molesworth, my topiary mentor, and I are running our popular topiary workshop again in 2022. You can email me for details – or go here for information, your ticket and to find out about dates. Book A Spot On A Topiary Workshop, September 2022