THE MODERN MINT BLOG
Hedgehogs are a rarely seen animal in your garden…
… but recently at my parents place the dog was outside and, despite calling, refused to come in. Shoes went on and the outside light was switched on in order to see what the heck was so damn interesting to that dog.
It was a hedgehog, possibly the first one she had ever seen. And the first one I remember in this garden in about 20 years. The last one was a big event too, as my parents had just rescued an enormous German Shepherd that had been found on the streets of London, and it found itself facing up to this little spiky ball and could not, in all the world, work out what it was or what it should do with it. Interesting times trying to explain that one…
What can you do for hedgehogs in your garden?
Give them access to the garden. They roam 1-2 km each night during their active (busy?) season. Make sure they have the corridors to do so, and to visit as many garden environments as they possibly can.
Create a ramp in your pond so that they can get in and out easily. They are great swimmers but can't clamber out of steep-sided canyons… a bit of chicken wire, or stones, help them immensely.
Give them nesting spaces – that means a little wild, overgrown patch in your garden would be a perfect candidate to leave standing over winter.
Don't litter. This is important – why would you litter anyway? The hedgehogs can get caught up in it. We try to reduce the packaging we use when you buy from us in our shop – check out the fantastic, bio-degradable soap packaging from Modern Mint – and this all adds up to helping the world we live in.
Feed the hedgehogs – meaty dog or cat food will help supplement their natural diet, as will mealworms or chopped up, unsalted peanuts. A bowl of water is a great idea too.
Don't use chemical herbicides, insecticides, pesticides or slug pellets. The toxic nature of these treatments reduces the food population for the hedgehog.
Check before strimming – a friend caught a hedgehog once while strimming with a metal blade, completely unpleasant. We dug it a small grave and buried it. We felt terrible. This happened 15 years ago and I still remember it…
Bonfire heap ready to burn? That bonfire heap that has sat there building up is a fantastically good looking property to nest in for a hedgehog – so move the pile on the day you are to burn it and rebuild somewhere else. It means you will find any hedgehogs that thought they had found a good spot to relax in.
Build a logpile – rotting wood is fantastic for all sorts of creatures and makes a fab home for a hedgehog.
Helping hedgehogs in a nutshell:
Manage your garden in a way that provides lots of creepy crawlies to eat and wild spaces for them to nest in. Be careful you don't disturb them when in the garden and don't poison your healthy environment with toxins.
For more on hedgehogs (and we learnt all of this when we met these lovely folk recently) visit Hedgehog Street – and help hedgehogs today!
October 1 st 2015
Sep29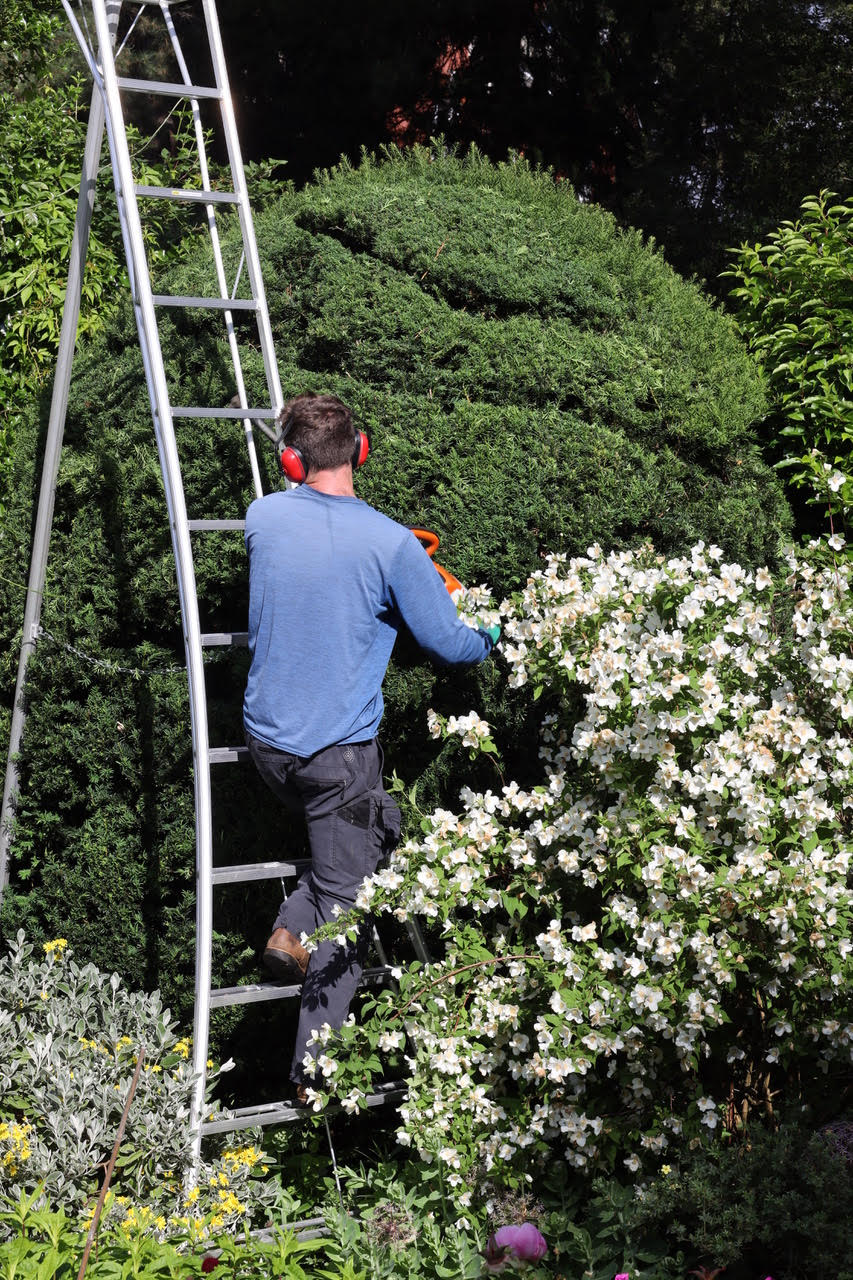 Making a new topiary out of the large, dull facade of a Taxus blob… My work was to change it up from a 'jelly drop' shape and give it texture, open it out and let the light through, and make it a sculptural feature in the background of the garden in summer… yet a major part of the garden in winter. A few more years before it becomes something special, but there was far more leaf and growth inside the plant than I thought and so it will not take too long for it to gain in character and become …
Sep27
Two weeks ago I was invited to teach topiary at the garden of Griselda Kerr, the author of The Apprehensive Gardener. I love teaching and sharing skills, but I was placed on the spot in the afternoon and asked to show how I would make a new topiary from an existing shrub. So below is a speeded-up video of me creating a cloud-pruned topiary from an old boxwood tree. I particularly love the ending when the class get involved….! See the video here. One hour was all it took, and though it needed a little tidying-up, it was made by …
Sep27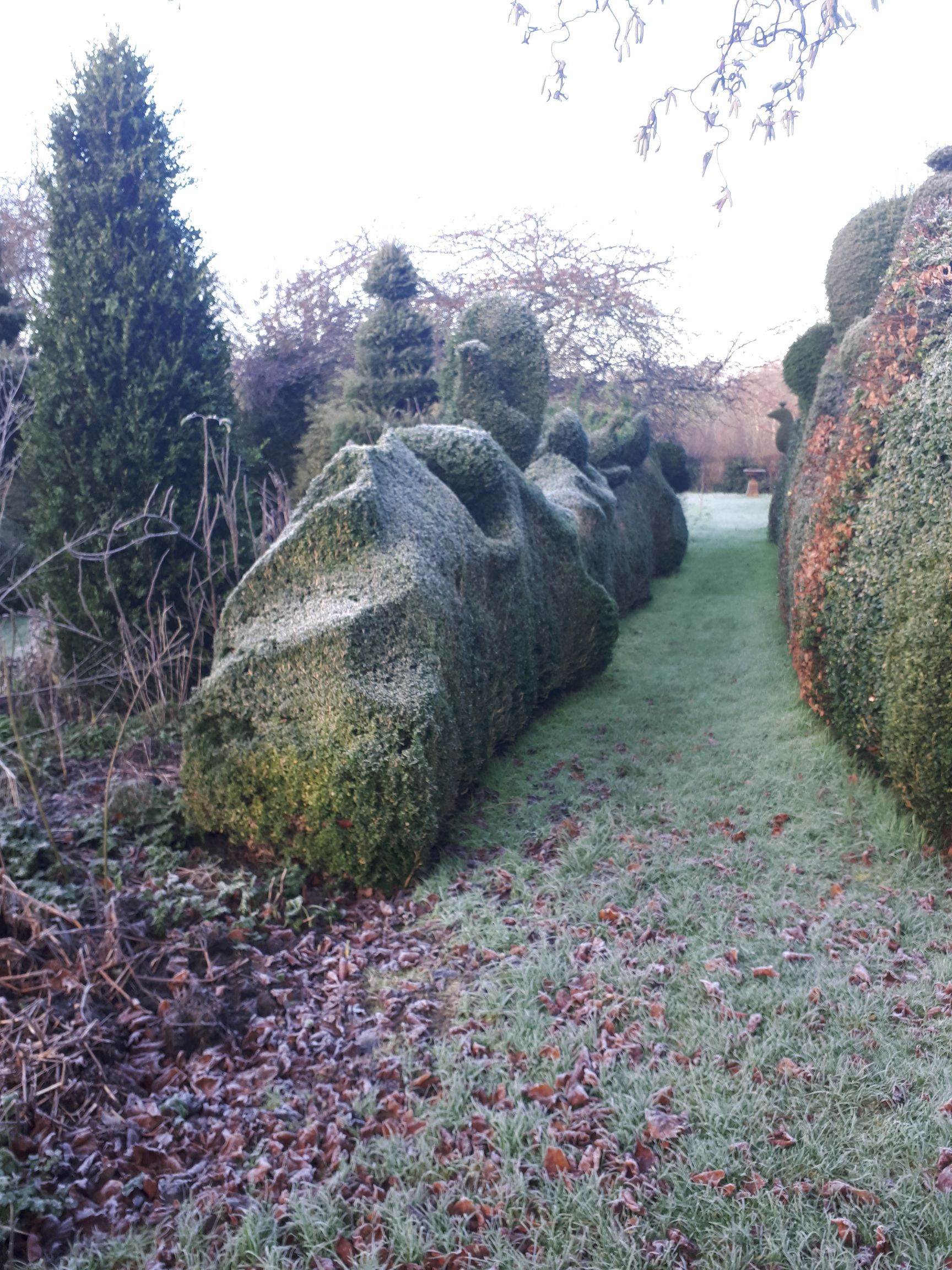 Charlotte Molesworth, my topiary mentor, and I are running our popular topiary workshop again in 2022. You can email me for details – or go here for information, your ticket and to find out about dates. Book A Spot On A Topiary Workshop, September 2022