THE MODERN MINT BLOG
On Monday night I gave a talk to the Hardy Plant Society Middlesex. Below are a few links for further information based on some of the ideas discussed in the talk:
Real Seeds – a fantastic supplier of fruit and vegetable seeds for growers.
Boxwood Caterpillar Advice – from the European Boxwood & Topiary Society. I will also write a little companion piece this winter with more information and some topiary techniques, so watch out for that on this website.
Boxwood Lure & Nematodes – my preferred option for dealing with the caterpillar. Discount code for 10% off is EBTSBOX29GBZ
Henk Gerritsen – a new edition of his book is available! Only (ha!) £51. A brilliant book. He also wrote 'Dream Plants For The Natural Garden' with designer Piet Oudolf.
Wool Compost – a peat free compost that brings industry to a part of the UK that ends it. Worth every penny.
The Garden Of Charlotte Molesworth – near Great Dixter and Sissinghurst, it is 34 years in the making and an absolute treasure. She opens for NGS occasionally and runs a holiday let there too. My mentor, a brilliant gardener and artiste!
Rewilding – a fantastic book about bringing top level predators back to the UK.
Lovely group and many thanks for inviting me to visit.
Darren, Modern Mint
October 9 th 2019
Sep21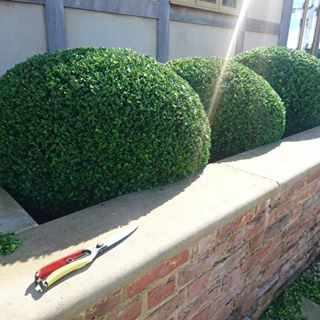 I was asked by the European Boxwood & Topiary Society to help out with answering a common question – How to sharpen your shears? So we spent a fun day making a video, that hopefully will help you make sure you have sharp, shiny blades to do your topiary pruning with. And you can find here more examples of the topiary I make with my sharp blades.
Aug16
You can get a ticket for this new talk I'm giving at the European Boxwood And Topiary Society here – TALK TICKETS It is on the 25th August at 6pm. It should be great fun and I'm very excited to be sharing some recent thoughts about topiary with people – and how it might work in a modern garden.
Jun14
If you have a subscription, you can check out an article about bespoke ideas for your garden in the Telegraph. There are some great crafts people there, so check it out. Click Here To See The Article About my Topiary Work In The Telegraph