THE MODERN MINT BLOG
We are constantly encouraged to do a guide on 'what to do in the garden in this month' and, though valuable, you can find a list of jobs in just about any garden magazine or website you care to look at. They all say the same thing too, pretty much, so here at Modern Mint we wonder why we should bother adding to the vast sea of same old same old advice.
The baying for us to do a guide to jobs for the month continues to grow though, so we have bitten the bullet and decided to do it – our way…
Welcome then, to the Alternative Guide to Things to do in the Garden this Month:
1) Deadhead nothing.
Your new and shiny secateurs can wait a little longer for an outing, if you refuse to deadhead daffodils. It is a nice job, we admit, but 'nice' is the best way to describe it. It is 'nice' – not a WONDERFUL job.
2) Forget about putting plant supports in the borders.
This job can be tedious and is easily done badly. Let the plants go and do their thing! You might find your peonies prefer it… (our note: probably not though.)
3) Don't mow your lawn.
Leave the mower in the shed, dusty and covered in cobwebs, and allow the grass to do what it really wants to do – grow up up up and flower! You never know, you might like the effect – or at least appreciate you don't have to put so much work into the garden…
4) Release a lynx to stop deer eating your plants.
These deer eating cats will help reduce the population of ungulates that nibble on your garden plants. And what a romantic course of action to take, bringing something that wild back to the UK – just think how it will feel as you walk through the woods, knowing out there somewhere is an animal that can remind you humans are a part of the food chain too.
5) Sow a well-spaced row of seeds in your vegetable patch, to save thinning later on.
These alternative jobs do seem to be about reducing work, don't they? Still, tally-ho! Perhaps it is because we once heard a Lithuanian theatre director say to his nervous young assistant – 'Take it easy…. But take it all.' Not sure what affect it had on the assistant but maybe it has influenced the way we garden more than we could ever have imagined…
6) Use an organic fertiliser to help your plants.
Leave the tubs you get from the garden centre alone, and try a liquid seaweed – it smells amazing (you can imagine it right?) and it gives a wonderful boost to plants, lawns and crops. We couldn't live without it these days…
7) Have a cup of coffee in the warm, spring morning sunshine.
A pearler of an alternative, don't you agree?
Hope these little nuggets of information from our alternative guide will help you in the garden this month.
Ciao for now!
April 11 th 2015
Feb22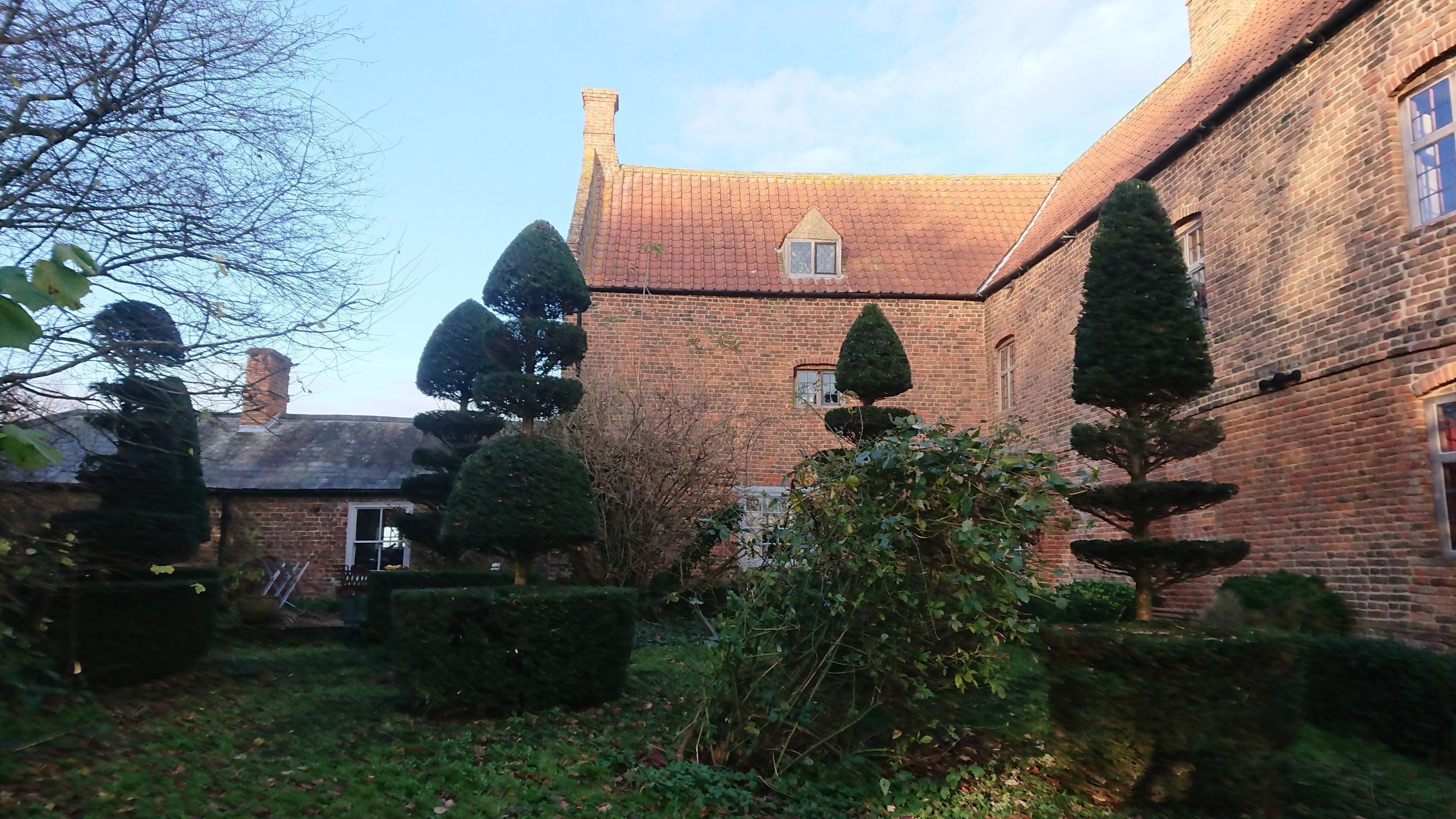 Guanock House needs a trainee topiary artist! Some of you may know it as the first home and garden of designer Arne Maynard, but is now owned and maintained by Michael Coleman and his wife Michelle. They offer meditation workshops and retreats there and it is as beautiful a house and garden as you could wish to visit. They called me in last Autumn to help shape up some of the topiary as it was all getting out of hand, but what it really needs is someone with a steady hand and lots of patience to take over the clipping …
Feb09
Here are some photos of work I have been doing at the garden of Charlotte Molesworth in Kent. Snow and ice brings out the depth of the different planes and angles carved into the boxwood. A garden has to look beautiful in winter – and topiary (green architecture)  helps do that! For more topiary pictures, click here.
Feb01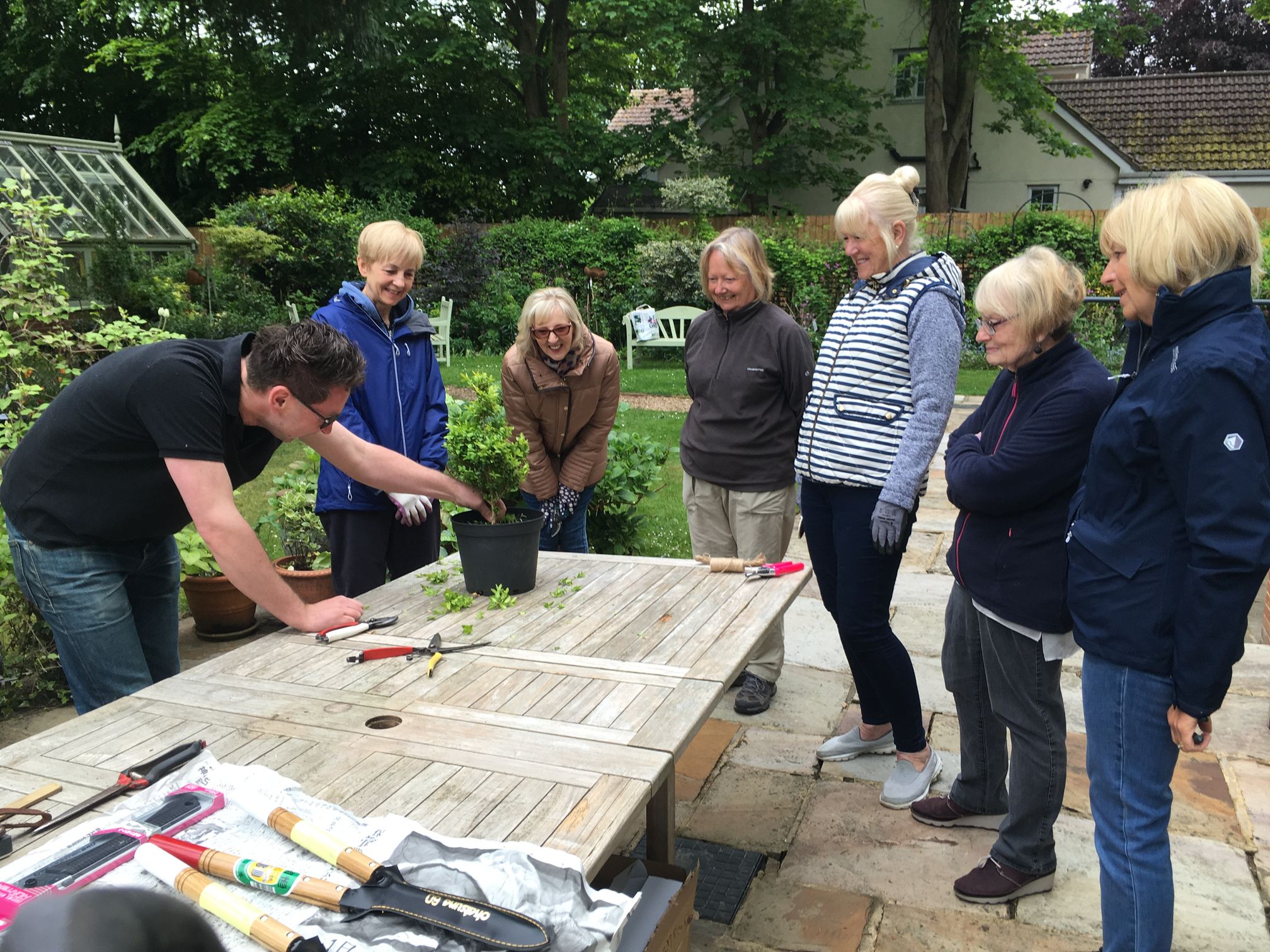 I am an experienced teacher of topiary and pruning, running workshops in the topiary garden of Charlotte Molesworth in Kent, as well as for The English Gardening School and The European Boxwood And Topiary Society. So if you are a keen gardener, a garden club, a group of friends who want to know more or even an absolute beginner who has been bitten by the gardening bug, then do contact me about what you might like to learn. What a laugh we are having in this workshop session I ran for a group of friends in Essex… Many people employ …