THE MODERN MINT BLOG
We are constantly encouraged to do a guide on 'what to do in the garden in this month' and, though valuable, you can find a list of jobs in just about any garden magazine or website you care to look at. They all say the same thing too, pretty much, so here at Modern Mint we wonder why we should bother adding to the vast sea of same old same old advice.
The baying for us to do a guide to jobs for the month continues to grow though, so we have bitten the bullet and decided to do it – our way…
Welcome then, to the Alternative Guide to Things to do in the Garden this Month:
1) Deadhead nothing.
Your new and shiny secateurs can wait a little longer for an outing, if you refuse to deadhead daffodils. It is a nice job, we admit, but 'nice' is the best way to describe it. It is 'nice' – not a WONDERFUL job.
2) Forget about putting plant supports in the borders.
This job can be tedious and is easily done badly. Let the plants go and do their thing! You might find your peonies prefer it… (our note: probably not though.)
3) Don't mow your lawn.
Leave the mower in the shed, dusty and covered in cobwebs, and allow the grass to do what it really wants to do – grow up up up and flower! You never know, you might like the effect – or at least appreciate you don't have to put so much work into the garden…
4) Release a lynx to stop deer eating your plants.
These deer eating cats will help reduce the population of ungulates that nibble on your garden plants. And what a romantic course of action to take, bringing something that wild back to the UK – just think how it will feel as you walk through the woods, knowing out there somewhere is an animal that can remind you humans are a part of the food chain too.
5) Sow a well-spaced row of seeds in your vegetable patch, to save thinning later on.
These alternative jobs do seem to be about reducing work, don't they? Still, tally-ho! Perhaps it is because we once heard a Lithuanian theatre director say to his nervous young assistant – 'Take it easy…. But take it all.' Not sure what affect it had on the assistant but maybe it has influenced the way we garden more than we could ever have imagined…
6) Use an organic fertiliser to help your plants.
Leave the tubs you get from the garden centre alone, and try a liquid seaweed – it smells amazing (you can imagine it right?) and it gives a wonderful boost to plants, lawns and crops. We couldn't live without it these days…
7) Have a cup of coffee in the warm, spring morning sunshine.
A pearler of an alternative, don't you agree?
Hope these little nuggets of information from our alternative guide will help you in the garden this month.
Ciao for now!
April 11 th 2015
Aug19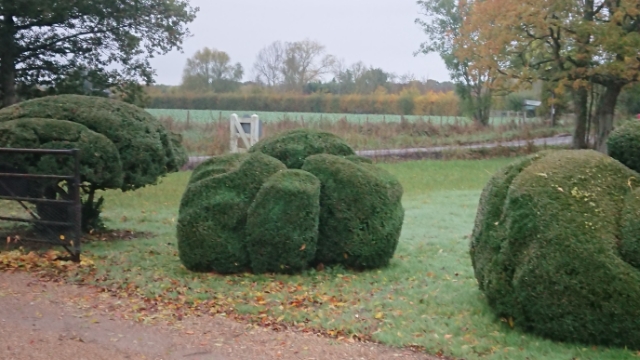 Topiary Composition and design is a major part of my work – which is why I have created an online seminar for keen gardeners and creatives to learn how to compose a piece of topiary. There are several dates available so please head here to buy a ticket. The seminar lasts two hours (including q and a) and will explore the process needed to look at a shrub or hedge and work out what you can design from it. These principles have been learnt the hard way – through mentoring, experimenting and years of practise. Hopefully, it will help you shortcut …
Jun10
Brought By Bike is an excellent website I found last month, where businesses offer their services by (of course) bicycle. Modern Mint and my topiary work is now live on the site offering my topiary services, via bike, to the following two postcodes – CM1 CM2 Now I can imagine I will need to borrow a ladder should anyone have a larger shrub, but most town gardens in the Chelmsford area have a need not just for privacy but to let light into the house… so a balance must be struck when shaping hedges and shrubs to cover both needs. …
May10
Transforming Topiary – a video made for the European Boxwood And Topiary Society by Charlotte Molesworth and I, in her garden. We take a dog topiary and work out how to update it, turning it into a bird. Worth a watch I think, and hopefully useful to you! You can see more of my clipping on the topiary page. Or read my Spring 2021 Topiary Provocation here.