THE MODERN MINT BLOG
Guanock House needs a trainee topiary artist!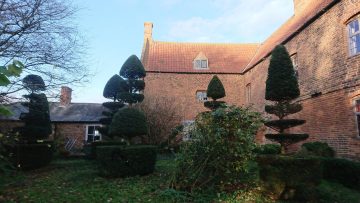 Some of you may know it as the first home and garden of designer Arne Maynard, but is now owned and maintained by Michael Coleman and his wife Michelle. They offer meditation workshops and retreats there and it is as beautiful a house and garden as you could wish to visit.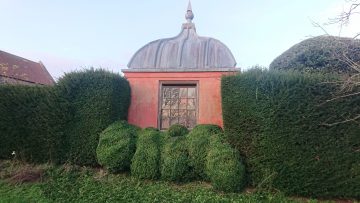 They called me in last Autumn to help shape up some of the topiary as it was all getting out of hand, but what it really needs is someone with a steady hand and lots of patience to take over the clipping in the summer.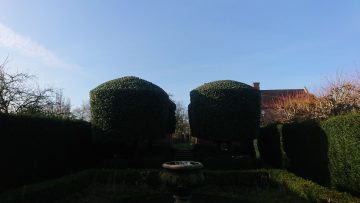 Guanock House Trainee Needed
Michael is looking for a local person who is diligent, is able to tackle the strenuous nature of the work and has an aesthetic sense for shaping plants that will be in tune with the garden.
The work is on a project by project basis to begin with, possibly moving to something more regular in the future.
Pay in line with experience. Training will be given as well, possibly by myself to make sure you have all the know-how you need.
What I will stress is that the work is great fun (as tough as it can be physically) and that this is a fantastic opportunity to make a start in your gardening and pruning career. There is a variety of plants to turn your hand too and get experience working with, as well as a mix of formal and organic shapes.
It is a perfect first job for an aspiring topiary artist!
Please do visit the Guanock House website and let Michael know you are interested, and to find out more –
Or view my topiary work.
February 22 nd 2021
Jan12
Below are a few pointers on when you need to think about your topiary and hedges this year, so you can make sure you clip at the best time and not waste any effort doing work you don't need to do… January & February Roses, fruit trees and wisteria is where the focus lies. Yes, it is cold and the work can be unpleasant because you are often stood on a ladder with your secateurs, barely moving enough to warm the body, but get these jobs done well, with care, and you can enjoy the fruits and flowers of your …
Jan11
Last September when I and topiary artist (and mentor) Charlotte Molesworth ran a weekend of topiary masterclasses we had a visit from the garden writer Non Morris. You can read more about Non and her garden design work and writings here. She has written a lovely article for the February 2022 edition of The English Garden Magazine about her afternoon working with us and learning about topiary – I'm really thrilled by the piece, because she mentions not just a little of the wonderful history of Balmoral Cottage and how the garden grew, but also shares a little of how …
Nov17
This Autumn I have presented another 'Topiary Provocation' to keen gardeners and designers. If you want to know more about topiary, the report on what we discussed and where modern topiary is going can be read by clicking the link below: Topiary Provocation Report Autumn 2021 This report is free to post on your own website or blog, just credit Modern Mint, and don't change anything within it. Alternatively you can just share it with keen friends… or enemies?