THE MODERN MINT BLOG
Guanock House needs a trainee topiary artist!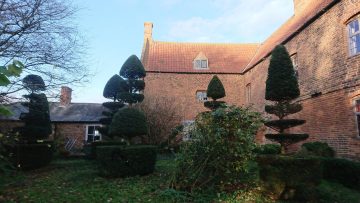 Some of you may know it as the first home and garden of designer Arne Maynard, but is now owned and maintained by Michael Coleman and his wife Michelle. They offer meditation workshops and retreats there and it is as beautiful a house and garden as you could wish to visit.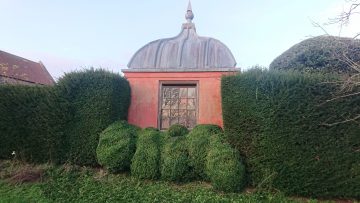 They called me in last Autumn to help shape up some of the topiary as it was all getting out of hand, but what it really needs is someone with a steady hand and lots of patience to take over the clipping in the summer.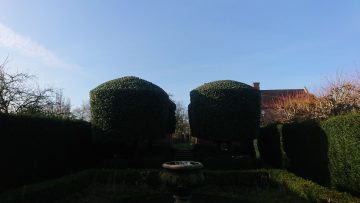 Guanock House Trainee Needed
Michael is looking for a local person who is diligent, is able to tackle the strenuous nature of the work and has an aesthetic sense for shaping plants that will be in tune with the garden.
The work is on a project by project basis to begin with, possibly moving to something more regular in the future.
Pay in line with experience. Training will be given as well, possibly by myself to make sure you have all the know-how you need.
What I will stress is that the work is great fun (as tough as it can be physically) and that this is a fantastic opportunity to make a start in your gardening and pruning career. There is a variety of plants to turn your hand too and get experience working with, as well as a mix of formal and organic shapes.
It is a perfect first job for an aspiring topiary artist!
Please do visit the Guanock House website and let Michael know you are interested, and to find out more –
Or view my topiary work.
February 22 nd 2021
May03
Over the last two years I have been involved with a couple of projects that have ended up being recorded, then placed on Youtube or Instagram. I'm hoping they will be useful to you, so I have decided this morning to pop them together in one handy blog post so that you can bookmark the page and revisit when you need some inspiration for your topiary. See below then, a few videos about topiary I have recently been involved with… Garden Masterclass – Provocations of a Modern Topiarist Transforming Topiary Topiary Teacher Put On The Spot https://www.instagram.com/p/CTj-EfOKRL6/ In the above …
May03
Mark Zlotsky is an artist based in New York, and today I just wanted to share his project 'Topiary Tango'. In his introduction to the project he talks of topiary being a forgiving art, which I love and is soooooo true…..! For proof, just take a look at some projects I have made with a sharp pair of shears, a hedgetrimmer and a pruning saw. Do check out Mark Zlotsky's project, because although his interest began by looking at topiary through the prism of architecture and the relationship of one building to another, he touches directly onto a way of …
Apr27
Gardenista, the online magazine about gardens and design, have interviewed me about topiary. The article is called 'Rethinking Topiary: A Garden Tradition Loosened Up' and was published this morning. Written by the excellent garden writer Clare Coulson, I share some thoughts on using deciduous plants, how to clip (name-dropping Anne Lamott and her book on writing at one stage… oh, how I wander off subject sometimes!) and how to improve topiary by what you plant around it. Do take a look at the article in Gardenista. Or for more about my topiary work, check out the topiary page.