THE MODERN MINT BLOG
So here we have a new programme – All Gardens Great And Small – with the comedienne Miranda Hart and her gardening mother, Dee Hart-Dyke.
You can watch the first episode here on More4.
And here we are with our tools out, soaking up the sunshine on the day of filming.
But why would you watch All Gardens Great And Small? Why especially this first episode?
Because you can see the wonderful work of our friend, topiary artist Charlotte Molesworth, and get a rare glimpse into her extraordinary topiary garden. She is the first garden visited by Miranda Hart's mum, and it looks fabulous.
It should do, because we spent blooming ages through spring helping her clip and prune the hedges, trees and topiaries. We also helped weed through the exceptional flower borders that Charlotte and her husband Donald have been tending, caring for and cultivating over the last 33 years. (You even see Charlotte holding her preferred gardening trowel, which she got from us here at Modern Mint….)
It was incredibly fortunate that on the day of filming the sun shone bright, as it meant not only did Dee Hart-Dyke get a chance to really look around the garden but also had an opportunity to try out some pruning, with Charlotte teaching her how to make a topiary bird.
The boxwood plant used on the show was one Charlotte had grown herself, from a cutting she took years previously. Digging it out from her boxwood nursery was a job left to Modern Mint back in early spring…
Please do take a look at All Gardens Great And Small with Miranda Hart and her mum – it is, of course, an innuendo-laden programme – but they have done a great job seeking out some unusual places to visit and share with you.
And we are of course so proud to have been involved in making the first garden of the series such a visually arresting and fun one.
If you would like Charlotte Molesworth and Modern Mint to help you with some topiary, we travel all across the UK (and recently into mainland Europe!) to clip, cut,a dive and design.
Here is a design done for a client in Kent, of topiary ducks sat looking into a pond…
So do watch contact us to start a conversation about the topiary in your garden.
(Or buy yourself a pair of these shears, the ones used by Charlotte in the programme, and get started at home….)
August 25 th 2017
Feb22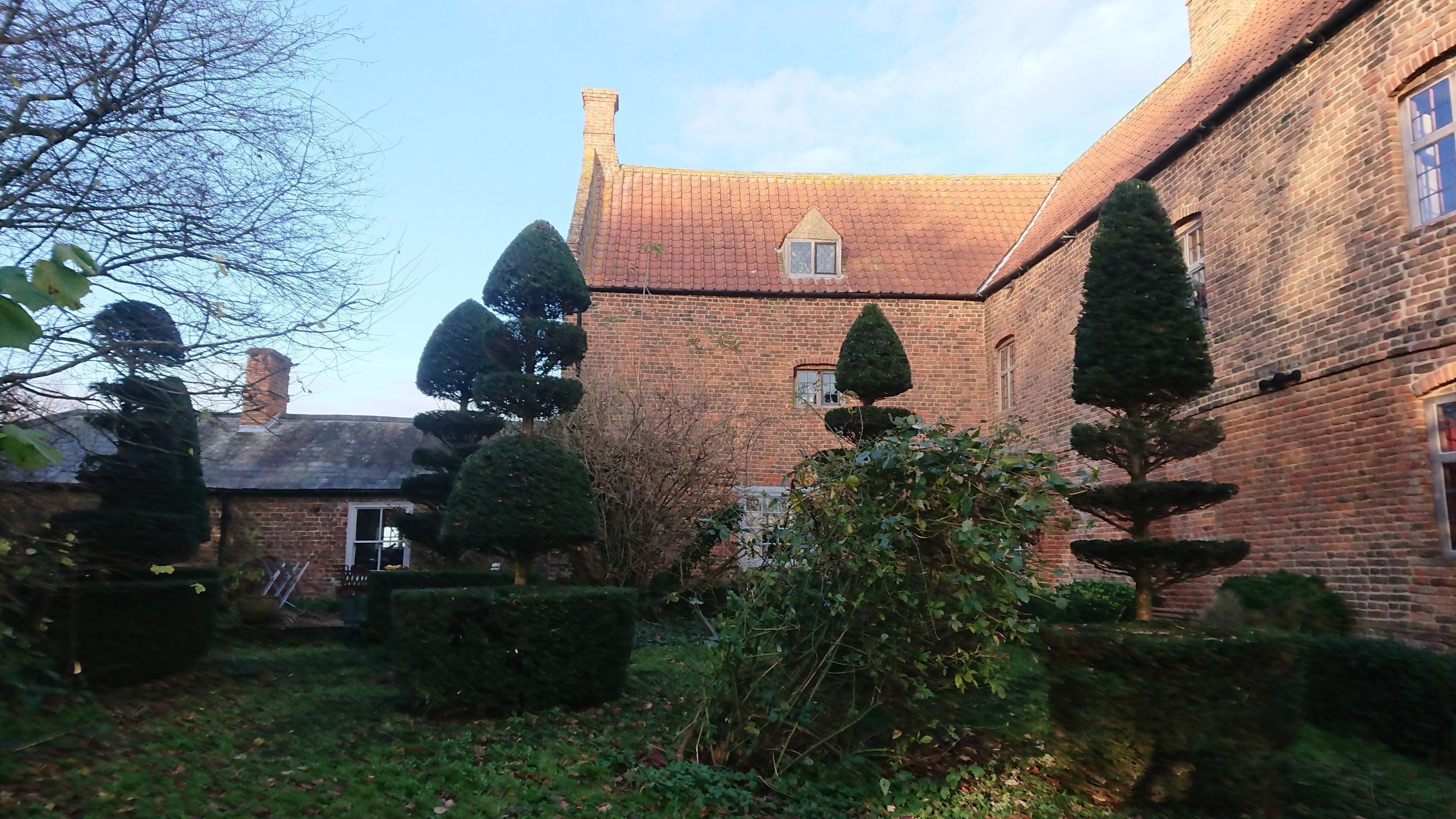 Guanock House needs a trainee topiary artist! Some of you may know it as the first home and garden of designer Arne Maynard, but is now owned and maintained by Michael Coleman and his wife Michelle. They offer meditation workshops and retreats there and it is as beautiful a house and garden as you could wish to visit. They called me in last Autumn to help shape up some of the topiary as it was all getting out of hand, but what it really needs is someone with a steady hand and lots of patience to take over the clipping …
Feb09
Here are some photos of work I have been doing at the garden of Charlotte Molesworth in Kent. Snow and ice brings out the depth of the different planes and angles carved into the boxwood. A garden has to look beautiful in winter – and topiary (green architecture)  helps do that! For more topiary pictures, click here.
Feb01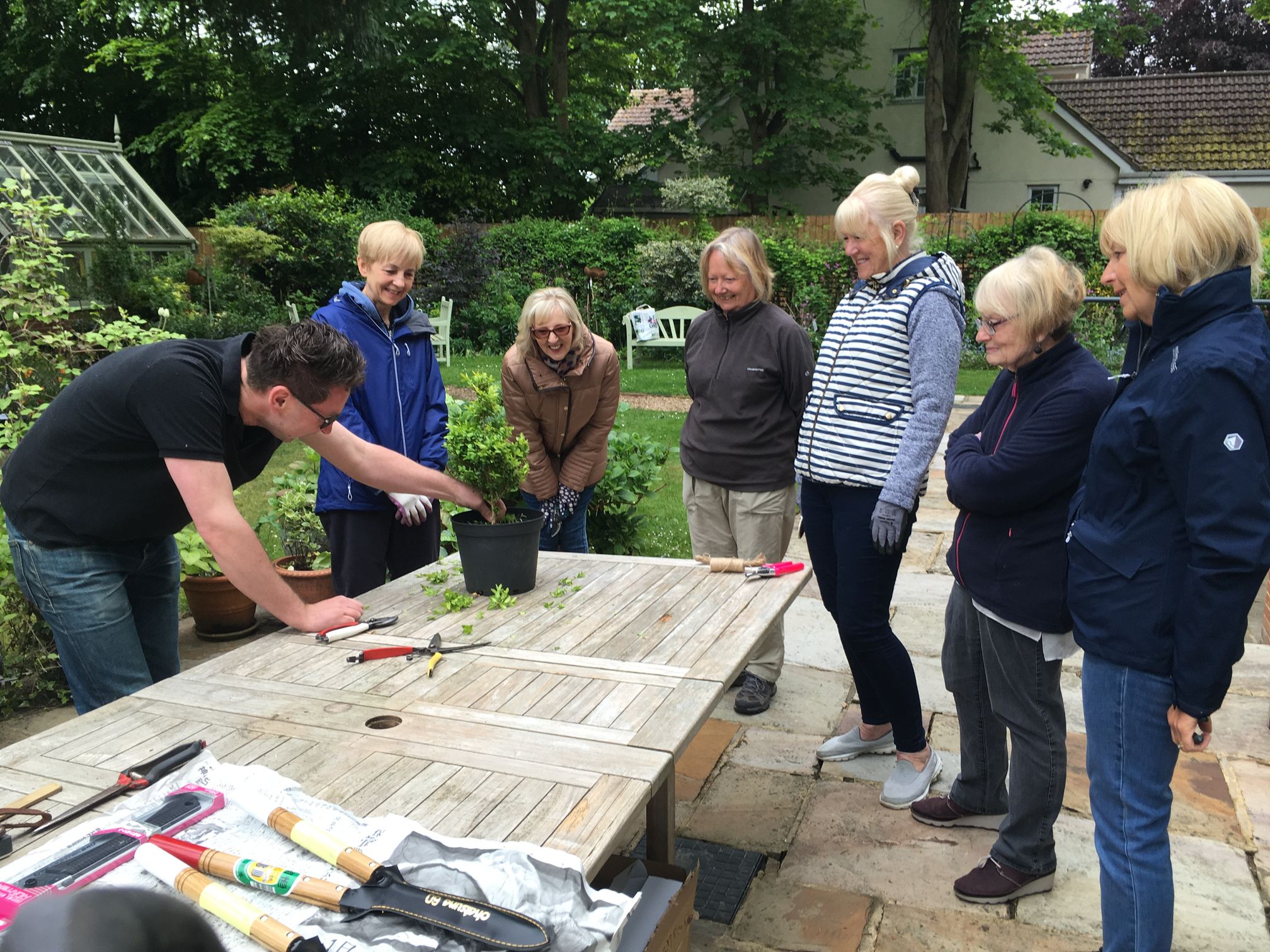 I am an experienced teacher of topiary and pruning, running workshops in the topiary garden of Charlotte Molesworth in Kent, as well as for The English Gardening School and The European Boxwood And Topiary Society. So if you are a keen gardener, a garden club, a group of friends who want to know more or even an absolute beginner who has been bitten by the gardening bug, then do contact me about what you might like to learn. What a laugh we are having in this workshop session I ran for a group of friends in Essex… Many people employ …