THE MODERN MINT BLOG
Gardening? There's an App for That!
On Earth Day 2016, gardening industry juggernaut Scotts released its own branded gardening mobile app. Simply called Gro, the app goes beyond the scope of your typical educational gardening app by allowing users to automate watering via linked smart sprinkler systems such as those by Rachio and PlantLink.
Although the app is best used with the aforementioned automated gardening systems, its educational component is still not to be missed. Tell it your location and it'll give you a list of recommended gardening projects customized for your area, its local climate, and the availability of flowers and plants in nearby stores. Once you pick a project, the app will walk you through every step of the process. It's a perfect starting point for beginners.
The release of the Gro app just drives home the cliché – "whatever you need, there's an app for that" – that has become even more pronounced in the past couple of years. For those who want to start making use of their smartphones while gardening, here are a few other apps to check out:
Landscaper's Companion (iPad) – With information on over 26,000 plants and over 21,000 photos, this is a must-have for those who want to have all the information they could possibly need.
Plant Diary (Android) – Automate yourself with this garden task management app. It lets you define a set of alarms for each plant in your garden, reminding you when an action such as watering needs to be done.
ID Weed (iOS) – An invaluable resource for identifying potentially dangerous weeds in your garden. For Android users, there's Weed ID, an app based on the Encyclopedia of Arable Weeds.
Home gardening has been booming in recent years, with Statista reporting about 117 million home gardeners in the United States in Spring 2015. The ubiquity of smartphones and their accompanying gardening apps may one reason why.
Aside from gardening, other industries have felt the power of mobile. The restaurant industry, for example, was one of the early adopters of mobile apps. Now, over 65 percent of location-based traffic on social media comes from restaurants according to the Restaurant Social Media Index. The gaming industry has also largely shifted to mobile, with Gaming Realms, the developer of slots platform PocketFruity counting over 70% of their previously PC-based gamers now playing on either a phone or a tablet. Said platform has even started incorporating garden-themed games into its portfolio like the extremely popular Secret Garden to tap into new markets.
All of the above shows how, even experienced gardeners are now looking to gardening apps to source information on certain processes, which they feel they need guidance. As many industries continue to invest money in tailored apps, the gardening sector will follow suit, and look to bring the best in new, innovative apps to the table for the consumer to enjoy.
(This is an affiliate blog post at Modern Mint.)
May 5 th 2016
Aug19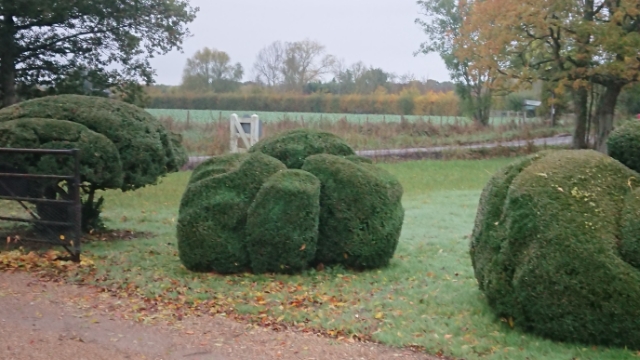 Topiary Composition and design is a major part of my work – which is why I have created an online seminar for keen gardeners and creatives to learn how to compose a piece of topiary. There are several dates available so please head here to buy a ticket. The seminar lasts two hours (including q and a) and will explore the process needed to look at a shrub or hedge and work out what you can design from it. These principles have been learnt the hard way – through mentoring, experimenting and years of practise. Hopefully, it will help you shortcut …
Jun10
Brought By Bike is an excellent website I found last month, where businesses offer their services by (of course) bicycle. Modern Mint and my topiary work is now live on the site offering my topiary services, via bike, to the following two postcodes – CM1 CM2 Now I can imagine I will need to borrow a ladder should anyone have a larger shrub, but most town gardens in the Chelmsford area have a need not just for privacy but to let light into the house… so a balance must be struck when shaping hedges and shrubs to cover both needs. …
May10
Transforming Topiary – a video made for the European Boxwood And Topiary Society by Charlotte Molesworth and I, in her garden. We take a dog topiary and work out how to update it, turning it into a bird. Worth a watch I think, and hopefully useful to you! You can see more of my clipping on the topiary page. Or read my Spring 2021 Topiary Provocation here.