THE MODERN MINT BLOG
We want to quote today from a book by playwright Steve Waters – The Secret Life Of Plays – as we think it ties in beautifully with a way of thinking about gardening and garden design.
"A play is a space to house a human story and must have give and, well, 'play' in it."
We love this. The quote has important words in, like 'space 'and 'house' and 'story'… 'human' and 'give'… the word 'play' is so significant it is repeated, and the second time given its own quotation marks!
But replace the word 'play' with 'garden' (after all, it is 'gardening' that we are interested in here) and you get this…
"A garden is a space to house a human story and must have give and, well, 'garden' in it."
When you look at your garden and think about what to do with it – remember that the most important part is not how it looks, but how the people who are going to use it can define themselves against it. Will their human story be one of rest and relaxation, or fun with friends, or a place to play football and cricket? Will they wish to welcome wildlife? Or will the garden be a chemical war-zone designed to fulfill a powerful ambition as dictator of the land, master of all that tries to reside there?
Looking at your garden as a human story that you get to tell – whoever and however many the audience are – moves you from gardener to playwright ('wright' means builder, or crafter.)
We would like to think that to look at your garden as a crafter of human stories would mean a release from any worry about whether you are gardening well, or right, or wrong… or any other judgement whatsoever… and give you the space and sense of 'play' that enables you to enjoy your garden, to look with kind eyes on your efforts, and best of all use your land to 'give' to those around you.
We leave you with this, another quote from the same book by Steve Waters… and wish you all the best as you 'play'…
"The best work… is where there is a struggle between the elegance of the structure and the raw feeling of what it contains."
January 19 th 2015
Oct11
Need a talk for your garden club? Via Zoom because of Covid-restrictions this winter? Then I can help! It is great you are trying to keep your club going, and though Zoom is not the same as getting a group together and talking about gardening live, of the moment, right now it is the best alternative we have got. How I Do A Zoom Talk For Your Garden Club I'm very happy to do Zoom talks and have moved about 20% online so far (from end of March 2020 to the start of October 2020) – although that number is …
Oct09
Just a quick message from a garden club last night after I gave a talk for them via Zoom… Hi Darren, We would just like to thank you for a very enjoyable and fun talk this evening for our first Zoom meeting! Think we can say that everyone enjoyed it, we have already had positive feedback from some of the members, obviously the way forward at the moment! We were certainly very pleased with the turn out for the first virtual meeting! If you are a garden club speaker and want to give it a try, then please do …
Sep21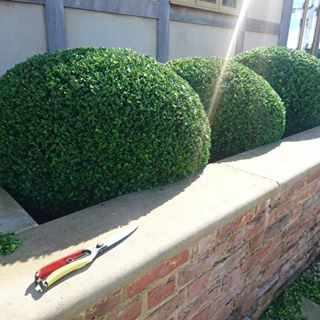 I was asked by the European Boxwood & Topiary Society to help out with answering a common question – How to sharpen your shears? So we spent a fun day making a video, that hopefully will help you make sure you have sharp, shiny blades to do your topiary pruning with. And you can find here more examples of the topiary I make with my sharp blades.