THE MODERN MINT BLOG
Next year the Garden Museum will be running a brilliant day out visiting traditional and contemporary topiary gardens in Kent and Sussex.
Full details can be found here, for what promises to be a fantastic time seeing gardens!
First stop on the trip will be to meet us and Charlotte Molesworth, in her garden, where will be demonstrating some topiary techniques and offering some of the best tools available for sale.
Charlotte's garden is an extraordinary place for wildlife, so this is not to be missed!
Lunch will then be taken at the Walled Garden, where you will be able to see the cucumber and melon houses, before heading over to Fairlight End, the garden of Chris and Robin Hutt.
You may well have seen this garden on TV many times, or featured in magazines.
It is sure to be an inspiring trip and we are really looking forward to meeting these keen topiary artists, exciting them and sharing with them our joy at being able to create architectural shapes from the leaves and branches of plants!
For more information and to book your place, go here to The Garden Museum Website.
For fun with some pruning tools? Go here.
December 12 th 2017
Sep21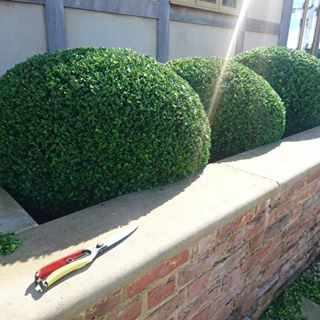 I was asked by the European Boxwood & Topiary Society to help out with answering a common question – How to sharpen your shears? So we spent a fun day making a video, that hopefully will help you make sure you have sharp, shiny blades to do your topiary pruning with. And you can find here more examples of the topiary I make with my sharp blades.
Aug16
You can get a ticket for this new talk I'm giving at the European Boxwood And Topiary Society here – TALK TICKETS It is on the 25th August at 6pm. It should be great fun and I'm very excited to be sharing some recent thoughts about topiary with people – and how it might work in a modern garden.
Jun14
If you have a subscription, you can check out an article about bespoke ideas for your garden in the Telegraph. There are some great crafts people there, so check it out. Click Here To See The Article About my Topiary Work In The Telegraph