THE MODERN MINT BLOG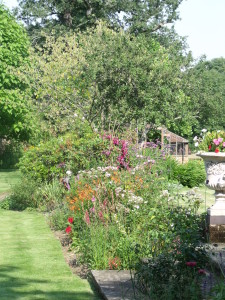 Garden Design in Chelmsford: What Do People Look For?
1) Low Maintenance
At the start of the year we found most clients were asking for artificial lawn. This suggested to us people felt time poor and just didn't want the hassle of looking after a garden.
Our design suggestion:
Make the lawn areas smaller, with a logical design so that the mower can reach each part of the grass easily and quickly. Job done, minimum of fuss.
2) 'Wow' Factor
Clients wanted the garden to be used for entertaining, so it needed to look great.
Our design suggestion:
Use tough but beautiful shrubs like rosemary and lavender – they not only attract wildlife but only need cutting back once a year, are fine if they don't get any water (it's not just in Chelmsford, but when designing a garden in hot, dry Essex you have to think about how to cope with the low rainfall!) and they look and smell fantastic.
You can even use them to cook with – even better when you have friends over for dinner and drinks!
3) The personal touch
Clients do not want something mass produced. The people of Chelmsford want their garden design to say something about them.
Our design suggestion:
We have searched and found a range of artisan craftspeople who can design, make and install gates, sculptures, pergolas, pots and potting sheds. We love being able to offer these unique products, because your garden should be an expression of who you are.
Modern Mint design gardens, large or small, that suit the 21st Century lifestyle.
So if you live in Chelmsford and would like to discuss garden design ideas with us, join those who already have and contact us now.
July 21 st 2014
Feb10
There seems to be some underhand shenanigans going on here. Bob Flowerdew is threatening to resign. We face losing the UK's cornerstone organic garden. So please take a look at what is going on via the Facebook group…. go on! Go Now! Save Ryton Organic Gardens!
Feb06
Today we will be looking at Garden Design Trends in 2018. Just so you are in the know about what is cool and what is not cool in the 12 months ahead…. For the past like, million years I have shared my thoughts on what the gardening industry tell us the latest trends are going to be. If you are interested, you can see here the garden design trends for 2017. Or take a peek at my favourite of all the posts I have written – Alternative Garden Design Trends. This is my individual take on what the latest garden design …
Feb06
Well now, this is interesting…. UK Plans 50 Million New Trees in Northern Forest Likely? See the pitfalls? We love the idea and wholeheartedly support as much tree planting as possible. But are seriously doubtful that this is more than a sticking plaster solution to England being so vastly 'under-treed'…. or should that be 'overfelled?' Yet whether this idea happens or not, all we ask is that you please make sure you plant as many trees as you can in your garden!