THE MODERN MINT BLOG
How do you create a front garden design that has everything – space to park and turn the car around, flowers that bloom all year and walls or hedges to provide privacy? Well, it is not easy. Most new houses we have worked on are orientated so that the back of the house is facing south, to get the most sun. This is a great idea, but it then creates a cold, dark environment on the opposite side of the house where you enter.
Not so pleasant.
The most important decision to make is being clear on what you want from your front drive. If it is room to park your car, then allow that to dictate what you do. Flowers can still be added, but they must play second fiddle, being used to brighten and soften the space instead of being its main feature.
We spoke to Essex designer Anthea Harrison (her gorgeous front garden is pictured above!) about what inspired her to design her front garden this way…
"I have a very shady back garden and a very sunny front garden, and as my front garden is a good size it was a great opportunity to grow all my favourite sun loving plants (and besides a boring lawn with a circle in the middle filled with pansies didn't rock my boat at all!)

The neighbours were perplexed when they saw me ripping up the lawn and a few commented that they couldn't understand why I was doing it (my neighbours are mostly retired folk.) But one by one they have drifted back to comment on how fabulous my garden looks now, filled to the brim with colour and bumble bees.

What's not to love!

I would prefer to see a nice lawn in someone else's garden over my pet hate which is edge to edge tarmac or block paving.  It makes a house look so harsh and unattractive when all elements of green are removed and replaced with concrete – just don't do it!

Even the narrowest of gaps could fit a climber to grow up and around your front door or allow a sprinkling of perennials and grasses to soften the facade.  There are many creative ways to make space for your cars and have an attractive space to welcome you home."
Below is a picture of another friend of ours, who we spend a lot of time with talking about plants (always a pleasure…) She has removed all of the lawn in front of her cottage and replaced it with gravel and stones. This has then allowed her to grow some wonderful architectural plants, as well as making it easier to weed.
This picture was taken in early May. We popped over again on Sunday and now you can barely see the gravel – poppies, verbascums and cistus were all flowering away and she had planted out aeonium and dahlias for the summer. It was a full, thick planting, yet never amongst all these plants did it feel out of control. That is the problem with a lawn – if you do not cut it every week at this time of year it grows so thick and fast that it becomes a pain to manage.
Not so with a well-designed front garden.
If you don't have much space, once the cars have been parked, don't despair. You can still do your bit for wildlife.
This is a front garden in a suburban area where the client asked us for help.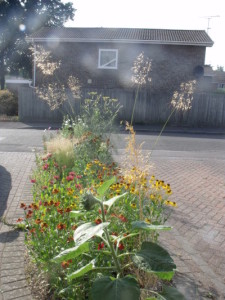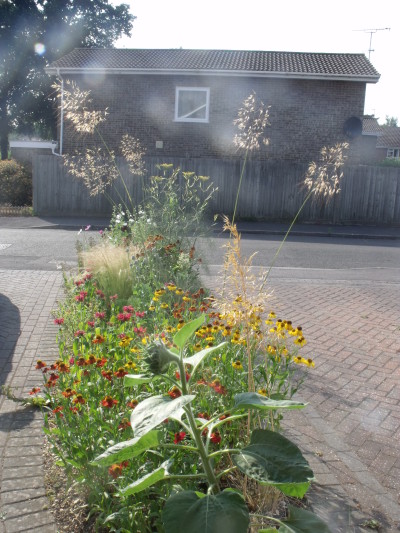 The soil was poor and shallow, so plants were chosen to cope with this. Because the space was small we knew we needed big plants – it creates the impression of a larger border – and because it is such a large and colourful border it is great to come home to. A major (and often forgotten) point in garden design – you have to do something that makes people go 'wow'.
Sedums, sage, verbena and lavender helped create a perfect spot for insects – apparently, some mornings when the client left for work, she could hardly hear herself think from all the buzzing!
The options for your front garden are endless (want one more? Take a look at this Urban Meadow we sowed in London in May…) but the most important question to answer, the question that will drive the whole design, is 'what do I want from this space?'
Answer this question first, then get in touch with us… and we can help you create anything from the simple to the sublime.
June 24 th 2014
May03
Over the last two years I have been involved with a couple of projects that have ended up being recorded, then placed on Youtube or Instagram. I'm hoping they will be useful to you, so I have decided this morning to pop them together in one handy blog post so that you can bookmark the page and revisit when you need some inspiration for your topiary. See below then, a few videos about topiary I have recently been involved with… Garden Masterclass – Provocations of a Modern Topiarist Transforming Topiary Topiary Teacher Put On The Spot https://www.instagram.com/p/CTj-EfOKRL6/ In the above …
May03
Mark Zlotsky is an artist based in New York, and today I just wanted to share his project 'Topiary Tango'. In his introduction to the project he talks of topiary being a forgiving art, which I love and is soooooo true…..! For proof, just take a look at some projects I have made with a sharp pair of shears, a hedgetrimmer and a pruning saw. Do check out Mark Zlotsky's project, because although his interest began by looking at topiary through the prism of architecture and the relationship of one building to another, he touches directly onto a way of …
Apr27
Gardenista, the online magazine about gardens and design, have interviewed me about topiary. The article is called 'Rethinking Topiary: A Garden Tradition Loosened Up' and was published this morning. Written by the excellent garden writer Clare Coulson, I share some thoughts on using deciduous plants, how to clip (name-dropping Anne Lamott and her book on writing at one stage… oh, how I wander off subject sometimes!) and how to improve topiary by what you plant around it. Do take a look at the article in Gardenista. Or for more about my topiary work, check out the topiary page.