THE MODERN MINT BLOG
Weather warnings, high winds, flooded houses and waterlogged fields. The damage is mounting.
(Although high winds and the weight of the evergreen tree in the picture contributed to it falling over, it was the sodden ground in which its roots stood that caused it to tip, laying bare the root system you see. The ground was so wet and soft the roots had nothing to anchor to.)
Environment secretary Owen Paterson and Prime Minister David Cameron have pledged to dredge river channels, believing it to be a way to prevent flooding. But it is the saturated land, unable to hold more water, that needs looking at. Dredging rivers will just quicken the flow of water, causing further flooding at pinch points in the waterways.
Speaking to a gardener at South East Essex Organic Gardeners he insisted that, should there be a high tide or a storm surge towards London, the Thames barrier will save the city. However, the water has to go somewhere. Essex will be flooded.
This is the problem – the country needs places for the water to be held, allowing it to percolate down in its own time.
In Copenhagen solutions are being aired to cope with major 'cloudburst challenges'. Surface runoff will be caught in rainwater catchment tanks and held there, below street level, possibly supporting plants that have no problem spending some of their lives being flooded. This will be the future for all major cities, where paved areas don't allow water to filter away.
Most streets no longer have front gardens, as a necessity for parking spaces for two or more cars mean more asphalt, large stretches of it on each estate. Perhaps, as gardeners and garden owners, we can begin changing this and combating flooding in urban areas by adding more vegetation to these areas, or harvesting rainwater in tanks below the surface?
This problem is not going away. Adding sandbags is action too late. Depleting the force of fast flowing water and allowing rivers to stretch themselves out across floodplains is the way forward.
We hope at Modern Mint we can help design a garden that helps solve this problem.
February 17 th 2014
Sep29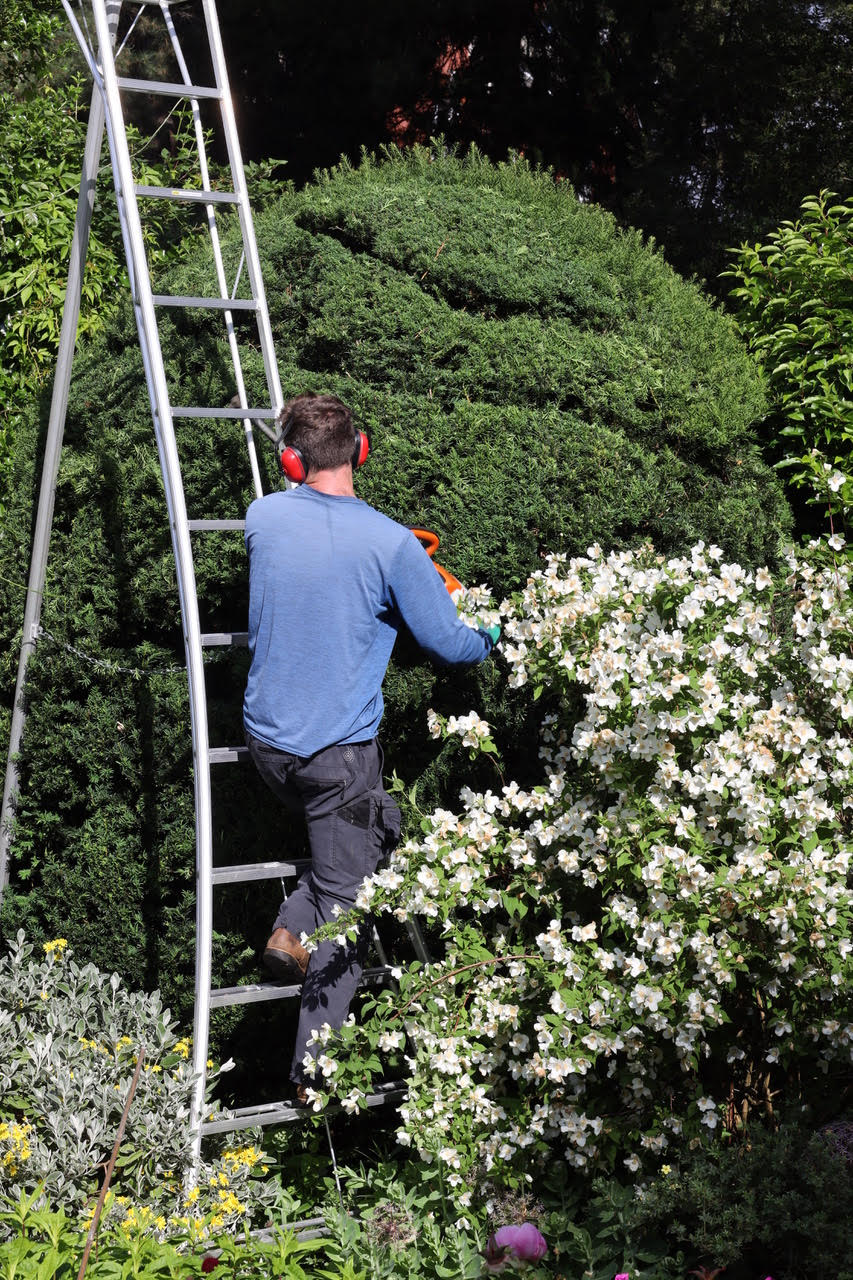 Making a new topiary out of the large, dull facade of a Taxus blob… My work was to change it up from a 'jelly drop' shape and give it texture, open it out and let the light through, and make it a sculptural feature in the background of the garden in summer… yet a major part of the garden in winter. A few more years before it becomes something special, but there was far more leaf and growth inside the plant than I thought and so it will not take too long for it to gain in character and become …
Sep27
Two weeks ago I was invited to teach topiary at the garden of Griselda Kerr, the author of The Apprehensive Gardener. I love teaching and sharing skills, but I was placed on the spot in the afternoon and asked to show how I would make a new topiary from an existing shrub. So below is a speeded-up video of me creating a cloud-pruned topiary from an old boxwood tree. I particularly love the ending when the class get involved….! See the video here. One hour was all it took, and though it needed a little tidying-up, it was made by …
Sep27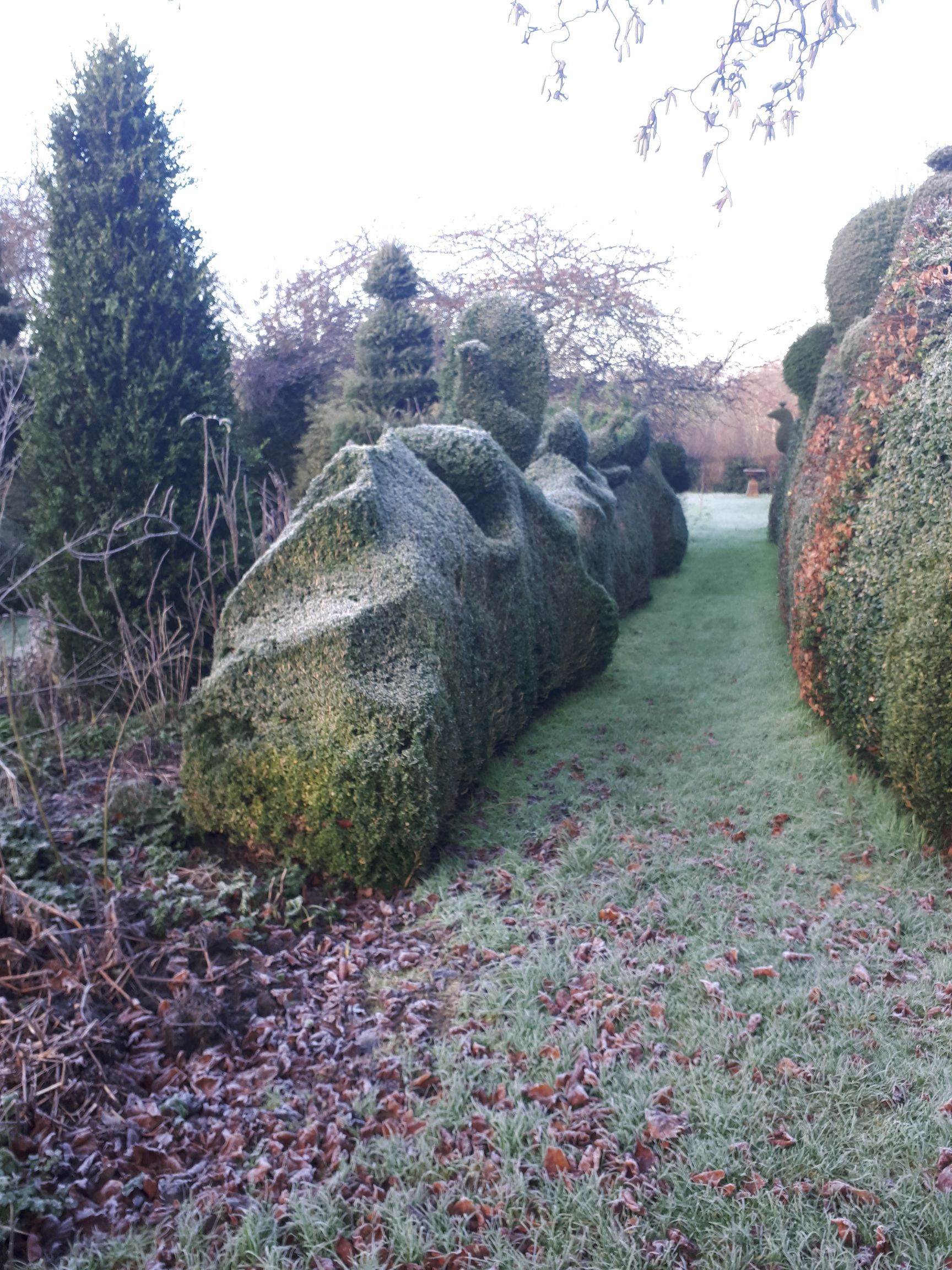 Charlotte Molesworth, my topiary mentor, and I are running our popular topiary workshop again in 2022. You can email me for details – or go here for information, your ticket and to find out about dates. Book A Spot On A Topiary Workshop, September 2022