THE MODERN MINT BLOG
Weather warnings, high winds, flooded houses and waterlogged fields. The damage is mounting.
(Although high winds and the weight of the evergreen tree in the picture contributed to it falling over, it was the sodden ground in which its roots stood that caused it to tip, laying bare the root system you see. The ground was so wet and soft the roots had nothing to anchor to.)
Environment secretary Owen Paterson and Prime Minister David Cameron have pledged to dredge river channels, believing it to be a way to prevent flooding. But it is the saturated land, unable to hold more water, that needs looking at. Dredging rivers will just quicken the flow of water, causing further flooding at pinch points in the waterways.
Speaking to a gardener at South East Essex Organic Gardeners he insisted that, should there be a high tide or a storm surge towards London, the Thames barrier will save the city. However, the water has to go somewhere. Essex will be flooded.
This is the problem – the country needs places for the water to be held, allowing it to percolate down in its own time.
In Copenhagen solutions are being aired to cope with major 'cloudburst challenges'. Surface runoff will be caught in rainwater catchment tanks and held there, below street level, possibly supporting plants that have no problem spending some of their lives being flooded. This will be the future for all major cities, where paved areas don't allow water to filter away.
Most streets no longer have front gardens, as a necessity for parking spaces for two or more cars mean more asphalt, large stretches of it on each estate. Perhaps, as gardeners and garden owners, we can begin changing this and combating flooding in urban areas by adding more vegetation to these areas, or harvesting rainwater in tanks below the surface?
This problem is not going away. Adding sandbags is action too late. Depleting the force of fast flowing water and allowing rivers to stretch themselves out across floodplains is the way forward.
We hope at Modern Mint we can help design a garden that helps solve this problem.
February 17 th 2014
Feb22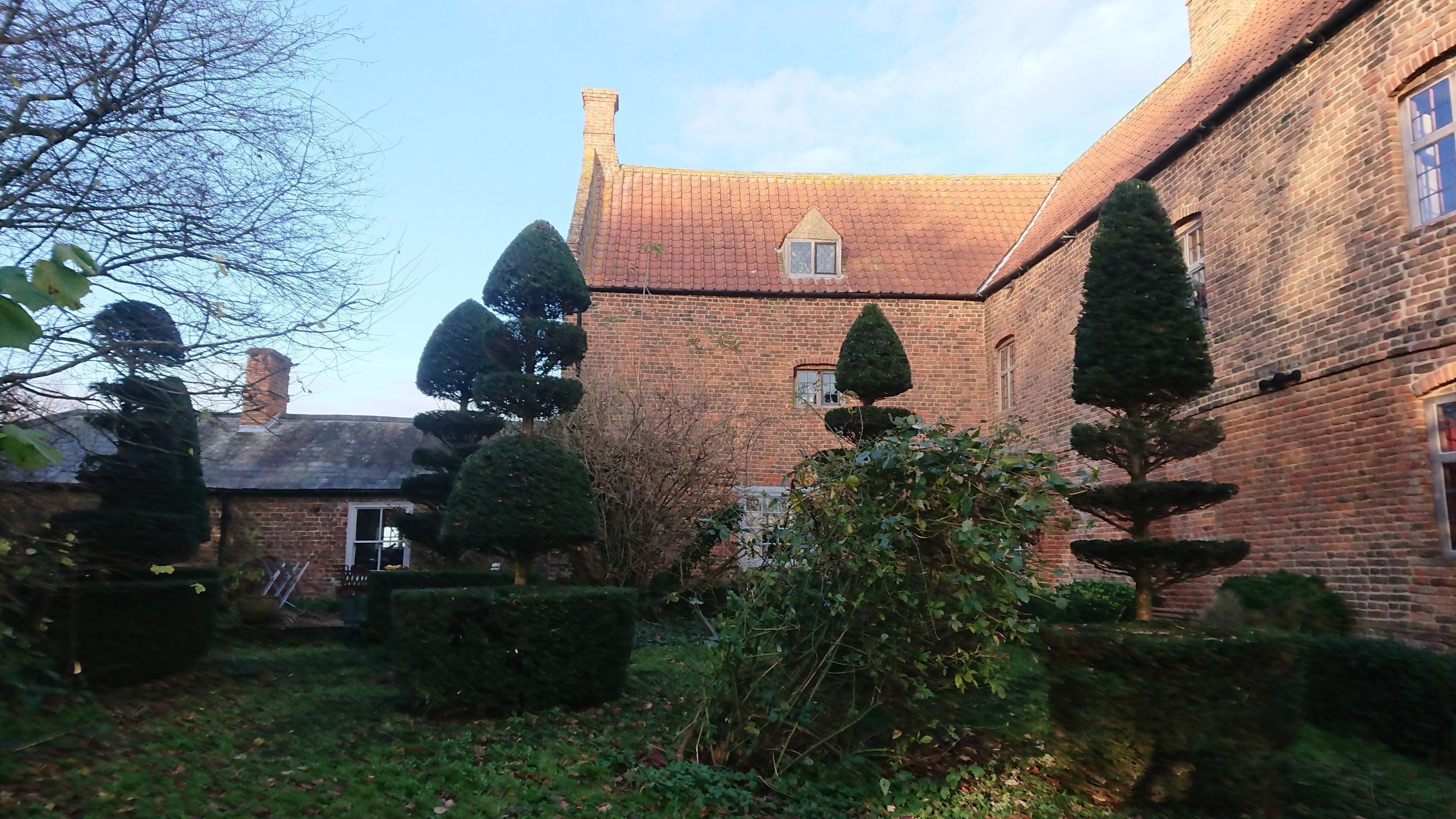 Guanock House needs a trainee topiary artist! Some of you may know it as the first home and garden of designer Arne Maynard, but is now owned and maintained by Michael Coleman and his wife Michelle. They offer meditation workshops and retreats there and it is as beautiful a house and garden as you could wish to visit. They called me in last Autumn to help shape up some of the topiary as it was all getting out of hand, but what it really needs is someone with a steady hand and lots of patience to take over the clipping …
Feb09
Here are some photos of work I have been doing at the garden of Charlotte Molesworth in Kent. Snow and ice brings out the depth of the different planes and angles carved into the boxwood. A garden has to look beautiful in winter – and topiary (green architecture)  helps do that! For more topiary pictures, click here.
Feb05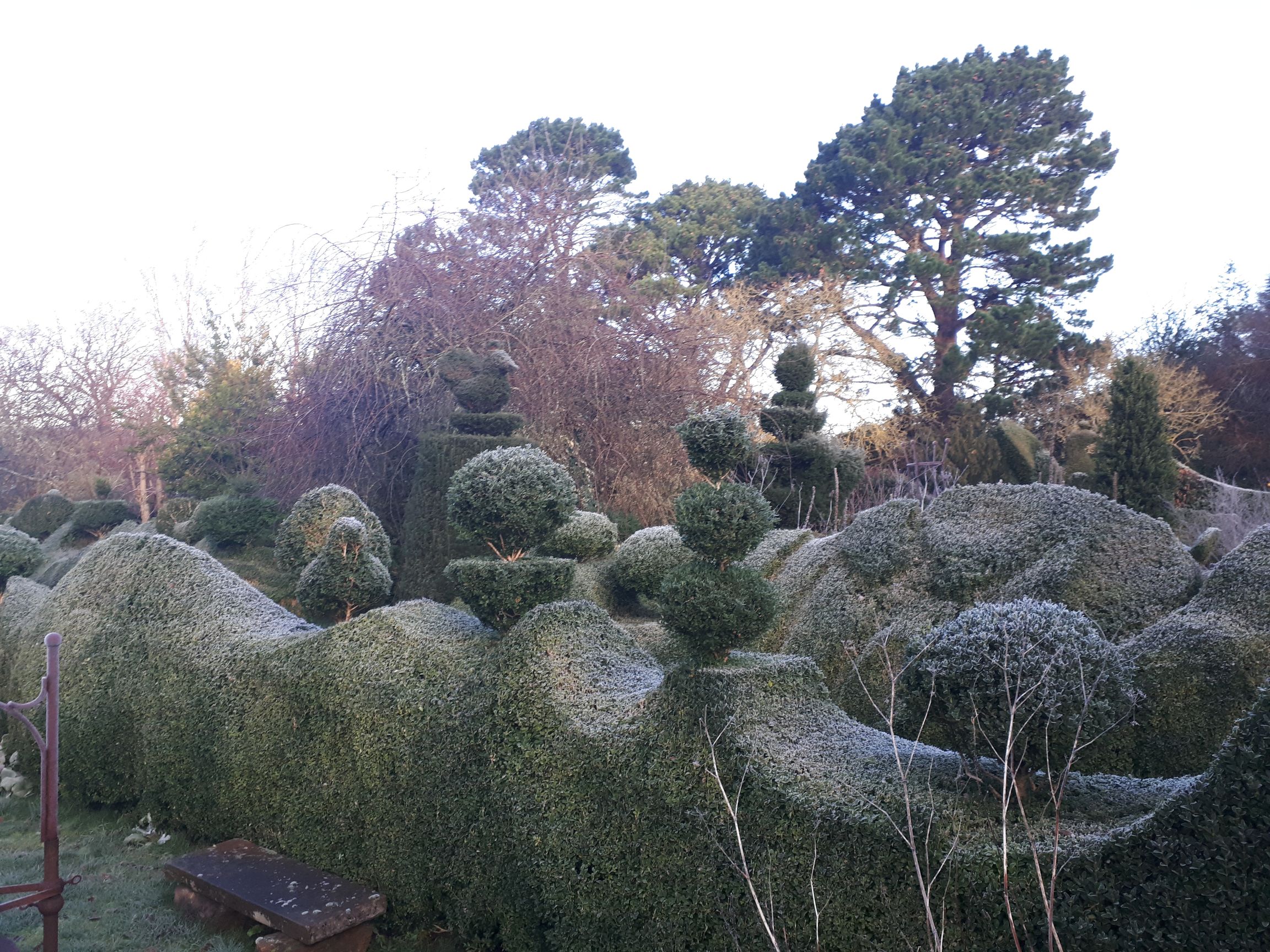 How To Use Topiary In The Garden is my new talk, which I first gave last year via Zoom for the European Boxwood And Topiary Society. Returning to Zoom again, there are two dates available to see and hear the talk: March 16th – Book your ticket here April 6th – Book your ticket here The talk is great fun, perfect for keen gardeners or people who want to know how to improve their garden with hedges and architectural plants. How To Use Topiary In The Garden looks at how to move away from the idea topiary is twee or old-fashioned, …