THE MODERN MINT BLOG
What are the best looking, easiest bulbs to plant this Autum? Here are a few we are putting into designs for our clients…
1) Narcissus 'Thalia'
2) Allium 'Purple Sensation'
3) Narcissus 'Actaea'
4) Narcissus 'February Gold'
5) Tulipa 'Ballerina'
(We thought about adding pictures and explanations to help you decide they are worth planting – but planting bulbs is such an act of faith – that we didn't want to give away what will come up in the spring. What we mean is, you get these tough little bulbs and bury them in the dark, let life carry on and forget what you did right now, here in the Autumn… then suddenly, they are poking their heads up out of the soil, making you exclaim with joy and dream of warmer days and shorter nights… so we left the pictures out of this blog post, left you to an act of Autumnal faith… trust us, they are great (and easy!) varieties which you shouldn't be without in the garden…
You can get all of these bulbs here at Sarah Raven…
Our last advice to give you about these bulbs? Plant them in the hundreds… so that these bulbs will make a fantastic show for you in the Spring!
(For more on bulbs try these books below…)
The Bulb Expert: The world's best-selling book on bulbs (Expert Books)
Bulb: A Hand-Picked Selection of the World's Most Beautiful Bulbs
The Well-Designed Mixed Garden: Building Beds and Borders with Trees, Shrubs, Perennials, Annuals, and Bulbs
October 7 th 2014
Sep21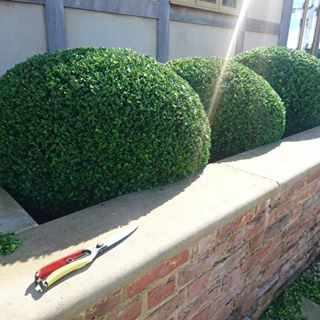 I was asked by the European Boxwood & Topiary Society to help out with answering a common question – How to sharpen your shears? So we spent a fun day making a video, that hopefully will help you make sure you have sharp, shiny blades to do your topiary pruning with. And you can find here more examples of the topiary I make with my sharp blades.
Aug16
You can get a ticket for this new talk I'm giving at the European Boxwood And Topiary Society here – TALK TICKETS It is on the 25th August at 6pm. It should be great fun and I'm very excited to be sharing some recent thoughts about topiary with people – and how it might work in a modern garden.
Jun14
If you have a subscription, you can check out an article about bespoke ideas for your garden in the Telegraph. There are some great crafts people there, so check it out. Click Here To See The Article About my Topiary Work In The Telegraph