THE MODERN MINT BLOG
"Compost-making doesn't need to be hard work, costs almost nothing, and the only secret ingredient you need is patience."
Ken Thompson, botanist and author of Compost.
Run by Garden Organic, International Compost Awareness Week aims to help people who don't compost learn how to do it.
Join a compost group for International Compost Awareness Week.
For a really quick guide on how to compost, here it is:
Take something that can rot. Put it into a pile outside with other materials that have the ability to rot. Leave it there (as Ken Thompson said in the quote above, 'patience is the secret ingredient!) Eventually, if you leave it long enough, you will have compost.
Not so hard to do, is it?
Why is it fantastic to make compost?
It is great for your garden. Compost is made from the plant material that you take away from the garden in the form of prunings, grass clippings, flowers and leaves.
By recycling them on a compost heap you are turning them from material you don't want into something that a plant can make use of. It will give plants valuable nutrients to help them grow, help retain moisture and warmth in the ground and will reduce weed growth by covering bare soil, so stopping weeds germinating.
That is why compost is known as 'black gold' because it is so precious in the garden. The best gardener will tell you she never has enough!
Three actions you can take to reduce your impact on the world are the following:
Compost
Grow vegetables (for which you will need compost!)
Plant a tree
Notice what is top of the list?
We hope you will support International Compost Awareness Week. If you have more questions about compost and how to do it, there are some fantastic resources out there. Do check out the following links…
More On How To Make Compost
Garden Organic – What Can I Compost?
Modern Mint – Compost = Place Together
Green Action Centre – Why Should I Compost?
Garden Organic – Composting Myths (highly recommended!)
Ken Thompson – Compost
Modern Mint – Seed Sowing Compost
International Compost Awareness week runs until this weekend. If you have further questions on how to compost, please contact Modern Mint and we will be happy to help.
May 5 th 2016
Sep21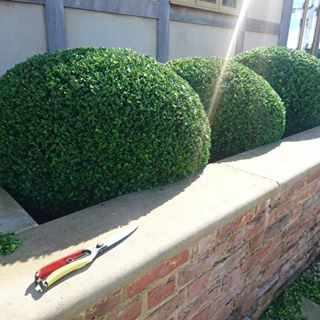 I was asked by the European Boxwood & Topiary Society to help out with answering a common question – How to sharpen your shears? So we spent a fun day making a video, that hopefully will help you make sure you have sharp, shiny blades to do your topiary pruning with. And you can find here more examples of the topiary I make with my sharp blades.
Aug16
You can get a ticket for this new talk I'm giving at the European Boxwood And Topiary Society here – TALK TICKETS It is on the 25th August at 6pm. It should be great fun and I'm very excited to be sharing some recent thoughts about topiary with people – and how it might work in a modern garden.
Jun14
If you have a subscription, you can check out an article about bespoke ideas for your garden in the Telegraph. There are some great crafts people there, so check it out. Click Here To See The Article About my Topiary Work In The Telegraph