THE MODERN MINT BLOG
Charles Dowding Uses Copper Tools
Charles Dowding, from his book on Vegetable Gardening, on why he uses copper tools in the garden…
"My favourite tools are made of copper, or to be precise they are 95 per cent copper and 5 per cent tin … the metal is strong, not magnetic and does not rust. This is a keen advantage for trowels, hoes and spades where smooth, sharp blades make for effortless use, and there is no need for regular cleaning or oiling to protect the metal.
"Although the copper alloy is a little less hard than iron, and might suffer in soils with flint or large amounts of stone, the tools are designed to endure. I have found copper trowels last better than ones made of hard stainless steel, which often snap after a year or two, at a weak point near the handle."
No Dig Organic Home & Garden
We met Charles Dowding at his own garden in Somerset last year – read about our excellent visit here.
His market garden produces a huge amount of vegetables and fruit for a local box scheme, all organically grown, incredibly tasty and really it is produced with very minimal input. His system is based around spending more time doing what is important – growing the vegetables, making sure the soil is undisturbed, rich, full of life, which then allows him to harvest the best vitamin filled crops.
Everyone's dream…
But we love what he says above, in the quote from his book. The tools are designed to endure. It is simple, clear and brave – and it all comes from long experience using them.
We get people ask us a lot of questions about the copper tools, about how good they are. We love them, use them regularly (alongside this Diggy Diggy Knife) and highly recommend them. But we are at pains to say to people that copper tools are not a magic bullet – you are not suddenly going to become an amazing gardener just by owning them! (Sorry to break it to you guys, but there are no magic bullets, or magic beans. But there are magic mushrooms. Perhaps that says something about the world…?)
If you are looking for great tools to use in the garden, you won't go wrong with the copper tools. We say so. Charles Dowding says so (and he is a fantastic resource for a No Dig Organic Home & Garden
)
But as with any copper tools, you do need to make sure you get outside and use them!
October 24 th 2016
Feb22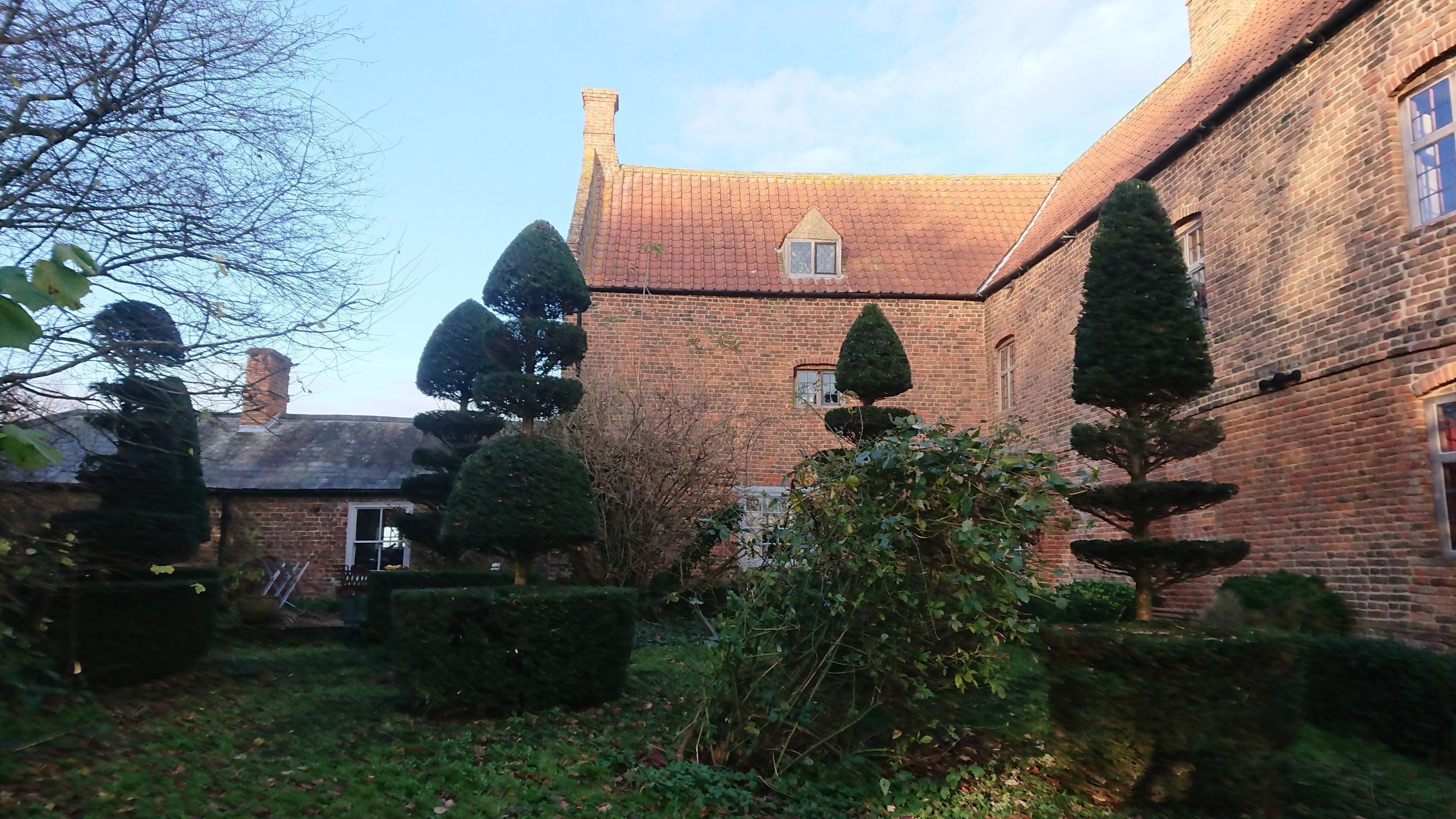 Guanock House needs a trainee topiary artist! Some of you may know it as the first home and garden of designer Arne Maynard, but is now owned and maintained by Michael Coleman and his wife Michelle. They offer meditation workshops and retreats there and it is as beautiful a house and garden as you could wish to visit. They called me in last Autumn to help shape up some of the topiary as it was all getting out of hand, but what it really needs is someone with a steady hand and lots of patience to take over the clipping …
Feb09
Here are some photos of work I have been doing at the garden of Charlotte Molesworth in Kent. Snow and ice brings out the depth of the different planes and angles carved into the boxwood. A garden has to look beautiful in winter – and topiary (green architecture)  helps do that! For more topiary pictures, click here.
Feb01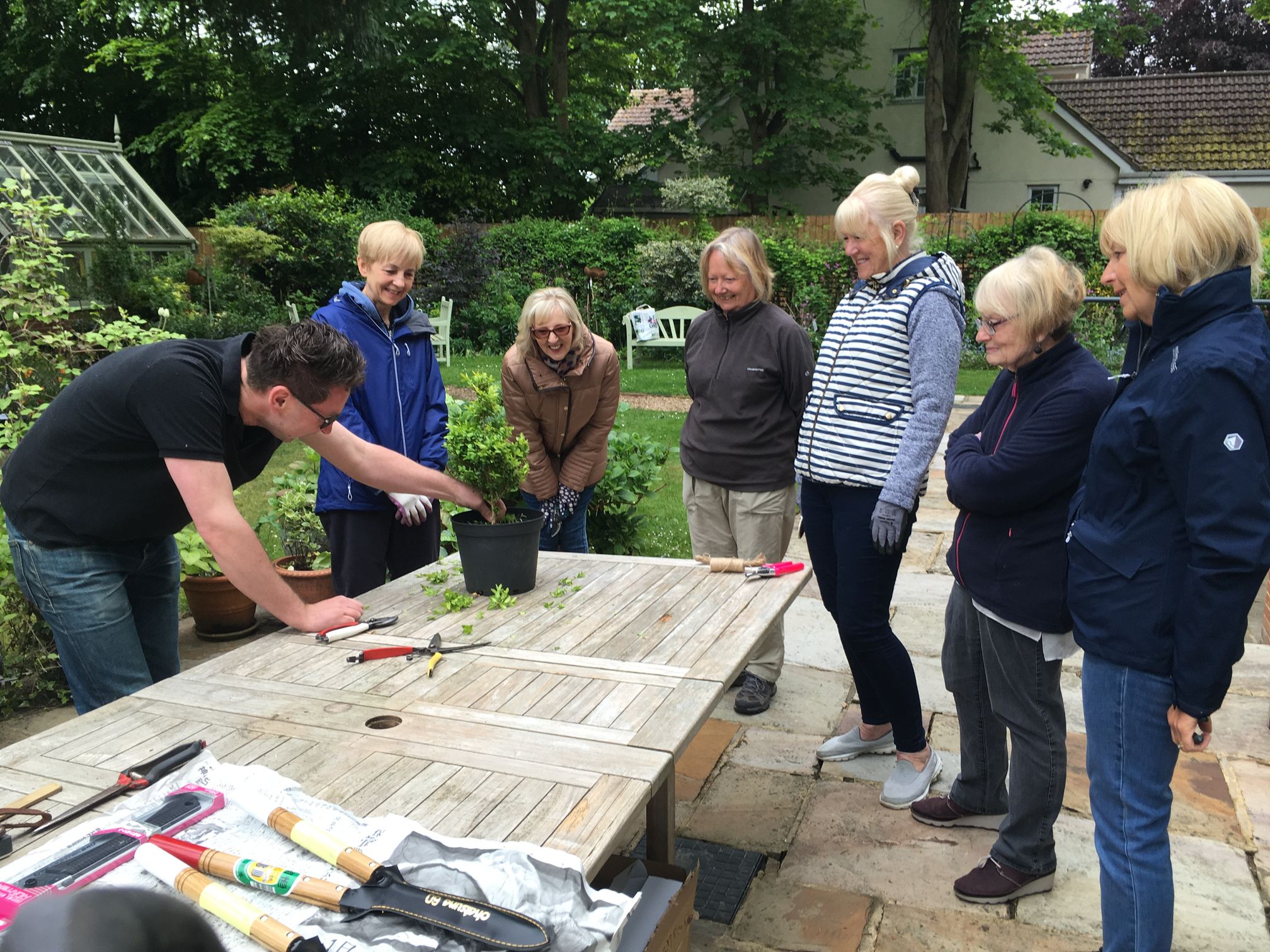 I am an experienced teacher of topiary and pruning, running workshops in the topiary garden of Charlotte Molesworth in Kent, as well as for The English Gardening School and The European Boxwood And Topiary Society. So if you are a keen gardener, a garden club, a group of friends who want to know more or even an absolute beginner who has been bitten by the gardening bug, then do contact me about what you might like to learn. What a laugh we are having in this workshop session I ran for a group of friends in Essex… Many people employ …