THE MODERN MINT BLOG
I was asked recently whether I could give advice on how to use a small front garden to capture carbon.
A great question and certainly one worth answering. So if you are keen to reduce your environmental impact, and have a little front garden space that you can transform, read on below for a few bits of advice – I hope it helps you make a beautiful front garden that improves the landscape, the air quality, the planet and the joy in the lives of everyone who walks past it!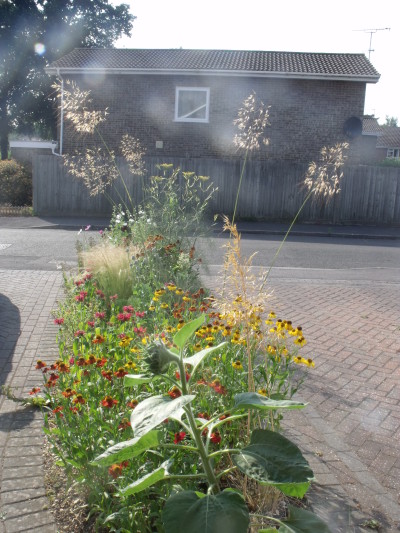 Carbon Capture In The Front Garden
Using your front garden as a carbon sink is a great way to make a difference. Who would not want:
cleaner air
to garden more
grow and share plants
improve the landscape
offer beauty to their community
reduce their carbon footprint
You can start making the garden a carbon sink by looking at your soil. The soil is a brilliant store of carbon, the second largest store worldwide after our oceans. You can do capture carbon with your soil by not digging.
Digging the soil over adds oxygen to the carbon in the soil, turning it into carbon dioxide which is then released into the atmosphere.
Instead of digging, try adding organic matter like homemade compost to the earth in your garden borders. This will improve the soil, making the soil your ally when growing conditions get more difficult, like when we get a warm summer.
The earthworms will dig the compost in for you, just as they do in nature when leaf litter falls to the forest floor. Mulching with compost really is the easiest way of keeping carbon in the soil.
Maybe you have always dug? Well, check out the No-Dig Vegetable Gardening approach favoured by the brilliant food grower Charles Dowding, who may well convince you to save all the effort of using a spade and breaking your back digging, and start mulching instead….
Charles Dowding, The No-Dig Gardener
His approach is based on growing vegetables and fruit, but applies to gardening in general I think – focusing on improving your soil, to grow better plants and make your soil a carbon sink.
Plants For Your Front Garden
As for types of plants for capturing carbon in your front garden, I would recommend as many trees as possible.
This includes planting hedges instead of fences (a real pet hate of mine is a fence with nothing growing on it…. the bareness draws the eye to it, impoverishing the view from or back to the house… please, if nothing else, add a climber to the garden to cover the fence. Or even better – get a hedge in, a hedge to provide habitat for hedgehogs and birds!)
If you are gardening in a tiny front garden, then the thought of planting just one tree may seem silly. What about the shade for goodness sake!
Well. yes, okay, that could be a problem. But there are some small trees you can consider (as well as ways of pruning that may make a difference!)
Small trees that don't take away too much light from a garden are:
All of them provide a dappled sunlight through their leaves, and grow with an airy, open habit.
Plus, all of them can be pruned with ease if they start to get too big. Just grab a saw, a pair of loppers, or secateurs and get cutting!
If you do end up pruning, then of course the key to capturing carbon is not to burn the prunings.
Instead, create a log pile in a shady spot somewhere (that gap down the side of the shed, against the fence, has nothing growing there) to encourage hedgehogs, beetles and other wildlife. Don't struggle to grow plants in a shady corner of the garden, use it for wildlife habitat and keep the carbon locked up in the branches of the tree you have cut.
If your soils are wet, you could try a plant like willow, which thrives in damp conditions and provides a food source early in the year for honeybees. It can also be 'stooled' every year to keep it in shape – which just means cutting all the stems down to knee height every year.
This also allows more light back into your garden. Perfect!
Best Plants For Capturing Carbon?
I actually don't know if there is any research on the best plants for capturing carbon. I've googled it (although I should have used this search engine – Ecosia – as they plant trees for every search you make… that would have been far more sensible in a post about carbon capture), but that is as far as my research has gone.
Lazy? Yeah, I am…
The trouble is I don't think much study has been done. So let us have a think ourselves – any plants and any planting is going to help, right? Yes.
Plants that don't require you to turn over the soil around them are going to help, because then carbon is captured in the soil. Yes. (So long-lived trees and… perhaps we can add grass to that… may be the way forward here?)
Plants that don't need much maintenance – no chainsaws, no woodchippers, no bonfires, no trucks to take away logs…. this reduces the carbon footprint too.
Evergreens photosynthesise for more months of the year than deciduous trees, so must take in more carbon. So maybe get a few of those planted (though in a small front garden a shade making evergreen may not quite be the way forward, without regular pruning….)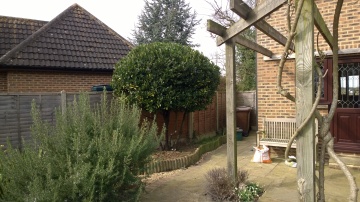 So we must just take on trust that planting, of any kind, is what will make the difference.
Round-up Of Suggestions For Carbon Capture In A Front Garden…
So basically I would suggest:
Improve your soils with organic matter, and don't dig.

Plant as much as you can, especially trees and hedges.

Don't burn prunings – compost everything, or re-use somewhere else in the garden as a wildlife habitat.

Climbers have a positive effect on greening a space, as well as reducing pollution.
Reduce the use of power tools – especially leaf blowers (aaah I hate these too), mowers and chainsaws. And switch to a renewable energy provider.
I hope this helps, even if just a little.
I have teamed up with Trees For Life, a charity in Scotland who plant trees. It helps capture carbon, even if the front garden is… a little bigger and wilder.
You can add trees to the Modern Mint Grove here.
April 15 th 2020
May03
Over the last two years I have been involved with a couple of projects that have ended up being recorded, then placed on Youtube or Instagram. I'm hoping they will be useful to you, so I have decided this morning to pop them together in one handy blog post so that you can bookmark the page and revisit when you need some inspiration for your topiary. See below then, a few videos about topiary I have recently been involved with… Garden Masterclass – Provocations of a Modern Topiarist Transforming Topiary Topiary Teacher Put On The Spot https://www.instagram.com/p/CTj-EfOKRL6/ In the above …
May03
Mark Zlotsky is an artist based in New York, and today I just wanted to share his project 'Topiary Tango'. In his introduction to the project he talks of topiary being a forgiving art, which I love and is soooooo true…..! For proof, just take a look at some projects I have made with a sharp pair of shears, a hedgetrimmer and a pruning saw. Do check out Mark Zlotsky's project, because although his interest began by looking at topiary through the prism of architecture and the relationship of one building to another, he touches directly onto a way of …
Apr27
Gardenista, the online magazine about gardens and design, have interviewed me about topiary. The article is called 'Rethinking Topiary: A Garden Tradition Loosened Up' and was published this morning. Written by the excellent garden writer Clare Coulson, I share some thoughts on using deciduous plants, how to clip (name-dropping Anne Lamott and her book on writing at one stage… oh, how I wander off subject sometimes!) and how to improve topiary by what you plant around it. Do take a look at the article in Gardenista. Or for more about my topiary work, check out the topiary page.