THE MODERN MINT BLOG
Bring on spring, we hear you cry! As the light of the day lessens and we head, inexorably, unto the darkness of autumn and winter….
What a dramatic cry!
Garden Work in the Autumn
But we do worry, at this time of year, because the days get so much shorter and working outside becomes a race against the clock. Often the work is harder at this time of year, because we are digging up and dividing perennials for replanting in a better position, digging up and tracing the roots of brambles or bindweed, digging up and harvesting the subterranean vegetables – so much digging to do!
Then for a break, we stand up straight and rake leaves into piles. Then bend again, to pick them up and take them to the compost….
The work is almost a rage against the dying of the light, a sweaty maelstrom of preparation for… winter? No. It is not a preparation for winter. It is a preparation for spring.
So goes the life of the garden lover….
How Else Can You Prepare for Spring?
There is yet one more job that is important to do – and that is bulb planting.
If you don't get your spring bulbs in the ground (to the correct depth, of course) then how can you expect to have a light and wonderful garden come March and April? Yes, there are other plants in the garden that can thrill, those lovely woodland plants like primroses for example, but to make the garden really special it will need daffodils, snowdrops, crocus and tulips. For us, especially tulips….
Plant Tulips
Don't be stingy when you buy bulbs, any bulbs. Advice we stole from the wonderful garden designer Dan Pearson is to add a zero to the number you think you need. Yes, that might make it sound scary. Understood. But can you imagine how the garden will sing when spring arrives with that many tulips poking their stems up from the borders and pots?
Tulips are divas, for sure, and probably won't flower as well again the next year. With that in mind, when they have finished flowering you can just pull them out and plant them in a bit of ground you don't do much with, a wild patch at the bottom of the garden.
That way, if they do come up and flower, you get a little bonus of colour.
Which Tulips?
Which tulips you ask? Now, that really is easy to answer….
Organically grown bulbs is a must, to start with. You know why they should be organically grown already, I'm sure – we have written about bee friendly bulbs for a couple of years now.
But for which tulips you can light up your garden with next spring, our catalogue of bulbs should give you plenty to inspire you…
Check out the tulips for your garden right now!
October 11 th 2016
Oct11
Need a talk for your garden club? Via Zoom because of Covid-restrictions this winter? Then I can help! It is great you are trying to keep your club going, and though Zoom is not the same as getting a group together and talking about gardening live, of the moment, right now it is the best alternative we have got. How I Do A Zoom Talk For Your Garden Club I'm very happy to do Zoom talks and have moved about 20% online so far (from end of March 2020 to the start of October 2020) – although that number is …
Oct09
Just a quick message from a garden club last night after I gave a talk for them via Zoom… Hi Darren, We would just like to thank you for a very enjoyable and fun talk this evening for our first Zoom meeting! Think we can say that everyone enjoyed it, we have already had positive feedback from some of the members, obviously the way forward at the moment! We were certainly very pleased with the turn out for the first virtual meeting! If you are a garden club speaker and want to give it a try, then please do …
Sep21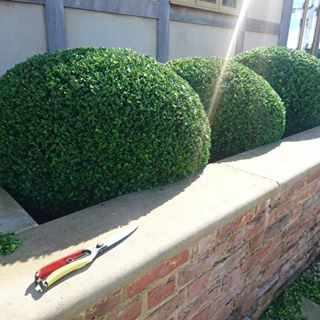 I was asked by the European Boxwood & Topiary Society to help out with answering a common question – How to sharpen your shears? So we spent a fun day making a video, that hopefully will help you make sure you have sharp, shiny blades to do your topiary pruning with. And you can find here more examples of the topiary I make with my sharp blades.