THE MODERN MINT BLOG
When a client trusts us with their garden we immediately begin thinking and puzzling over how we can improve that space, how we can make it relate to the world in a way that encourages wildlife and diversity while being something the client values too.
It is an important question – what do we do with this space?
But it doesn't seem enough, to only look at these tiny patches of land that we garden. What about the materials we bring in and add to the space? What about the materials we take away? We are connected to so many processes that to focus only on the end product seems daft – and so we have widened our focus and added to Modern Mint this – the Modern Mint Shop.
It is a platform for us to explore values of sustainability, waste reduction, ecology, artisan craftsmanship and biodiversity. These are BIG WORDS and, used off-hand, can fail to reflect the true nuances entailed within their meanings. For example, we may feel like an eco-warrior for putting our empty tin of tuna into the recycling bin, but if we do it without reflecting on the issues surrounding overfishing what good have we actually done?
It means we are on a journey – to redefine how we work as garden designers, to ask more questions of the products we sell and discover how we can (in a gentle way) educate clients about the role their garden has to play in our present, but also our future.
We have a lot to learn, a lot of questions to ask – we certainly aren't perfect right now, but we hope that you will join us in finding out the answers to our questions about how to tread lightly in a modern world, and unearth the subtle differences in each of the BIG WORDS – and as such, finding out how far we can change, how far we can go.
Individual acts will help this world – but businesses and the communities that surround them have the opportunity to help it faster.
Perhaps we will start by studying this…?
February 5 th 2015
Sep21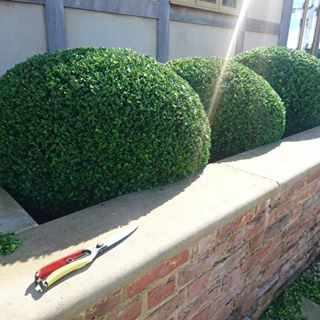 I was asked by the European Boxwood & Topiary Society to help out with answering a common question – How to sharpen your shears? So we spent a fun day making a video, that hopefully will help you make sure you have sharp, shiny blades to do your topiary pruning with. And you can find here more examples of the topiary I make with my sharp blades.
Aug16
You can get a ticket for this new talk I'm giving at the European Boxwood And Topiary Society here – TALK TICKETS It is on the 25th August at 6pm. It should be great fun and I'm very excited to be sharing some recent thoughts about topiary with people – and how it might work in a modern garden.
Jun14
If you have a subscription, you can check out an article about bespoke ideas for your garden in the Telegraph. There are some great crafts people there, so check it out. Click Here To See The Article About my Topiary Work In The Telegraph