THE MODERN MINT BLOG
Funding has been secured from DEFRA through the Big Tree Plant programme to plant 17,000 trees in Essex, Suffolk and Norfolk over a period of two years.
Over 8000 trees were pplanted last season and there are another 9000 to go from this October 2014 to February 2015.
What do you need to do?
Provide a site which will take a minimum of 200 whips at 1m spacing.
Provide a site that is publicly accessible.
Encourage the local community to get involved in the planting and (ideally) the upkeep too.
What will Groundworks Essex (who secured the funding) do?
Help organise the communities involvement.
Provide protection for the trees from rabbits, strimmers etc…
Help design the scheme with their Landscape architect.
Provide additional trees and shrubs that are larger than whips if this is deemed necessary.
Tailor the design to suit your needs and site.
And most importantly…?
Fund up to 75% of the whole cost of the project, or even more than that if there is match funding or donations of time from another source.
How do you find out more?
To find out more about the Big Tree Plant scheme please get in touch with Kim Howell on 01268 752368; kim.howell@groundwork.org.uk
September 18 th 2014
Sep21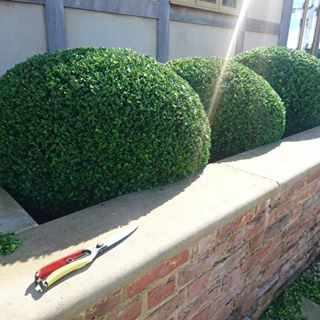 I was asked by the European Boxwood & Topiary Society to help out with answering a common question – How to sharpen your shears? So we spent a fun day making a video, that hopefully will help you make sure you have sharp, shiny blades to do your topiary pruning with. And you can find here more examples of the topiary I make with my sharp blades.
Aug16
You can get a ticket for this new talk I'm giving at the European Boxwood And Topiary Society here – TALK TICKETS It is on the 25th August at 6pm. It should be great fun and I'm very excited to be sharing some recent thoughts about topiary with people – and how it might work in a modern garden.
Jun14
If you have a subscription, you can check out an article about bespoke ideas for your garden in the Telegraph. There are some great crafts people there, so check it out. Click Here To See The Article About my Topiary Work In The Telegraph