THE MODERN MINT BLOG
The Ten Best Tomatoes To Sow Right Now
This list will give you a chance to get away from the rightly popular, but very ubiquitous, Gardeners Delight variety of tomatoes and try something different – as well as tasty!
All of the seeds can be bought from the wonderful wonderful wonderful Real Seeds – do support them in their work…!
Grushovska – big pink tomatoes, very tasty
Aurora – from Siberia (yes, really!) Makes great sauces and germinates well at low temperatures.
Tangerine – as the name suggests, it is a brilliant orange.
Farenheit – this tomato must be seen to be believed! The fruit starts off as blue, then turns red, then black. Harvest at the purple-cherry-red stage. The purveyors of this tomato seed, Real Seeds, describe the taste as boring – "like a supermarket tomato." Worth growing for the colour though.
Chadwick Cherry – developed by Shakespearian actor turned Biodynamic market gardener, Alan Chadwick. Eccentric fellow, great tasting tomato.
Millefleur – a bit different, as the tomatoes grow in grape-like clusters on a single truss two feet wide. Guaranteed to get the neighbours asking where you got it from…
Orange Banana – a tomato salad needs lots of colour, and this plum tomato will look great with a little chopped up basil.
Feo de Rio Gordo – a BIG TOMATO. From Seville, this translates as ugly, fat river. But then names aren't everything.
Green Zebra – it really is ripe when green and striped! Created in 1983 by Tom Wagner, who has been breeding tomatoes and potatoes for decades. Another yummy variety of tomato for your greenhouse.
Tomatillo – related to the tomato, used to make chutneys, salsas and pasta sauces. From Central America.
There you have it – get sowing these wonderful varieties of tomato for something a little different to try on your plate at the end of summer.
All tomatoes featured are from the brilliant seed company Real Seeds.
April 13 th 2016
Aug19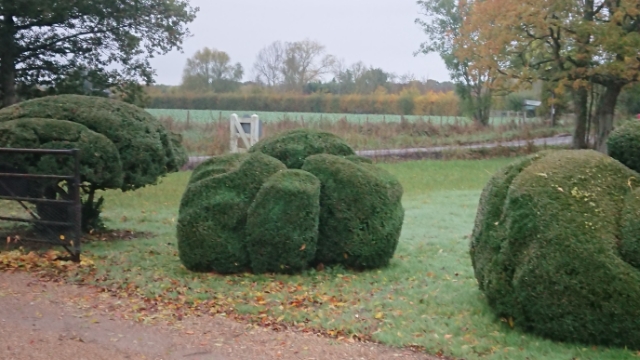 Topiary Composition and design is a major part of my work – which is why I have created an online seminar for keen gardeners and creatives to learn how to compose a piece of topiary. There are several dates available so please head here to buy a ticket. The seminar lasts two hours (including q and a) and will explore the process needed to look at a shrub or hedge and work out what you can design from it. These principles have been learnt the hard way – through mentoring, experimenting and years of practise. Hopefully, it will help you shortcut …
Jun10
Brought By Bike is an excellent website I found last month, where businesses offer their services by (of course) bicycle. Modern Mint and my topiary work is now live on the site offering my topiary services, via bike, to the following two postcodes – CM1 CM2 Now I can imagine I will need to borrow a ladder should anyone have a larger shrub, but most town gardens in the Chelmsford area have a need not just for privacy but to let light into the house… so a balance must be struck when shaping hedges and shrubs to cover both needs. …
May10
Transforming Topiary – a video made for the European Boxwood And Topiary Society by Charlotte Molesworth and I, in her garden. We take a dog topiary and work out how to update it, turning it into a bird. Worth a watch I think, and hopefully useful to you! You can see more of my clipping on the topiary page. Or read my Spring 2021 Topiary Provocation here.