THE MODERN MINT BLOG
What are the best logs for a fire? This poem should tell you more about what wood to look for…
Logs to burn, logs to burn,
Logs to save the coal a turn
Here's a word to make you wise,
When you hear the woodman's cries.
Never heed his usual tale,
That he has good logs for sale,
But read these lines and really learn
the proper kind of logs to burn.
OAK logs will warm you well,
If they're old and dry.
LARCH logs of pine wood smell,
But the sparks will fly.
BEECH logs for Christmas time,
YEW logs heat well.
SCOTCH logs it is a crime
For anyone to sell.
BIRCH logs will burn too fast,
CHESTNUT scarce at all.
HAWTHORN logs are good to last,
If you cut them in the fall.
HOLLY logs will burn like wax
You should burn them green
ELM logs like smouldering flax
No flame to be seen
PEAR logs and APPLE logs,
They will scent your room.
CHERRY logs across the dogs,
Smell like flowers in bloom.
But ASH logs, all smooth and grey,
Burn them green or old;
Buy up all that come your way,
They're worth their weight in gold.
There you have it – 14 woods with their various properties, Ash logs getting the biggest cheer (four lines of the poem all to themselves! Wow!)
Note too that the fruit trees all get lauded for having a beautiful scent. We also recommend fig as log wood, which runs along the same lines of good fragrance… I wonder if damson, mulberry, medlar and quince are the same?
Why though are beech logs for Christmas time? Googling, we discovered this poem… similar to the one above, but with a little more information about using beech as firewood…
Beechwood fires burn  bright and clear
If the logs are kept a year
Store your beech for Christmas time
With new holly laid beside
Chestnuts only good they say
If for years tis stored away
Birch and firewood burn too fast
Blaze too bright and do not last
Flames from larch will shoot up high
Dangerously the sparks will fly
But Ashwood green and Ashwood brown
Are fit for a Queen with a golden crown
Oaken logs, if dry and old
Keep away the winters cold
Poplar gives a bitter smoke
Fills your eyes and makes you choke
Elmwood burns like churchyard mould
Even the very flames burn cold
Hawthorn bakes the sweetest bread
So it is in Ireland said
Applewood will scent the room
Pears wood smells like a flower in bloom
But Ashwood wet and Ashwood dry
A King may warm his slippers by.
Ash logs get another great review (good enough for the Queen as well as the King!) while the beech is to be burnt with the holly which, as the first poem said, burns fast…
Where else can you learn what you need to about the best logs to use when having a fire? This book by Piers Warren 'British Native Trees' should be useful. As should what you learn if you were to become a Tree Warden (like we have for a ward here in Chelmsford.)
If you only want a few logs, you can of course get some here from Amazon…
Or if you live in Essex or London then contact us for our price list and delivery cost – for seasoned logs to keep you warm this winter!
September 3 rd 2014
Sep29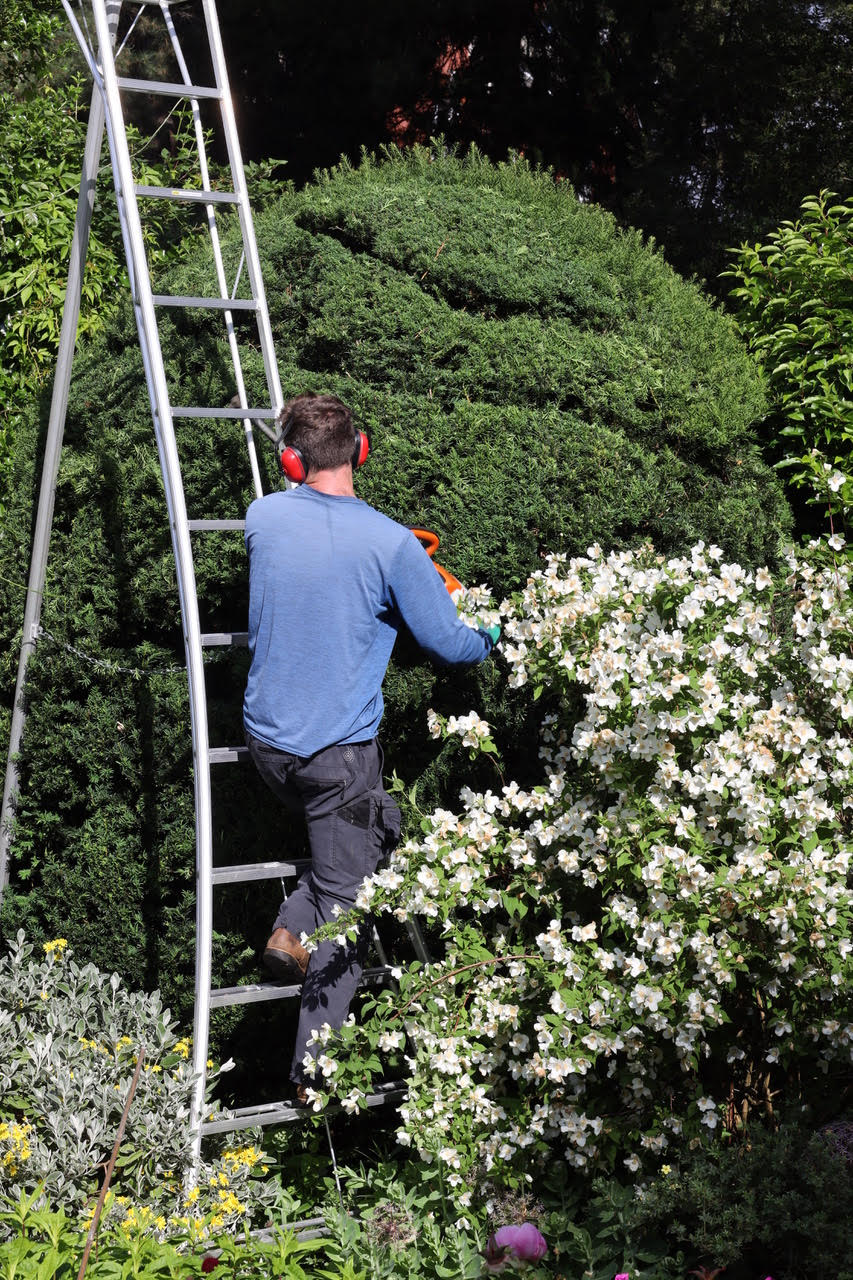 Making a new topiary out of the large, dull facade of a Taxus blob… My work was to change it up from a 'jelly drop' shape and give it texture, open it out and let the light through, and make it a sculptural feature in the background of the garden in summer… yet a major part of the garden in winter. A few more years before it becomes something special, but there was far more leaf and growth inside the plant than I thought and so it will not take too long for it to gain in character and become …
Sep27
Two weeks ago I was invited to teach topiary at the garden of Griselda Kerr, the author of The Apprehensive Gardener. I love teaching and sharing skills, but I was placed on the spot in the afternoon and asked to show how I would make a new topiary from an existing shrub. So below is a speeded-up video of me creating a cloud-pruned topiary from an old boxwood tree. I particularly love the ending when the class get involved….! See the video here. One hour was all it took, and though it needed a little tidying-up, it was made by …
Sep27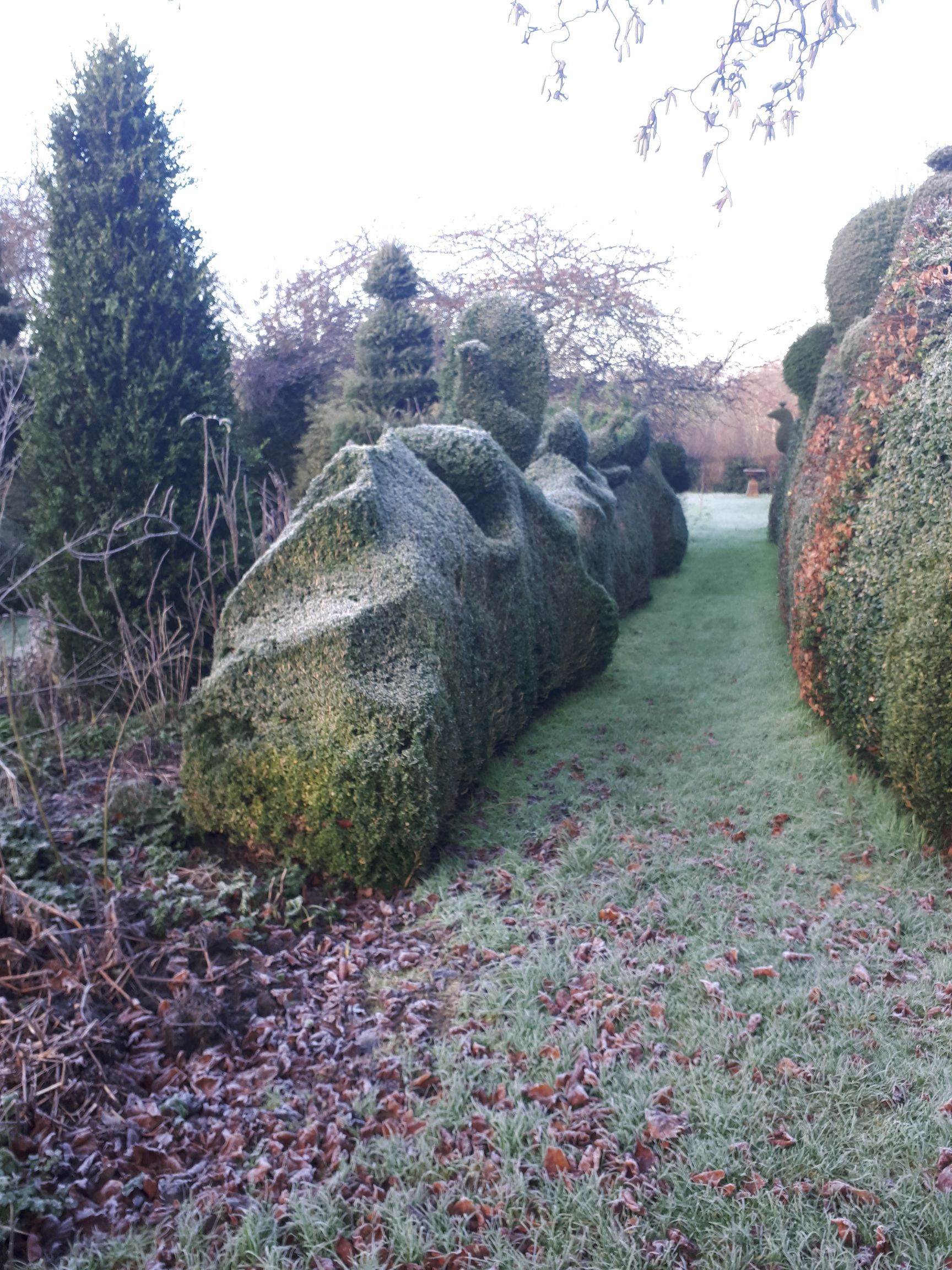 Charlotte Molesworth, my topiary mentor, and I are running our popular topiary workshop again in 2022. You can email me for details – or go here for information, your ticket and to find out about dates. Book A Spot On A Topiary Workshop, September 2022