THE MODERN MINT BLOG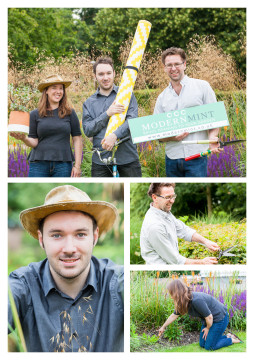 The photo above has a truly international flavour – an Italian wearing a Brazilian gardening hat!
Our very own Stefano posed for this shot last week in Chelmsford, Essex, surrounded by the beautiful flower heads of Stipa gigantea (a plant that has an exotic travelling history itself, being found growing wild in Southern Spain and into Morocco…)
He was wearing a new product we have here at Modern Mint – the eco-friendly gardening hat!
This is a product we discovered about 12 months ago when one of our lovely clients told us about it. He said it was durable, strong, kept off the sun and the rain and best of all it was a hat made from recycled materials!
We were thrilled with it so decided to spend the next year testing it out in all conditions, to see if this hat really was the product it appeared to be. Lo and behold, it passed all the tests and has now made it into the Modern Mint ranks.
Check out the eco-friendly gardening hat.
The hat is made from truck tarpaulins that have been used on cargo trucks running from the North to the South of Brazil, carrying the beans of the coffee you may have drunk this morning. These hats have seen it all – the sunshine, the rain, the red dust roads, giving them a look that no factory could ever hope to replicate.
Each hat is unique and tells a different story of its trucking life below the equator. They are built to last, and should keep the weather off of you here in Blighty!
The making of the hats is done with adult only labour in Brazil, and the employees work in good conditions and are paid a living wage. Which goes without saying, right?
We provide sizes for people with big heads, people with medium sized heads and people with small heads – do see the size guide for more information but you should be able to get a recycled hat that fits you!
We cherish our eco-friendly, recycled, strong and weather resistant gardening hat from Brazil – we hope you will enjoy it too.
July 11 th 2016
Sep21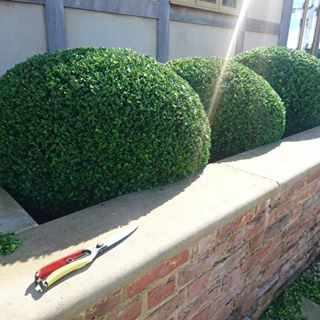 I was asked by the European Boxwood & Topiary Society to help out with answering a common question – How to sharpen your shears? So we spent a fun day making a video, that hopefully will help you make sure you have sharp, shiny blades to do your topiary pruning with. And you can find here more examples of the topiary I make with my sharp blades.
Aug16
You can get a ticket for this new talk I'm giving at the European Boxwood And Topiary Society here – TALK TICKETS It is on the 25th August at 6pm. It should be great fun and I'm very excited to be sharing some recent thoughts about topiary with people – and how it might work in a modern garden.
Jun14
If you have a subscription, you can check out an article about bespoke ideas for your garden in the Telegraph. There are some great crafts people there, so check it out. Click Here To See The Article About my Topiary Work In The Telegraph