THE MODERN MINT BLOG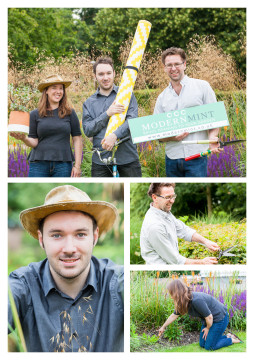 The photo above has a truly international flavour – an Italian wearing a Brazilian gardening hat!
Our very own Stefano posed for this shot last week in Chelmsford, Essex, surrounded by the beautiful flower heads of Stipa gigantea (a plant that has an exotic travelling history itself, being found growing wild in Southern Spain and into Morocco…)
He was wearing a new product we have here at Modern Mint – the eco-friendly gardening hat!
This is a product we discovered about 12 months ago when one of our lovely clients told us about it. He said it was durable, strong, kept off the sun and the rain and best of all it was a hat made from recycled materials!
We were thrilled with it so decided to spend the next year testing it out in all conditions, to see if this hat really was the product it appeared to be. Lo and behold, it passed all the tests and has now made it into the Modern Mint ranks.
Check out the eco-friendly gardening hat.
The hat is made from truck tarpaulins that have been used on cargo trucks running from the North to the South of Brazil, carrying the beans of the coffee you may have drunk this morning. These hats have seen it all – the sunshine, the rain, the red dust roads, giving them a look that no factory could ever hope to replicate.
Each hat is unique and tells a different story of its trucking life below the equator. They are built to last, and should keep the weather off of you here in Blighty!
The making of the hats is done with adult only labour in Brazil, and the employees work in good conditions and are paid a living wage. Which goes without saying, right?
We provide sizes for people with big heads, people with medium sized heads and people with small heads – do see the size guide for more information but you should be able to get a recycled hat that fits you!
We cherish our eco-friendly, recycled, strong and weather resistant gardening hat from Brazil – we hope you will enjoy it too.
July 11 th 2016
Feb10
There seems to be some underhand shenanigans going on here. Bob Flowerdew is threatening to resign. We face losing the UK's cornerstone organic garden. So please take a look at what is going on via the Facebook group…. go on! Go Now! Save Ryton Organic Gardens!
Feb06
Today we will be looking at Garden Design Trends in 2018. Just so you are in the know about what is cool and what is not cool in the 12 months ahead…. For the past like, million years I have shared my thoughts on what the gardening industry tell us the latest trends are going to be. If you are interested, you can see here the garden design trends for 2017. Or take a peek at my favourite of all the posts I have written – Alternative Garden Design Trends. This is my individual take on what the latest garden design …
Feb06
Well now, this is interesting…. UK Plans 50 Million New Trees in Northern Forest Likely? See the pitfalls? We love the idea and wholeheartedly support as much tree planting as possible. But are seriously doubtful that this is more than a sticking plaster solution to England being so vastly 'under-treed'…. or should that be 'overfelled?' Yet whether this idea happens or not, all we ask is that you please make sure you plant as many trees as you can in your garden!