THE MODERN MINT BLOG
Yep, lovely Modern Minters, we are going to make this call – right now, in 2017, if you have a garden that helps the bees then that makes you sexy.
But how does that work? Can you really become a babe magnet just by encouraging bees to your garden?
Yes. Yes you can. As you probably know, we need bees.
They pollinate our tastiest food – think tomatoes, strawberries, apples… and there is a growing body of evidence that suggests bee pollinated food is healthier, tastier (because it has a better sugar to acid ratio) and keeps longer, meaning you get less waste when moving the food from field to plate.
Thinking this through, it may be that if we lose all the bees (and colonies have been in decline, suffering from the use of pesticides in the fields that grow our food and the loss of habitats for forage) then all may not be lost – sure we won't have the tastiest of food, but we may be able to stimulate the economy with all the new jobs created hand pollinating our crops.
No-one will be out of work again!
But as lovely as a job painting pollen onto flowers sounds (it isn't when doing it on a huge scale, all day, every day) we don't think that is really what the Government has in mind for stimulating the UK job market.
What they really need is to do all they can to encourage the bees so that our food is as healthy and easy to grow as possible.
Encouraging organic growing would be the best place to start, as would a reintroduction of wildflower meadows.
But as that isn't likely to happen, what simple actions can you take to make your garden a magnet for bees?
Make Your Garden A Magnet For Bees
First of all, refrain from using insecticides, herbicides or pesticides. They all sound a lot like genocide, and that is exactly the affect they have on our bee population.
Secondly, plant a wide range of flowers for bees. The best ones have been researched by Rosi Rollings, of Rosy Bee. This photo below is of one of her star plant performers, Echium, photographed by Rosi herself in winter.
Yes, it looks like a weed, but it grows into a magnificent flower and is a total bee magnet.
Other great plants for bees include the lovely daisy Helenium, the easy to grow Sedum and the fun Teucrium, which is an alternative to boxwood (if you suffer from box blight.)
Thirdly, plant these bee friendly flowers in blocks – it means the bees waste less energy going from nectar source to nectar source. The bees will also see this block of flowers far quicker, making it truly magnetic!
But what do we mean by planting flowers in blocks?
We mean planting something like this, a border designed by Piet Oudolf…
Vast numbers of flowers!
Lastly, plant organic bulbs. They are bee friendly!
By making these simple changes to your garden, you can provide a piece of land that is an absolute magnet for bees.
And in our eyes, someone who can attract the bees and help arrest their decline is attractive in far more ways – they show they have empathy for other creatures, are intelligent enough to know a bit about the world, they get out of their seats and actually do something and, of course, they grow so many flowers the world looks a better place.
If that isn't attractive, if those aren't values that we can admire in someone, then we don't know what is.
Good luck with turning your garden into a bee magnet – and yourselves into a babe magnet!
March 16 th 2017
Nov17
This Autumn I have presented another 'Topiary Provocation' to keen gardeners and designers. If you want to know more about topiary, the report on what we discussed and where modern topiary is going can be read by clicking the link below: Topiary Provocation Report Autumn 2021 This report is free to post on your own website or blog, just credit Modern Mint, and don't change anything within it. Alternatively you can just share it with keen friends… or enemies?
Sep29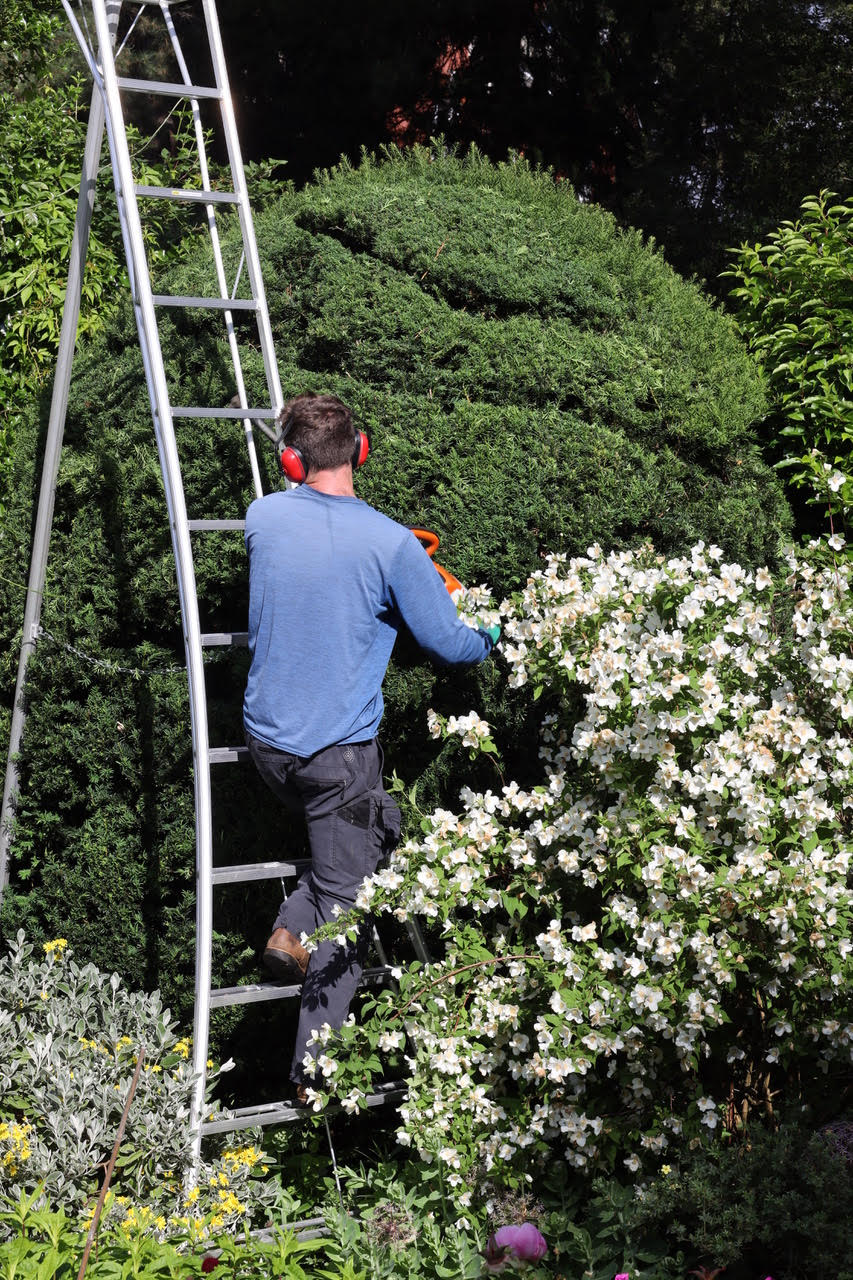 Making a new topiary out of the large, dull facade of a Taxus blob… My work was to change it up from a 'jelly drop' shape and give it texture, open it out and let the light through, and make it a sculptural feature in the background of the garden in summer… yet a major part of the garden in winter. A few more years before it becomes something special, but there was far more leaf and growth inside the plant than I thought and so it will not take too long for it to gain in character and become …
Sep27
Two weeks ago I was invited to teach topiary at the garden of Griselda Kerr, the author of The Apprehensive Gardener. I love teaching and sharing skills, but I was placed on the spot in the afternoon and asked to show how I would make a new topiary from an existing shrub. So below is a speeded-up video of me creating a cloud-pruned topiary from an old boxwood tree. I particularly love the ending when the class get involved….! See the video here. One hour was all it took, and though it needed a little tidying-up, it was made by …