THE MODERN MINT BLOG
Note: SOLD!
We have a copy of the book 'The Barn Garden' by Tom Stuart Smith here, for sale.
It has some great review on Amazon and is his own account, with photos, of how he came to make his own garden. No 'blousy' peonies or kniphofias (although there was a time he had them in his borders) because he wanted a garden that belonged to the landscape.
He writes beautifully and often leaves the reader with tantalising notes on certain plants – like keeping the plants that come from tough, dry environments in nature free of additional fertiliser. A lean diet benefits their growth!
The photos of the corten tanks that were originally a part of his Chelsea Flower Garden, against the Iris that bloom so bright and delightfully, are a wonder and really make me think about the way I garden. To up my game, to be bolder and use plants that can sometimes be a little harder to grow, or to establish, or to thrive, but not let the put me off and work smarter to make them bloom.
Because when they do they are a true delight!
Amazon are selling copies of the book, 2 copies, used, for £75.
Or brand new from £297!
We would like to offer it to you for £45. That way you can read it, sell it on and get some of your money back… or, keep it and enjoy the inspiration you can get from Tom Stuart-Smith's 'The Barn Garden: Making a Place.'
November 21 st 2018
Sep21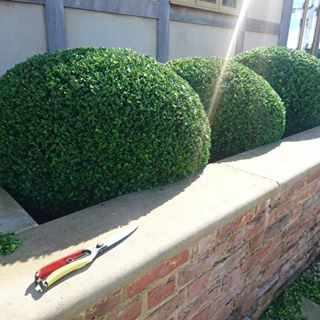 I was asked by the European Boxwood & Topiary Society to help out with answering a common question – How to sharpen your shears? So we spent a fun day making a video, that hopefully will help you make sure you have sharp, shiny blades to do your topiary pruning with. And you can find here more examples of the topiary I make with my sharp blades.
Aug16
You can get a ticket for this new talk I'm giving at the European Boxwood And Topiary Society here – TALK TICKETS It is on the 25th August at 6pm. It should be great fun and I'm very excited to be sharing some recent thoughts about topiary with people – and how it might work in a modern garden.
Jun14
If you have a subscription, you can check out an article about bespoke ideas for your garden in the Telegraph. There are some great crafts people there, so check it out. Click Here To See The Article About my Topiary Work In The Telegraph